Hau Giang: Retired soldier teaches children for free
Many things can change in 25 years, but time hasn't changed Nam's desire to help poor rural children have a brighter future.
Many things can change in 25 years, but time hasn't changed Nam's desire to help poor rural children have a brighter future.
The children's club on a clean-up operation. Photo: baohaugiang.com.vn
That is Nguyen Hoang Nam (usually called Nam), 81, from Hoa An Commune in Phung Hiep District in the southern province of Hau Giang. Nam is a retired soldier who has spent dozens of years educating poor children for free.
Witnessing children dropping out of school due to their families' disadvantageous situations or kids dispirited by their poor academic performances, he feared that a vicious cycle of poverty and ignorance may cling to them like it did to their parents.
So Nam has opened free classes for children from 1st to 7th grades to bridge the gaps in their knowledge.
"Once you have mastered the knowledge of the first seven years, you will have nothing to fear when you are in the upper grades," Nam told the Tuổi Trẻ (Youth) newspaper.
He tutors students in the subjects they struggle in the most until they master them.
Their teachers also call him whenever students drop out. He makes home visits to discuss the situation with the students and seek solutions to help them realise the importance of learning.
"Educating children is not a piece of cake. You need to combine different teaching methods because children are always playful and active," he said.
To encourage his students to study hard, Nam organises trips to visit the Temple of President Ho Chi Minh and the Martyrs' Cemetery in the province.
"We (the students) are very happy to discover these locations where we can learn a lot about the great sacrifice of our ancestors," Nguyen Van Anh, grade 7, said.
"We enjoy studying with Nam because along with learning, we also play," she added.
Nam also lets children stay at his house in Can Tho City for free if they can get into the university.
Tran Kim Phuong's three sons stayed at the house for four years while they were at university. He even lent them money to help them pursue their dreams.
"My sons wouldn't have got their master's degrees and their current jobs if it had not been for Nam's help; they would have probably dropped out of school a long time ago," she said.
He even helped three motherless boys go to school by providing their father with land to build a house, which helped them get birth certificates in order to be eligible for public school.
Nam's aim is not only to impart new knowledge but also to teach them to keep our environment clean.
He founded an environmental protection club of more than 30 children to instill in them a sense of environmental responsibility.
"For more than six years, thanks to the children's club, the environment in the hamlet has been so clean and green," Tran Van Lo, head of Hamlet 2, said.
"If we didn't keep the environment clean, it would be easy for diseases to develop and then there would be a vicious cycle of diseases and poverty," he said.
As they say, not all heroes wear capes. What Nam is doing, helping those in need, is like a drop in the ocean, but it can have a ripple effect and make waves./.
VNF/VNS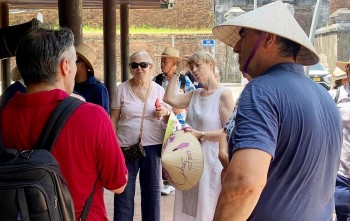 National
Vietnam News Today (Mar. 29): Vietnam to issue e-visa to foreigners of all countries; Vietnam, China beef up defence ties; Outbound tours prove popular during April holiday; Vietnam International Travel Mart 2023 to spotlight cultural tourism.