Hoan Kiem district expected to expand overnight business
Hoan Kiem District (Hanoi) plans to reconsider restrictions on operating hours of food, entertainment, and shopping services to develop the night economy.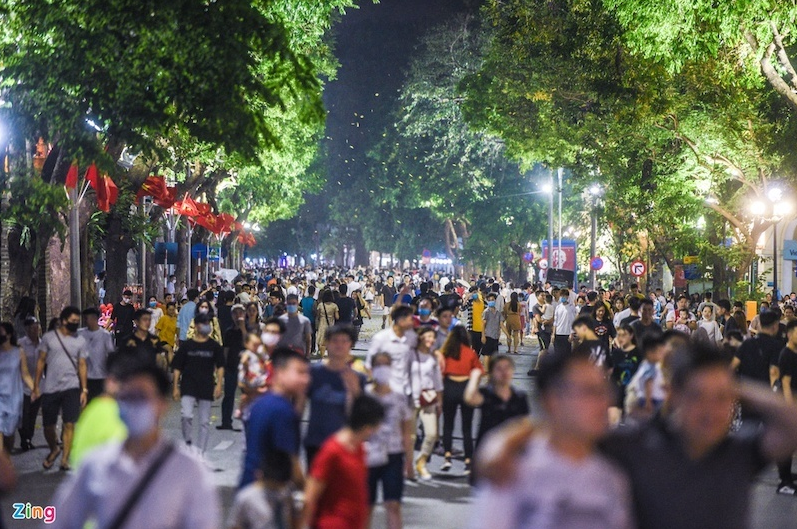 The usual bustle around Ho Guom Lake pedestrian area. (Photo: Zing News)
On September 9, the representative of Hoan Kiem District People's Committee announced that "the project of pilot night economic development" is being consulted by competent authorities.
Accordingly, service activities in the district can operate with unlimited time on all days of the week; Private outdoor activities and monuments, heritages for tourism can open until 24 pm. Walking streets in the old quarter, space of culture, service, trade, and tourism sites of Phung Hung - Gam Cau will be organized synchronously with Hoan Kiem lake pedestrian streets. Currently, the walking space of Hoan Kiem Lake opens from 19 pm Friday to 24 pm Sunday every week.
Night economic activities in Hoan Kiem district mainly focus on the fields of culture, entertainment, food, and beverage; shopping; health care; travel; transportation; financial and banking that complement the night economy.
The district has planned to develop, improve infrastructure and cultural programs, implement street festivals, organize service, trade, and tourism activities around Hoan Kiem Lake and the walking space of Phung Hung - Gam Cau.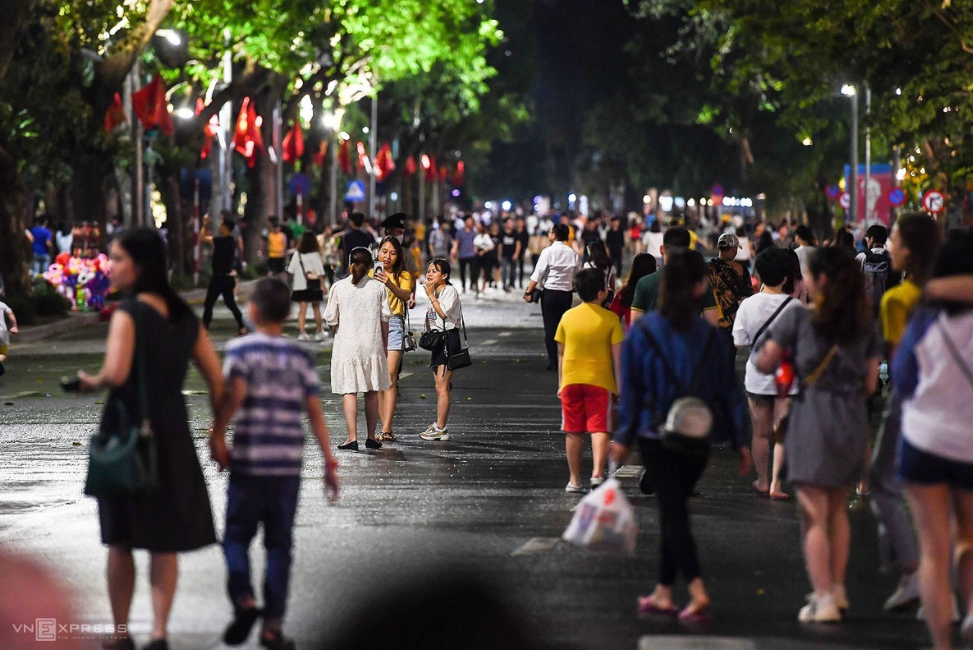 Weekend nights see thousands of Hanoians coming to the pedestrian zone around the capital's iconic Hoan Kiem Lake. (Photo: VN Express)
Dong Xuan - Bac Qua area is expected to develop into the culinary field associated with the cultural brand of the Dong Xuan market. Hang Dao - Hang Giay commercial and tourist street will be planned and rearranged in a modern direction, associated with historical and cultural features of each street. In particular, the street of Dong Xuan - Hang Giay will function as a street of food and activities supporting the Dong Xuan market area.
The route from Hang Khay - Trang Tien to the Opera House is oriented to develop into a walking site combined with a trade center. Hanoi authorities also plan to operate, exploit, and use Trang Tien 1 and Trang Tien 2 streets (from Ngo Quyen intersection) for fashion and art performance, with the possibility to be extended to Dinh Le - Nguyen Xi, Le Thai To, Ly Thai To streets.
The night economy project of Hoan Kiem district sets out a roadmap from September 2020 to August 31, 2021, focusing on developing cultural and economic spaces to create a driving force for the development of the night economy. From September 1, 2021, Hoan Kiem will develop the night economy in all service areas in the district.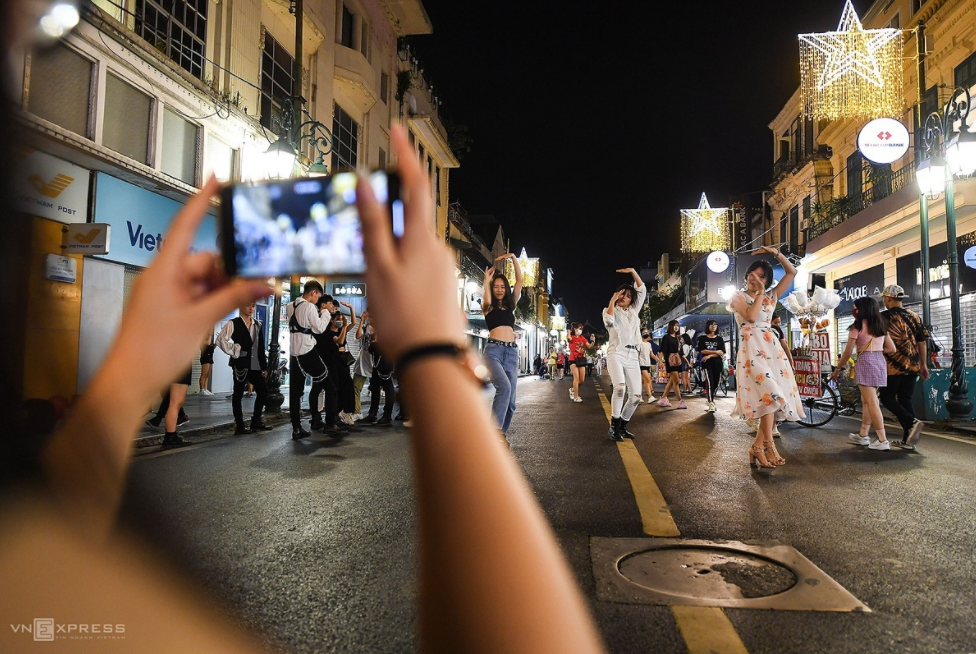 Hoan Kiem walking streets are a familiar space of art performance for people of all ages in Hanoi. (Photo: VN Express)
Currently, service business activities in Hanoi are operating up to 24 hours. Some businesses in Hoan Kiem district which participate in the pilot expansion of business time will be allowed to open until 2 am. From late April to the end of 2020, in order to reduce traffic congestion and prevent COVID -19 outbreak, the city regulates that non-essential shops can only open from 9 am.
Early on July, Prime Minister Nguyen Xuan Phuc approved the night-time economic development project in Vietnam, allowing the pilot project of extending night service activities operation time from 6 pm the previous day to 6 am the next morning in some tourist areas and big cities such as Hanoi, Quang Ninh, Hai Phong, Ho Chi Minh City, Da. Nang, Hoi An, Thua Thien Hue, Can Tho, Da Lat, Phu Quoc.
Hoan Kiem district claims in the project that, in fact, the night economy has been formed in Hoan Kiem district for many years under the types of walking spaces, night markets, food streets, convenience stores, cafes, bars, discos, karaoke, cultural and arts programs, indoor and outdoor entertainment.
However, the night economic activities in the district are still poor, monotonous, resulting in low efficiency. For example, the pilot of extending the business time limit to 2 am launched in September 2016 attracted 65 businesses to register in the first place, however, the number of businesses involved in the following years gradually decreased.