Iranian oil tanker leaves after Gibraltar refuses US's warrant
Iran's oil tanker had departed from Gibraltar on August 18 after Gibraltar authority turned down the US justice department's warrant to capture this tanker as connecting to Islamic Revolutionary Guard Corps (IRGC) which the US labeled as a "terrorist
Iran's oil tanker had departed from Gibraltar on August 18 after Gibraltar authority turned down the US justice department's warrant to capture this tanker as connecting to Islamic Revolutionary Guard Corps (IRGC) which the US labeled as a "terrorist".
Iran's oil tanker under its new name Adrian Darya (photo: Aljazeera)
Iran's oil tanker, changed its name Grace 1 to Adrian Darya and was reflagged under the Iranian flag had left Gibraltar around 11 pm local time on Sunday (August 18) as Iranian Ambassador Hamid Baeidinejad had said before on Twitter that this oil tanker would depart in Sunday night.
The oil tanker casted off after the Gibraltar authority rejected the US court's request to seize it.
The Gibraltar authority announced "The Central Authority's inability to seek the Orders requested is a result of the operation of European Union law and the differences in the sanctions regimes applicable to Iran in the EU and the US" and added "The EU sanctions regime against Iran - which is applicable in Gibraltar - is much narrower than that applicable in the US."
The US had issued the warrant to capture the Iran's oil tanker as blaming it for linking to IRGC which was called a "terrorist" organization by the US on August 16.
Moreover, Iran also asserted to let its naval fleets to accompany its oil tanker. Rear Admiral Hossein Khanzadi, Iran navy commander said "The era of hit and run is over ... if top authorities ask the navy, we are ready to escort out tanker Adrian".
Gibraltar had decided to free this oil tanker on Thursday after holding it for over one month for suspecting of transferring oil to Syria that is a violation of EU sanctions on Syria.
Reuters, Aljazeera, The Guardian ( Van Nguyen )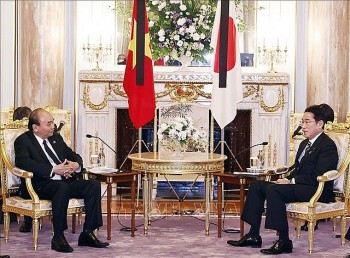 Friendship
Vietnam always treasures the extensive strategic partnership with Japan and views Japan as an important and long-term strategic partner, President Nguyen Xuan Phuc told Japanese Prime Minister Kishida Fumio in Tokyo on September 26.