James Kendall - the American man who is making Hanoi clean
It seems like things are happening as what
(VNF) - James Joseph Kendall, the famous "Western guy who collect trashes" said he and his team wanted to turn a polluted canal in Cau Giay District, Hanoi into a green garden.
Removing trashes in polluted locations in the city such as river, canals has become part of James Kendall and the Keep Hanoi Clean team's weekend ritual. When most people keep themselves away from the unbearable smells of rubbishes, James and his team keep persistent with their voluntary tasks, regardess of the weather, or the incooperative attitude surrounding them.
Nowadays, James' efforts are paying him off, when the number of members in the Keep Hanoi Clean's facebook group has reached over 8,000, of which 50-60 are active members who involve in offline work. Their images have become popular not only via online news, but also widespread on Vietnam national television and mainstream news outlets.
James Kendall - the American man who works to improve Hanoi's environment (source: Dantri)
In 2016, James even received the honored award The love for Hanoi, in recognition for his dedications in protecting the city's environment.
One of James' key project is the Yen Hoa canal in Dong Da District. He said he had returned to the canal four times in his attempt to improve the environment of the area. According to James, the biggest problems he has seen in the rivers are the plastic bags, which clog the waterways and kill the plants and animals living there.
After cleaning the canal, the group will add some fences, grow some trees and flowers to turn it into a garden, he said.
Parents of James' students were also moved by his acts. Some of them have been actively taking part in the campaign along with their children. Remarkably, their efforts and determination have exerted certain influence on other people's mindset and behaviors, including the passers-by.
"I walked by there one morning and saw them tirelessly dredge up the rubbish so I stopped to help. They're from another country and willing to act for Vietnam's environment. Why can't we do the same when we are from here?" a local said.
Member of the Hanoi Clean Up project adding greenery to a polluted canal after clean-up (source: James Kendall's FB)
James believes: "Learning from other's example is another key factor in controlling pollution. It's normal to do what people around us are doing. When children see their parents and older people around them, who often litter or burn trash, they learn from those examples they see. Exactly the same is true about learning from people doing good things."
James Joseph Kendall's hometown is in Ohio State, the US. He went to Vietnam 4 years ago and has been working as an English teacher since then.
He initiated the campaign Keep Hanoi Clean in order to raise public's awareness of pollution.
Besides sleeving up in manual clean-up works, the team also took chance to share with local authorities and the community where they visit on environment protection plans, as James believes that there's a solution to the problem and it starts with education. "Everyone needs to be educated about how we can prevent pollution and protect the environment." he said.
"I know that big changes like this won't come easy. I just hope that people will see this change as the chance to invest in the future of our children and the economic future success for Vietnam."
James also said he now considered Hanoi his second hometown. Therefore, he still has lots of work to do to improve the environment there./.
( Phi Yen )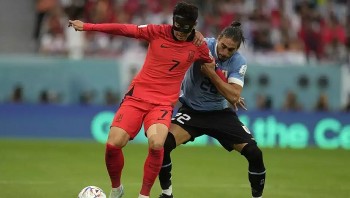 World
Both South Korea and Ghana are searching for their first wins at this year's World Cup. Ghana are facing the prospect of an early elimination from World Cup 2022 Group H when they travel to the Education City Stadium to face South Korea on Monday.