Japanese Artist Creates Manga about Vietnamese Football
Entitled "Son Goal', the manga book is illustrated by Japanese artist Baba Tamio.
A Japanese publisher recently announced the production of a manga series on Vietnamese football on March 28, to be released in May.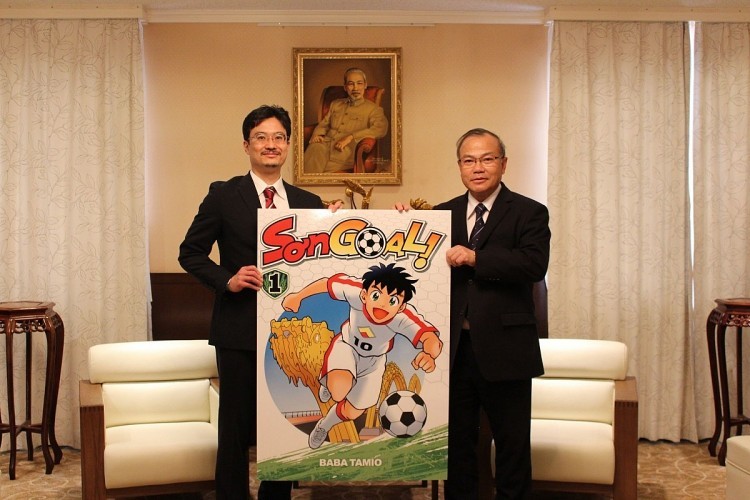 Vietnamese Ambassador to Japan Vu Hong Nam and Aoyagi Masayuki, Publishing Director at the Kadokawa JSC. Source: Vietnam's embassy in Japan
"Son Goal" was created by Japanese mangaka (cartoonist) Baba Tamio based on the story of a boy whose father is Brazilian and mother is Vietnamese, and his Vietnamese name is Son. He has to move to Vietnam due to his father's work. With his friendly teammates, Son becomes stronger on his journey to become a better football player.
The story understands the nature of childhood friendships. Sometimes the teammate's quarrel but ultimately they understand each other through teamwork and shared goals.
Aoyagi Masayuki, Publishing Director at the Kadokawa JSC, said that with the support of the Kim Dong Publishing House in Vietnam, the Japanese publisher is developing the manga series in the hope of helping children in the two countries find joy in sport and learn more about teamwork.
The publisher wants to present 1,000 books to Vietnamese children through the Vietnamese Embassy in Japan.
In addition to "Son Goal", Masayuki said Kadokawa planned to cooperate with the Hanoi University of Industrial Fine Arts and publishers in Vietnam to produce other manga series, which will be written and illustrated by Vietnamese artists.
At the meeting with Masayuki, the Vietnamese Ambassador to Japan Vu Hong Nam appreciated the idea of the Kadokawa JSC because the story sums up many advantages that football is the favorite sport of Vietnamese people, and comic book attracts both children and adults.
These factors will be very warmly received by Vietnamese audiences. The integration of famous landscapes of Vietnam also helps readers understand more about the hidden beauty of the country, contributing to the development of the tourism industry, he added.
The ambassador pledged to make efforts to the extent allowed so that the work could be released soon to the Vietnamese and Japanese public, and hoped that many comic works would be released for cultural exchange activities. The transformation of the two countries into reality, more specifically.
In an interview with VNA, Masayuki said that in the past, Japanese publishers, including Kadokawa, mainly cooperated with Vietnamese partners to translate Japanese manga into Vietnamese and published it in this Southeast Asian country. "However, we realized that by doing so, we did not reflect the Vietnamese culture properly, so we decided to build a manga series set in Vietnam and your culture".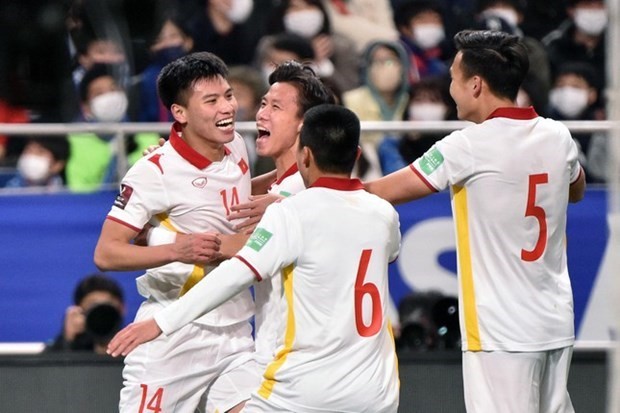 Vietnam concluded their journey in the Asian qualifiers of World Cup 2022 with a 1-1 draw against hosts Japan on March 29, 2022. Photo: VNA
CEO of the N&V Bridge Group Nguyen Vo Huyen Duong - Vietnam's party supporting publishing activities said: "The content of the story is very suitable for Vietnam's market and its people's love of football. Therefore, the manga will release not only as a series but also can be turned into an animated movie."
Representing the Vietnam Football Federation in Japan, Duong, who connected Kadokawa with Vietnamese partners, said "Son Goal" will be on bookshelves around Vietnam in May.
Famous landscapes in Vietnam featured in the series, such as Dragon Bridge and My Khe Beach, are hoped to help foreigners, including Japanese, learn more about Vietnam and its people.
Manga usually refers to a Japanese comic book and Mangaka is the Japanese word for a comic artist or cartoonist.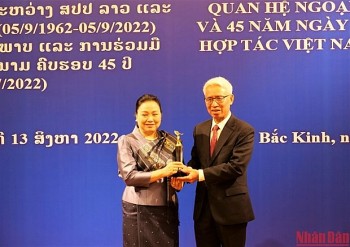 Friendship
The embassies of Vietnam and Laos in China held a friendship exchange in Beijing on August 13 in celebration of the 60th anniversary of the two countries' diplomatic ties (September 5) and 45 years since of signing of the Treaty of Friendship and Cooperation (July 18).