Joining hands to support needy people in remote areas
Supporting people in deep-lying and remote areas is a humanistic policy undertaken by the Party and State, which has been supported by various organisations, individuals and enterprises.
Supporting people in deep-lying and remote areas is a humanistic policy undertaken by the Party and State, which has been supported by various organisations, inpiduals and enterprises.
The programme is more effective when there is a combination of volunteers, doctors and business representatives to step by step improve the lives and raise awareness of the local people and their communities about disease prevention and combat.
Doctors from the border guard offer medical consultations for local people in the border areas of Nghe An province. (Photo: NDO/Hai Thuong)
Many "The First Times"
The value of social activities was fully reflected during a trip by volunteer doctors to visit and offer free medical care for locals in difficulties in Bac Ly commune, Ky Son district, Nghe An province.
With a relatively large force of about 70 doctors and volunteers, plus a wide range of equipment, such as x-rays, electrocardiograms, backup electricity generators and trucks carrying free medications, the delegation provided examinations for more than 1,800 people.
The spacious campus at Bac Ly 1 Secondary School was selected as the venue for the medical examination and treatment activities. At 8:30 am, all of the volunteers and doctors were ready to take on their responsibilities.
Vi Thi Coong, 20 years old, who came from a nearby commune roughly 20 km from the venue, said that this was the first time she received comprehensive health consultations from doctors with modern medical equipment. Previously, if she had an illness she usually followed self-treatment without frequent visits to local clinics.
"After undergoing medical examination and treatment through data on X-ray film and samples, a series of clinical manifestations of my health have been answered, especially the headache that has lasted for many years has now gone," Coong said.
Similarly, at his first health consultant, Moong Van Vu, 30, from Bac Ly commune, received advice from Dr. Hien to reduce using alcohol. This is the most common situation when doctors examine local young males.
Vu honestly said that he usually joins his brothers drinking wine and only drink a little bit when they have to work on their farms in cultivation seasons. Most young people there have bowel problems, while children suffer from malnutrition and tooth decay.
Chairman of Bac Ly communal People's Committee, Cut Van Long, said that his commune consists of three ethnic groups living together, of which the Kho Mu people make up about 75 per cent, while the rest are Thai and Mong ethnic groups.
The majority of the population is facing many difficulties as they only live on single-rice crops and livestock farming each year.
Although the traffic infrastructure leading to the centre of the commune is quite convenient, difficulties remain ahead as hunger and unfavourable conditions for medical care still exist.
In addition, the backward customs by local people also leads to limited care for their health, as they still do not pay adequate attention to preventing bad habits, such as drinking alcohol and following unhealthy living activities, which are deeply ingrained in the way people think.
During the visit by the volunteer doctors, it was the first time that many local people made contact with modern equipment and received consultation from professional doctors. They were very happy and the commune authorities were too, Cut said.
ACCOMPANYING LOCAL PEOPLE
The initial success of the programme cannot leave out the joint efforts from enterprises, especially from the Vietnam Cement Industry Corporation (Vicem) in Bac Ly commune in general and Ky Son district in particular.
According to the Secretary of the Vicem Youth Union, Nguyen Phu Toan, his unit has supported the people of Ky Son district for many years under the Programme 30A for special disadvantaged districts across the nation, with support worth tens of billions of VND for specific works, such as building schools and supporting infrastructure development. For the above visit alone, the company spent about VND 250 million (USD 10,750), of which 300 gifts worth VND 30 million (USD 1,290) were granted to disadvantaged people in Bac Ly commune.
Social activities in caring for people living in remote, border and island areas is always a focus by Vicem's leaders and the unit still maintains a certain source of funding for such social security activities.
Meanwhile, Vicem has called on its member units to promote their available capacities, including finance or cement products, to help disadvantaged communes and districts to improve their infrastructure, thus ensuring livelihoods and contributing to hunger elimination, poverty reduction and building modern rural areas.
According to the head of the charity group, Doctor Ngo Tuan Anh, this was the 24th time the delegation have visited and provided free medical care to people in difficulties across the country.
During this trip, the doctors discovered worrying issues that need to be addressed with a more active coordination by local government as well as the support of businesses like Vicem.
The proportion of local people with tuberculosis is still relatively high, accounting for about 8.5% of the total 300 examinations, combined with the high rate of tooth decay in children and the lack of knowledge on dental care.
People almost have no contact with professional healthcare, leading to limited knowledge on disease prevention. The team also detected a number of cases at high-risk that need to undergo early intervention and be provided with both professional counseling and financial support in severe cases.
In fact, through volunteer visits, local people have become more aware of their own health in order to take disease preventive measures in their daily lives.
Lack of healthcare knowledge is a common "disease" of people in remote areas. Many bad habits and poor hygiene conditions have laid negative impacts on their health and life.
With the help of the business community and the volunteer doctors, the spread of human kindness would contribute to the improvement of health for the poor and, above all, helping raise self-care awareness to protect their health themselves in the community./.
VNF/NDO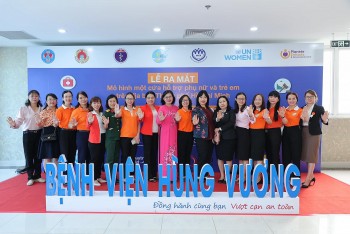 Viet's Home
What is the one-stop centre for women and children experiencing violence?