Kim Jae Chon, the consul whose heart belongs to Vietnam
(VNF) - "My dad passed away without handing me anything except the priceless gift named "Vietnam", which I'll pass to my sons when they grow up", said Korean Consul Kim Jae Chon.
(VNF) - "My dad passed away without handing me anything except the priceless gift named "Vietnam", which I'll pass to my sons when they grow up", said Korean Consul Kim Jae Chon.
The dream named Vietnam
Graduated from highschool in 1986, Kim Jae Chon decided to enrol in the Vietnamese language faculty of the Hankuk University of Foreign Studies.
His decision took all of his friends and family members by surprise, as in their eyes, Vietnam, at that time, was a poor country, still haunted by the destruction of the war. Korea, on contrast, was emerging as one of Asia's four dragons. At that time, most Korean youngsters chose to pick up Chinese or Japanese when it came to foreign language learning.
Against the objection from many people, Kim's father was the one who kept encouraging him to follow what his heart told him to do: "Vietnam is where you should go...I'll keep you and the country in my prayers," he said.
After receiving his college degree, Kim was recruited by SamSung – the dream company of many Korean youngsters.
However, the prestige of the firm fail to keep him stay with it for long.
One year later, Kim made up his mind to leave for Vietnam.
In May 1992, he arrived in Ho Chi Minh.City where he worked for a small Korean company located on Nguyen Thai Son str., Go Vap district.
Recalling what he saw 25 years ago, Kim depicted his first impression of the country, which "seriously lagged behind".
"I felt like being brought back to 'primative time', as the area looked like a poor rural land. When I stood at the Nha Rong harbour and cast my view over the opposite shore of the river, I saw a lot of slums. On the road, major mean of transports were bicycle and cyclos, motorbike was something rare-to-see."
Motorbikes were very rare in Saigon when Kim first came to the city (source: nguoitieudung.com)
During those days, the people there even did not have refrigerators and there was no supermarket too.
People with relatively high living standard lived in houses with sliding iron door. None had glass door then.
Brooms were used for lime whitewashing work, instead of Nippon matte and roller like nowadays.
"Despite the poverty haunting Vietnam back then, I still strongly believed that I would come back to the country to live and work for longer" Kim said.
In December 1992, Vietnam and Korea formally established diplomatic relations. In 1993, Kim applied for a job in the Korean Ministry of Foreign Affairs.
To be qualified to work at the Ministry, the candidates had to go through several examinations, including foreign language test. And for Kim, it was Vietnamese.
"None of the diplomats there could test my Vietnamese proficiency. At the same time, my professor who taught me in college could not be selected to be the examiner in order to ensure fairness. The person who helped test my Vietnamese language skills was madam Le Thieu Ngan, spouse of the first Vietnamese ambassador to Korea Nguyen Phu Binh" Kim recalled the memory.
In 1995, he returned to Vietnam as an officer of the Korean Consulate General who was in charge of cultural, educational and sports affairs.
A few years had passed since the first day he set foot on the new land, and things had vastly changed.
The streets were much modernized, with more motorbikes, and for the premier time, people could travel by taxi. "Vina Sun (Korea) was the first taxi operator who came to the country then. Korean investors also began to increase their attention for Vietnam", Kim said.
Vietnam, where love grows
Vietnam was also the land where Kim found his life partner.
He first met his wife in 1998 while working for a project on building a learning facility for Korean kids in HCM.City. where she worked as a Korean language teacher.
The two got married three years later and afterwards returned to Korea as Kim's tenure in Vietnam ended in 2001.
In 2004, Kim came back to Vietnam to work for the Korean Embassy in Hanoi for three years, and returned to Korea to continue working for the Ministry of Foreign Affairs before coming back to the Consulate General in HCM. City in 2010.
"I felt like I was home again when I arrived in the city at 4 am. It was an un indescribable feeling" he shared, adding that he took a cab to his favorite restaurant to grab a bowl of "hủ tiếu xào bò" (stir fried noodle with beef) on that morning.
The Korean diplomat is someone who never turns down any Vietnamese dish, including those with 'strong smell' like "mắm tôm" (fermented shrimp paste), or containing lots of raw vegetables like "gỏi cuốn" (fresh spring rolls).
Kim's strong love for Vietnam is also expressed in the respectful way he uses the language.
"I just love Vietnam so much", said Kim (photo: Thanh Nha)
People who have had chance to talk to Kim in person or via text message all notice that he always use the word "dạ" (the Vietnamese polite way of saying "yes"), instead of OK.
He even spent time to gain in-depth understanding of the language by pursuing a Master degree in Vietnamese language during his tenure in Vietnam in 2001.
"I have immersed myself in Vietnamese language and culture. I just love the country so much. It is hard to change..." he confessed.
At the middle of the conversation, Kim suddenly appeared to be emotional when he mentioned his late father.
"My dad passed away in 2011. On the day he left, I realized that he has given me a treasured present, which is Vietnam. Without his encouragement, I'd have never learnt Vietnamese and formed such a close ties with the country like I do today."
Passing the love for Vietnam to his kids
Kim wakes up at 6 am every morning to take his two sons to school after the family's breakfast at home.
The Consul afterwards heads to his office in District 1.
In the Consulate General, Kim's workload is huge, since he covers more than 100,000 Korean nationals in Vietnam as well as over 100,000 Vietnamese workers and 60,000 Vietnamese brides in Korea.
Kim said this year his tasks would be even heavier, as Vietnam and Korea celebrates 25th anniversary of diplomatic relations establishment.
According to him, the Korean and Vietnamese are very loving people. The role of Korean soldiers in the Vietnam war has become history. At present, the two countries are entering a new chapter of cooperation.
Kim also shared his plan in the time to come that he would continue to work at the Korean Ministry of Foreign Affairs after his tenure in Vietnam ends.
Kim and his family in the "Promotion of Peace & Friendship" medal presentation ceremony (source: bao cong thuong)
Another option might be working for the Korea Study Center in the University of Education (HCM.City), or Can Tho University, Kim added.
At the moment, the working plan is not very clear, but there is one thing Kim is pretty sure of: no matter what he does, he will do his best to continue staying in Vietnam after retirement.
Recently, Kim's contribution to Vietnam-Korea flourishing ties has been acknowledged by the Vietnam Union of Friendship Organization, as the "Promotion of Peace & Friendship" medal was presented to him on July 28.
Earlier, on ocassion of the 20th anniversary of Vietnam-Korea diplomatic ties establishment in 2012, the HCM.City People's Committee also awarded Kim a Certificate of Appreciation for his efforts in helping reinforce the two countries' ties.
Beyond all glory, the biggest gift to Kim is still what his father gave him over three decades ago – the encouragement to come to Vietnam. "My dad passed away without handing me anything except the priceless gift named "Vietnam" which I'll pass to my sons when they grow up. I have told them no matter where you go, please take time to come back to Saigon to see their dad, to see their homeland."/.
( Translated by Phi Yen )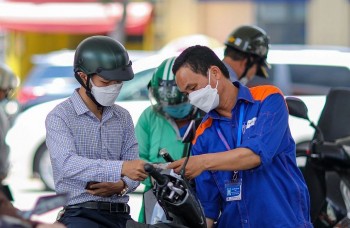 Economy
Vietnam Business & Weather Briefing (Oct 2): Binh Duong lures foreign investors with special care, the North and Central regions continue to have heavy rains, leading to the risk of flooding, flash floods, and landslides.