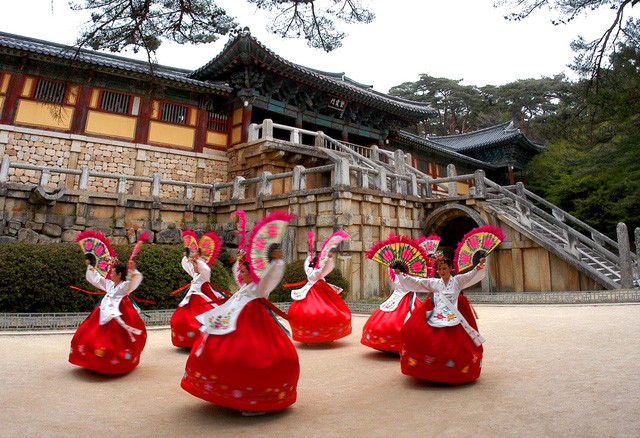 Photo: VisitKorea
The Korea state's Yonhap News Agency announced on Demcember 12 that the East Asian nation would introduce 4 brand new policies that would promote the country as a tourist destination for other countries in the region. These policies are said to include a new visa-free program for ASEAN citizens as well as enhanced visa-free stay programs for regional airports across Korea.
The changes in South Korea's visa policy are hoped to build the country's tourism industry amongst younger travelers within the region. Additionally, the new measures are to be implemented with the intention of creating greater integration between national citizens and those across East Asia.
At present Korean Visas are necessary for visitors from most ASEAN countries with the exception of Hong Kong, Singapore, Thailand, and Malaysia. Korea seeks now to ease travel for citizens of other nations in the group such as those visiting from Vietnam, the Philippines, and Indonesia.
Quoting a government press release, Yonhap stated: "(South Korea) plans to sign a treaty with ASEAN to allow young people from the region to enjoy regional tours and language studies while staying in South Korea up to one year."
If it is a success, the new visa program could help the country build much better cultural ties between itself and the other countries in Southeast Asia. By enhancing its reputation in this way it is also likely to see a big upturn in tourist numbers.
To facilitate the larger quantity of visitors, South Korea has also indicated that travelers from overseas will be able to spend up to 72 hours in regional airports visa-free. At present this is only permitted at Seoul's Incheon airport.
The new expanded visa-free transit system would be promoted by new flight routes between South Korea and Vietnam, Thailand, Malaysia, and the Philippines. If successful, the changes will further enhance the connectivity between Korea and the ASEAN community as a whole.
Additionally, the government is working to build up better transport options from regional airports to popular tourist destinations around the country. This is to meet the overall goal of creating more reliable routes for tourism to trickle down to smaller cities and regions. At present, the tourism sector is dominated by the Seoul capital area.
Many of the regions targeted for this new program are undergoing negative population growth due to aging inhabitants and the growth of Seoul. It is therefore hoped that the new policies will have an effect in slowing and reversing this demograhic trend in Korea once it is put fully into effect.
Finally, to further enhance its reputation as a tourist destination, the country is to introduce new laws and measures to prevent overcharging of overseas visitors. This is sometimes common at beach destinations within the country and from some of its hospitality businesses during peak tourist season. However, once the new law is in place, this practice should end.
The nation is targeting another successful year in terms of tourist numbers after a highly successful 2019. It is estimated that around 17.4 million people visited during the last 12 months. The proposed visa changes for what are some of the world's most populous countries with increasingly mobile citizens are likely to have a positive effect on the numbers.
Furthermore, South Korea is also seeking to seal a major trade partnership between itself and ASEAN as a group. The deal is said to be in advanced stages and if signed would represent the biggest trade agreement in the world.