Lecturer inspires students to pursue research
As a lecturer, Vòng Bính Long juggles two jobs: conducting research in pharmaceutical materials used to treat cancer and teaching classes to students at the University of Science in HCM City.
Vòng Bính Long, 35, a lecturer at the University of Science in HCM City, conducts research on pharmaceutical materials that can improve effectiveness of medical treatments. — Photo courtesy of Vòng Bính Long
While working on his doctoral degree in materials science at the University of Tsukuba in Japan, Long, now 35, and his colleagues conducted research on the use of nanotechnology to reduce the side effects of drugs.
Ulcerative colitis, a severe inflammatory bowel disease, for example, can increase the risk of colon cancer. Drugs used to treat patients with this disease are not always effective because of nonspecific distribution and metabolism in the gastrointestinal tract, and side effects.
"We designed a nitroxide radical-containing nanoparticle which is a kind of nanomedicine which accumulates specifically in the colon to suppress inflammation. It reduces the undesirable side effects of nitroxide radicals," Long said.
The nanoparticles improved effectiveness because of the low loss of medicine in the patient's body, he said. The medicine was also used with existing oral chemotherapy, the preferred treatment for colon cancer.
However, chemotherapy can lead to instability in the gastrointestinal tract, insufficient bioavailability, low tumor targeting, and severe adverse effects.
Nanomedicine helped improve these shortcomings. "It accumulated in colonic mucosa, and specifically internalised in cancer tissues, but less in normal tissues," Long said, adding that it significantly suppressed tumor growth after accumulation at tumor sites.
The combination of nanomedicine with conventional chemotherapy significantly improved therapeutic efficacy and suppressed its adverse effects on the gastrointestinal tract. As such, nanomedicine is considered a promising oral nanotherapeutics for cancer therapies.
Before returning to HCM City, Long and a friend who is a cardiologist conducted research on redox injectable hydrogel-releasing nitric oxide, which has various functions in cardiovascular diseases. However, due to an extremely short half-life and low bioavailability, its therapeutic application was limited.
Treatment with nitric oxide-releasing redox injectable hydrogel can decrease the chance of a heart attack and improves heart function after a heart attack, Long said. "It has high potential in preventing and treating cardiovascular diseases."
Long's research was supervised by Professor Nagasaki Yukio at the University of Tsukuba, a pioneer in the field of biomaterials and nanomedicine.
"I'm now studying administrative procedures on human clinical trials in Việt Nam and looking for pharmaceutical companies to commercialise my research results," Long said.
Long has had 15 articles published in respected international journals and holds six Japanese and American patents. He was honoured as one of Việt Nam's 10 most outstanding young people in mid-March by the Hồ Chí Minh Communist Youth Union's Central Committee.
"This honour inspires me to continue my research interests," Longs said.
Return to Việt Nam
After receiving his doctoral degree in 2015 in materials science at the University of Tsukuba, Long returned to HCM City as a lecturer at the Univesity of Science under the Vietnam National University HCM City, although he had a chance to continue research at a university in Japan.
"As a lecturer, I can inspire my students and continue my own research, although facilities for this in Việt Nam are insufficient," Long said.
However, he was able to receive help from his colleagues in the biology and biotechnology fields, who allowed him to use their facilities. And, before returning to Việt Nam, he also sought funds for research, which has helped him continue his work.
Trịnh Thị Kim Xuyến, a student of Long's, said: "My interest in doing research is inspired by lecturer Long. With genuine enthusiasm, he has helped guide me and my classmates on identifying topics of research and finding shortcomings and solutions. He's a friendly lecturer, too."
VNF ( VNS )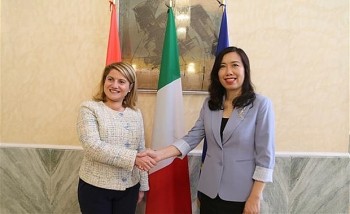 Friendship
The Vietnam - Italy political consultation is part of the occasion of the 50th anniversary of diplomatic ties and the 10th anniversary of the framework of the strategic partnership.