Minibus, a good solution for the current traffic problem: experts
Passenger bus network have been developed extensively in the districts, wards and towns to encourage people to use public transport to avoid traffic congestion as well as help the environment.
Passenger bus network have been developed extensively in the districts, wards and towns to encourage people to use public transport to avoid traffic congestion as well as help the environment.
Passengers at a bus station in Hanoi. - VNA/VNS Photo Bui Tuong
But it still fails to attract more passengers.
The main reason for such problem is lack of connectivity, according to transport experts.
At a transport workshop held in Hanoi recently, experts said the city should launch minibus networks in order to reduce transit, including shortening the distance from passengers' homes to bus stops, limiting traffic jams, accidents and attract more users.
Deputy General Director of Hanoi Transport Services Corporation (Transerco), Nguyen Cong Nhat, said in 2017, the bus network covers all 30 districts, wards and towns.
This year, the company would focus on increasing connectivity for the urban transport network, he said.
However, with the network of large and medium buses, many people could not access them.
Commuters from many areas have to walk 2-3km to get a bus.
"Although the network has expanded, many people still find it hard to use this service," Nhat told Kinh Te&Do Thi (Economy & Urban Affairs) newspaper.
Luong Ngoc Thanh, a resident living in Hanoi's Thanh Xuan District, said she had to wake up early to get a bus on time.
"I have to do everything quickly in the mornings to go to bus station on time because it is far from my home, about 1.2km," Thanh said.
"I can not drive a motorbike so the bus is still my best option although I have to walk quite far. But many people gave up this service because it wastes much time."
Thanh is one of many people living in the small streets of Hanoi and has to walk far to get to a bus stop. With this inconvenience, many people now choose other vehicles.
Agreeing with Nhat, Dr Pham Hoai Trung from Transport Development Strategy Institute, said the development of buses, including minibus was suitable for some big cities which are now having to deal with congestion and overload.
"The minibus model has been used in many countries around the world. The advantage of the minibus is its high mobility. It can go to many narrow streets while the existing bus network cannot. And the minibus will help solve the problem of the fund for transportation which is in serious shortage in Hanoi and other big cities," said Trung.
According to transport expert Phạm Sanh, the roads in Hanoi and HCM City are too small.
HCM City has more than 4,000 roads but the road with a width of 7m or more only accounts for 30 per cent.
In Hanoi, the coverage of the bus network is approximately 70 per cent with a lack of connection to residential areas and new urban areas, even lack of stations. The rate of passengers using bus is still low, around 10 per cent in both cities.
Experts said the development of minibuses which can carry up to 16 passengers was necessary.
Dr Tran Huu Minh, deputy head of the National Traffic Safety Committee, said the difficulty of the bus as well as the minibus was the competition with private cars, taxi and Grab bikes.
"Vietnam's motor vehicle ownership is 600 vehicles per 1,000 people. Meanwhile buses are also struggling with private cars. With the current motorcycle, the bus is in weak competition," Minh told Thanh Nien (Young People) newspaper.
Sanh said Hanoi and HCM City authorities should carefully survey and calculate scientifically in launching minibus. The cities should conduct a pilot project to gain social support.
Earlier, HCM City Public Passenger Transport Management and Operation Centre proposed investment in 210 minibuses to transport passengers from narrow alleys to wider streets where they can take buses.
However, experts say the city authority should carefully consider the feasibility of such an investment because of the pressure on the city's state budget.
VNF/VNA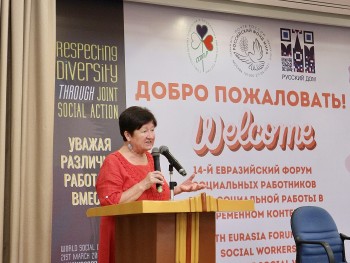 Friendship
The 14th Eurasia Forum of Social Workers Opens was held in Hanoi on March 20-21 with the theme of "The role of social work in the current context."