Moon Jae In sworn in as South Korea's new President
South Korea's new President Moon Jae In was sworn in on Wednesday (May 10th), just a day after a landslide election victory.
(VNF) - South Korea's new President Moon Jae In was sworn in on Wednesday (May 10th), just a day after a landslide election victory.
Newly elected South Korean President Moon Jae-in, right, and his wife Kim Jung-suk salute to a national flag during his inauguration ceremony at the National Assembly in Seoul. (Photo: Ahn Young-joon/AP)
Moon took the oath of office in a simple ceremony in the domed rotunda hall of the parliament building, a day after his liberal Democratic Party's decisive victory in a snap election called to find a replacement for Park Geun-hye, who was ousted in March over a corruption scandal.
"I do solemnly swear before the people that I will faithfully execute the duties of the President," Moon declared before legislators in the National Assembly building in Seoul.
In his comments soon after, he said he was prepared to visit North Korea and was ready to negotiate with China and the United States over a controversial anti-missile defence system. He also pledged to be a warm president and someone who would be a "friend" in difficult times.
He also planned to announce major cabinet and presidential staff appointments almost immediately to bring a swift end to a power vacuum left by the removal of his predecessor, Park Geun-hye, in March in a corruption scandal that rocked South Korea's business and political elite.
"I will urgently try to solve the security crisis," Moon said in the domed rotunda hall of the parliament building. "If needed, I will fly straight to Washington. I will go to Beijing and Tokyo and, if the conditions are right, to Pyongyang also."
Moon, 64, also pledged to sever what he described as the collusive ties between business and government that have plagued many of South Korea's family-run conglomerates, known as chaebol, and vowed to be an incorruptible leader.
"I take this office empty-handed, and I will leave the office empty-handed," Moon said.
Moon met leaders of opposition parties before his simple swearing-in ceremony at parliament and promised to coordinate better with them on national security issues.
"I can do well on matters of South-North Korea relations, national security, and the Korea-U.S. alliance if the Liberty Korea Party helps me," Moon told senior officials of the conservative opposition party. "I will share information on national security with the opposition to gather wisdom."
Office workers and passersby lined the streets as Moon's motorcade passed through central Seoul en route to the presidential Blue House from parliament.
Moon stood and waved to well-wishers through the sunroof of his limousine, which was flanked by police motorbikes and a security detail.
South Korean President Moon Jae-in waves as he heads for the Presidential Blue House in Seoul. (Picture: Yonhap via REUTERS)
Chinese President Xi Jinping and Japanese Prime Minister Shinzo Abe both congratulated Moon on Wednesday. Xi said China was willing to handle disputes with South Korea "appropriately" on the basis of mutual trust and understanding.
Abe said in a statement he looked forward to working with Moon to improve bilateral relations, describing Seoul as one of Japan's "most important" regional neighbours".
The White House also congratulated Moon, saying it looked forward to working with him to strengthen the longstanding U.S.-South Korea alliance.
Other challenges Moon faces include mending a society badly bruised by the corruption scandal that doomed Park's administration.
Moon's party lacks a majority in a pided parliament. To push through major initiatives, including creating 500,000 jobs annually and reforming the country's powerful family-run conglomerates, he will need to forge partnerships with some of the parties and politicians he fought fiercely on his path to the presidency./.
Compiled by VNF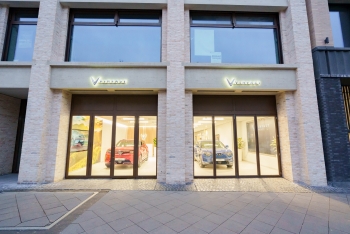 Economy
VinFast has officially opened its first two VinFast Stores in Cologne, Germany, and Paris, France.