North Korea launches two new projectiles, declines talks with South Korea
As South Korea's Joint Chiefs of Staff (JCS) informed, North Korea has conducted the new launch of two projectiles from the city of Tongchon, Kangwon province into Sea of Japan on Friday. It stated "The military is monitoring the situation in case of additional launches while maintaining a readiness posture".
North Korea has shot two new unidentified projectiles into its eastern coast on Friday due to the joint military exercise after rejecting inter – Korean talks.
Photo: CNBC
The JCS has not given further details about the type and the distance of North Korea's recent projectiles.
Also, on Friday, North Korea's Committee for the Peaceful Reunification had cancelled inter – Korean dialogues which is about the unification of two Koreas by 2045 after labelling South Korean President Moon Jae In as "impudent".
It also expressed its concern that the joint military drills between South Korea and the US was the hostile action against North Korea.
It said "We have nothing to talk any more with the South Korean authorities nor have any idea to sit with them again" and criticized the South Korea for the stalemate of "historic Panmunjon declaration" which was signed by two Koreas' leaders to cooperate for the end of Korean conflict in April 2018.
North Korea has had the sixth launch three weeks in a row as showing its disagreement about the joint military exercises of the US and South Korea. Although the US and South Korea stayed calm for North Korea's actions and UN resolutions also banned North Korea from testing ballistic short, medium and long – range missiles, North Korea continued its fires while the US – South Korea drills was still launched.
Aljazeera, Reuters, CNBC ( Van Nguyen )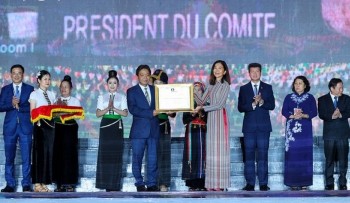 Viet's Home
UNESCO presented Vietnam a certificate recognizing Xoe Thai dance as an Intangible Cultural Heritage of Humanity at a ceremony held in Yen Bai province on September 24.