Ocean Plastics turned into an Opportunity in Circular Economy project launched in Vietnam
Ocean Plastics turned into an Opportunity in Circular Economy (OPTOCE) Project was officially launched in Vietnam on October 4.
At the ceremony in Ho Chi Minh city. Photo: Hanoi Times
Using the concept of co-processing OPTOCE is expected to turn non-recycable plastic wastes from one industry into resources for another, thereby helps to reduce coal consumption, promote energy recovery, and prevent plastics from dumping into oceans.
OPTOCE Project is funded by the Norwegian Government through Norwegian Agency for Development Cooperation (Norad). The Project is implemented regionally by the Norwegian Foundation for Scientific and Industrial Research (SINTEF) in five countries including China, India, Myanmar, Thailand and Vietnam.
Dr. Kare Helge Karstensen, chief scientist and programme manager of the project, said: "It aims to investigate how the involvement of resources and energy intensive industries like cement manufacturing can increase the capacity for non-recyclable plastic wastes."
The collection and treatment of plastic waste are not very effective in Vietnam, and the project can provide incentives to the private industry in collecting and treating plastic wastes, reducing their coal consumption and costs, he said.
Norwegian Ambassador to Vietnam Grete Lochen said plastic wastes are made from fossil fuel and thus can create more energy than coal, and recycling them would reduce the amount of plastic dumped in the ocean and the emission of greenhouse gases.
The project will be carried out in co-ordination with the Ministry of Natural Resources and Environment's Vietnam Environment Administration and various other agencies, international and local organisations and private businesses.
It will push for public-private-partnerships in the collection of plastic waste and its usage in cement plants.
Factories taking part in this project can receive training in and assistance with co-processing, which could reduce their coal consumption by using waste and non-recyclable plastic while being more energy efficient.
This technique does not produce residues that need to be disposed, thus also saving waste processing costs./.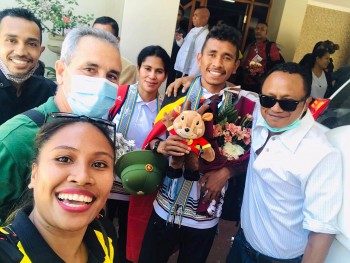 Viet's Home
Along with a Vietnamese flag, the foreign athlete also brought many souvenirs representing the love from his Vietnamese fans, like the signature Vietnam pith helmet.