Only 20% of Vietnamese firms invest in branding
Merely 20% of Vietnamese enterprises have invested in building brands with the focus on the domestic market and have yet to register their brands in foreign markets.
Vinamilk is among large corporations has developed their own brand.
The information was revealed at a seminar themed "Brand in relation to strategies of enterprise development" jointly held by the Vietnam Chamber of Commerce and Industry (VCCI) and the Vietnam Intellectual Property Association (VIPA) on October 29.
According to VCCI Vice President, Hoang Quang Phong, brand building is a key factor to help businesses compete fairly with both domestic and foreign firms. It is not only a passport to facilitate firms in their export activities but also establishes the reputation and brand of a whole country.
However, brand development is a shortcoming of Vietnamese firms and only large corporations have developed their own brands including Vinamilk, Vingroup, Viettel, Bao Viet and others. Meanwhile small and medium-sized enterprises (SME) are not strong enough to build their own brands, Phong noted.
The Vice President also pointed out that there were many cases in which popular Vietnamese brands, including Trung Nguyen coffee, Vinamit, and Bitis were not registered abroad and were appropriated in some foreign markets, causing huge losses in market expansion and competition with imported goods.
Meanwhile, Deputy Chief Inspector of the Ministry of Science and Technology, Nguyen Nhu Quynh, said that if firms are not aware of the important role of brands and the power of brands in their development, they will lose their development opportunities in the international market.
In an online survey conducted in April on 200 small and medium-sized firms in Hanoi and HCM City, the British brand consultant Mibrand found that most of them were building their brands by themselves but without having the tools for it.

Among the biggest problems Vietnamese firms face when building brands are the lack of an instruction toolkit and standard methods to assess outcomes.

Some companies do hire a professional agency or consultancy to help with the branding, but face challenges like high fees, the outside experts not having a thorough understanding of the company's situation, and inability to evaluate the outcomes since they are not provided the tools for it, he said.

"Businesses should only hire an agency for branding once they have scaled up. For newly established businesses and start-ups, it is not a good choice."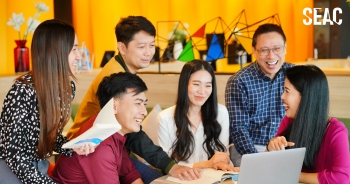 Economy
SEAC, a leading corporate and lifelong education innovator, is shaking up the Thai and ASEAN education market with significant investment to expand its SMART learning solutions across the ASEAN region.