Pax Jolie-Pitt Appears with Angelina Jolie at New Movie Premiere
Angelina Jolie celebrated the premiere of the Paper & Glue: A JR Project documentary with two very special dates: Her kids Shiloh and Pax.
Angelina Jolie and her kids: Shiloh and Pax. (Photo: Broadimage/Shutterstock)
Angelina Jolie stepped out on Thursday, November 18, to support French photographer JR's MSNBC film — which debuted in theaters earlier this month - donning an all-black ensemble as she posed with her 15-year-old daughter Shiloh and 17-year-old son on the red carpet Pax.
Photo: Action Press/Shutterstock
While the Salt actress choose a sleek turtleneck and matching skirt, her kids opted for more casual looks, wearing jeans and Converse sneakers. Shiloh added a black hoodie, while her older brother went with a checked button-down shirt. Jolie, Pax and Shiloh even posed for a variety of snaps with the street artist, 38, during the red carpet festivities, according to US Magazine.
"Her kids are her life," a source exclusively told Us Weekly in May 2019, adding that "every day is a new adventure" for the large family. "[Jolie] really likes the life lessons and new ideas that come from trying all different things. The sky's the limit for her."
Angelina Jolie and Brad Pitt have three adopted children and three biological children throughout their marriage. Unlike other children, only Pax Thien Jolie-Pitt, Brangelina's second adopted son, attempts to keep out of the spotlight.
Who is Pax Thien Jolie-Pitt?
Pax Thien Jolie-Pitt's life started in Vietnam when he was born on November 29, 2003. Pax's birth mother lacked all the basic necessities to take care of him. After her mother's poor condition, she left him in an orphanage before being adopted by Hollywood's favorite couple, Brangelina.
Pax was left on the doorsteps of the Tam Binh Center in the little town of Thuy Bieu, according to Jolie. It was there that the couple, Brangelina met Pax for the first time when he was just three years old. Pax clearly belonged to them from the start, as Angelina Jolie paid a visit to the orphanage where she spent her first few years with her then-boyfriend, Brad Pitt, according to Vizaca.
Photo: Image Press Agency/NurPhoto/Shutterstock
According to reports at the time, Angelina Jolie adopted Pax on her own. Pitt's hesitation to accept Pax nearly ended his romance with Jolie. This is According to Weekly. Brad Pitt, on the other hand, had a valid reason for not wanting to add another kid to their burgeoning family.
Pitt was anxious about Pax's adoption taking place so soon after Shiloh was born, according to a source who spoke to the magazine. Pax was also 3 years old at the time of his adoption, and he didn't understand the English language nor speak any word of it. Regardless of Brad Pitt's denial, Jolie went forward with Pax's adoption anyhow. She also informed Pitt that Pax is more in need of her than Shiloh. This is said to have enraged the Once Upon A Time in Hollywood star.
These days Pax Thien Jolie-Pitt has become handsome. Pax has walked on a lot of red carpets with his mom, Jolie, making everyone wonder about the new transformation. The Jolie-Pitt family's most quiet member, Pax Thien Jolie-Pitt, who is also a high school student, is hardly spotted out in public with his renowned family.
Photo: Lisa O'Connor/Shutterstock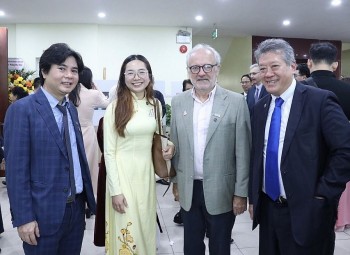 Friendship
Agreeing that the young generation is an important force to promote the friendship between Vietnam and France, many members of the Vietnam-France Friendship and Cooperation Association hope that the Association will hold practical activities to attract the young in its coming term.