Plan International supports for children affected by monsoons floods in Nepal
Plan International is responding to the immediate needs of children in Rautahat district, Nepal, following deadly flash floods and landslides.
Plan International is responding to the immediate needs of children in Rautahat district, Nepal, following deadly flash floods and landslides.
More than 48,000 homes have been submerged by rising waters in Nepal [Navesh Chitrakar/Reuters]
Flash floods and landslides triggered by weeks of continuous heavy rainfall have rendered thousands of people in Nepal homeless and in desperate need of food, water, sanitation and shelter.
Monsoon rains in the southern plains of Nepal, in the Terai region, have claimed the lives of more than 100 people and displaced thousands of families whose homes have been destroyed or damaged.
Working in coordination with the District Disaster Rescue Committee, Plan International has started the distribution of food items and tarpaulins for temporary shelter in Rautahat district.
CHILDREN IN NEED OF SUPPORT
"Access continues to be a challenge as roads are blocked off, bridges have collapsed and telecommunication lines are down, but we are working as swiftly as possible to reach communities in dire need of support," says Plan International Nepal's Shreeram KC, who is currently in Rautahat district, an area heavily affected by the floods.
"When I visited communities, 80% of the land was flooded. Children remained in their wet clothes as their homes were either severely damaged or destroyed. Families were telling us that they had not eaten in days and were worried about the impact that future rains may have on their families and homes," says KC.
A large portion of schools based in the affected areas are closed, and are being used as evacuation centres, meaning children may be left on their own and without a safe place to go.
"It is critical that children, particularly those who have lost their homes and personal belongings, receive the counseling and support they need, as well as immediate life-saving items, to ensure their safety, protection and well-being," says KC.
The Nepal Red Cross warned shortages of drinking water and food could create a humanitarian crisis [AFP]
"I WAS SO SCARED"
"When I saw the water level rising, I was so scared and worried," says Khusbu, an 8-year-old girl from Rautahat district. "I had never seen so much water nor the stream nearby my house get so high. I was worried whether the water would sweep me away. My father asked us all to move and carry our personal items to our neighbour's house. Now, we have no home and I don't know how long we will have to stay in a [temporary] shelter."
"We are in the heart of the monsoon season, and any additional or prolonged rainfall will only worsen the situation for families already in vulnerable situations. We will continue to work with government agencies to ensure relief items reach affected families and that they are equipped to withstand the impact of any immediate, future rains," says KC./.
VNF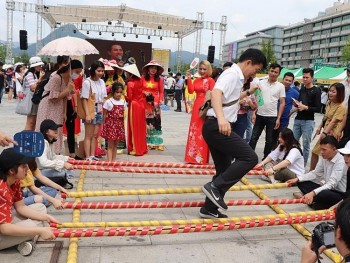 Focus
Vietnam Days Abroad is an annual national promotion program hosted by the Ministry of Foreign Affairs since 2010.