Promoting Culture Seen as Key to Enhance Soft Power by Many Countries
In the context of intensive international integration, culture and cultural promotion activities play an increasingly important role. Many countries focus on those activities to consolidate and enhance their position, image, and influence on other countries.
Japan: Prioritize resources to promote culture
Japan is known for its poor natural resources and regular national disasters such as earthquakes and tsunamis. However, when referring to Japan, international friends remember the good qualities of Japanese people such as disciplined personalities, strong will, high communal solidarity, loyalty, respect toward tradition, and striving for development.
That is the result of Japan's process to promote its culture to the world. As a country with a unique and special culture, Japan focuses on preserving traditional values, while constantly absorbing the cultural quintessence of mankind and introducing Japanese cultural values to the world.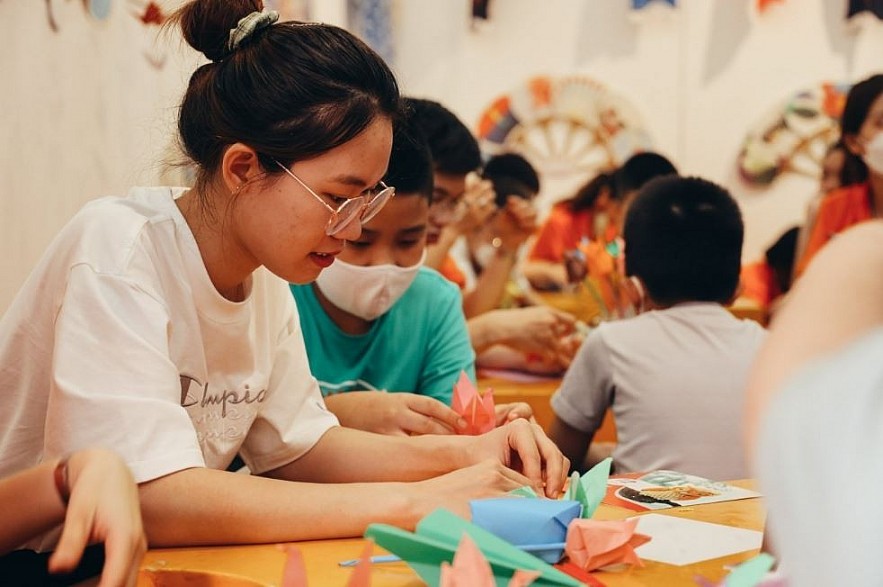 Japan introduces Origami paper folding art to Vietnamese children.
According to experts, the Japanese cultural diplomacy strategy aims to increase the world's understanding of Japan, enhance other countries' trust in Japan, boost mutual understanding among civilizations and cultures, and nurture the common cultural values ​​of mankind.
To achieve this goal, Japan spends many resources on promoting cultural activities and events such as holding cherry blossom festivals, introducing and performing music, promoting Origami, flower arrangement, tea ceremony, and comic books to other countries.
Japan also invests to establish Japanese language centers for foreigners, sponsors students from other countries to study in Japan, and increase the number of Japanese students studying abroad. The promotion of Japanese culture has also been raised to a new level as affirmed in the national cultural diplomacy program named "Peaceful Nation of Cultural Exchange" approved in 2005 by former Prime Minister Koizumi.
MSc. Pham Thi Thu Ha (Faculty of Japanese Language and Culture, University of Languages and International Studies, Vietnam National University, Hanoi) said that the strong development of Japanese pop culture had a profound effect on global cultural life. It is the result of the country's process to build and develop its cultural industry abroad initiated by the Japanese government. Moreover, this policy becomes an important part of the country's development strategy in the new era.
The USA: Expand cultural space in other countries
For the USA, soft power promotion through the spread of American culture and values to the outside world holds a significant role according to the country's politicians.
In an article named "American cultural diplomacy: Experience and Lessons for Vietnam", Ha Kim Ngoc, who was then the Vietnamese Ambassador to the USA, said methods to deploy cultural diplomacy of American diplomatic missions, the practices of the US Embassy and Consulate General in Vietnam are vivid examples of how the USA promotes its culture to the world. The US Embassy in Hanoi and the US Consulate General in Ho Chi Minh City have built an "American space" called the American Center, which opens for the public to visit, experience, and learn.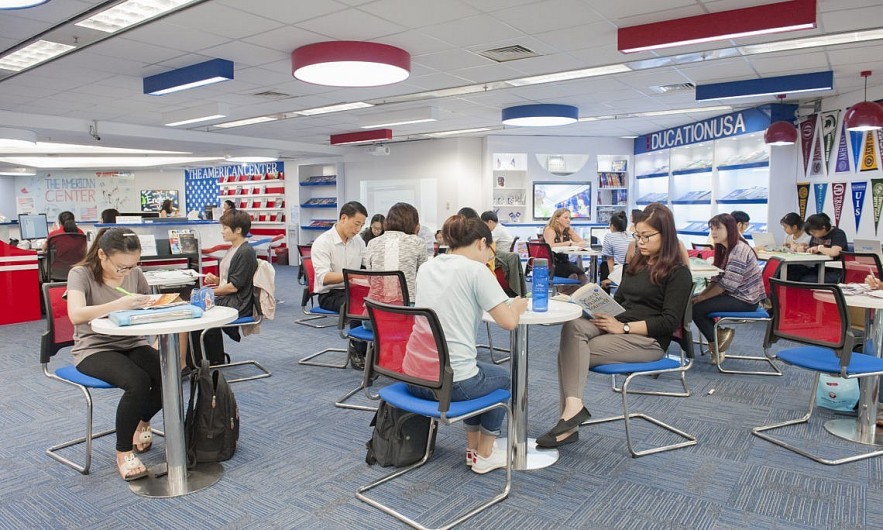 An American space in Vietnam.
At the center, a large number of documents about the country, people, and policies of the USA are presented in the form of a library for Vietnamese people, especially students, to freely visit, use and learn English. It regularly holds free seminars, training sessions, English clubs, debate clubs, book discussions, film screenings, exhibitions, music performances.
France: Build a large cultural promotion network in other countries
Since 1999, France has carried out drastic reforms focusing on widely promoting the image of France to the locals and foreigners through the mass media, which play an important role in strengthening the position of France. French cultural diplomacy specifically aims to preserve and promote the value of French heritage and contemporary creative products to the international community and enhance economic benefit.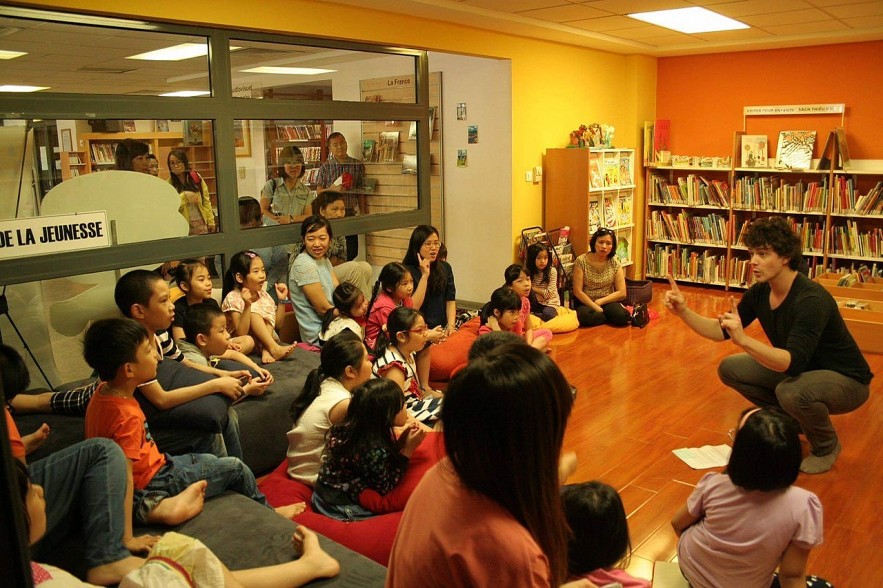 Story reading session for children at the French Cultural Center in Hanoi.
The cultural presence of France in other countries is realized by a system of cultural, research centers, high schools, and cooperation projects. Etienne Rolland-Piegue, who served as Counselor for Cooperation and Culture, French Embassy in Vietnam from 2017 to 2021 said that France's policy to promote culture abroad was implemented through a network of 500 French Institutes under the embassies, 835 Alliances françaises, 27 research institutes and 522 schools at all levels.
This network has contributed to the widespread of French cultural activities abroad, in which the promotion and teaching of the French language play an important role. French is spoken by more than 300 million people worldwide. Considering the current population fluctuations, French could become the third most spoken language in the world in the 21st century. Many people learn French and English as a first or second foreign language. French high schools abroad attract children from many expatriate families thanks to the high-quality and educational values that French school system shares and celebrates.
Vietnam: Promote culture to improve the "quality" of relations with other countries
Over the past ten years, Vietnam's cultural diplomacy has reached many achievements in terms of theory, policy and practical implementation. Assoc., PhD. Le Thanh Binh (Diplomatic Academy of Vietnam) said cultural exchange and promotion activities had become an increasingly professional and effective channel, contributing to raising the status and image of Vietnam and its people in the international arena. Cultural exchange not only promotes relations with other countries but also spreads the Vietnamese culture to the overseas community, connects overseas citizens with their homeland, and permeates the culture to local people of the host countries.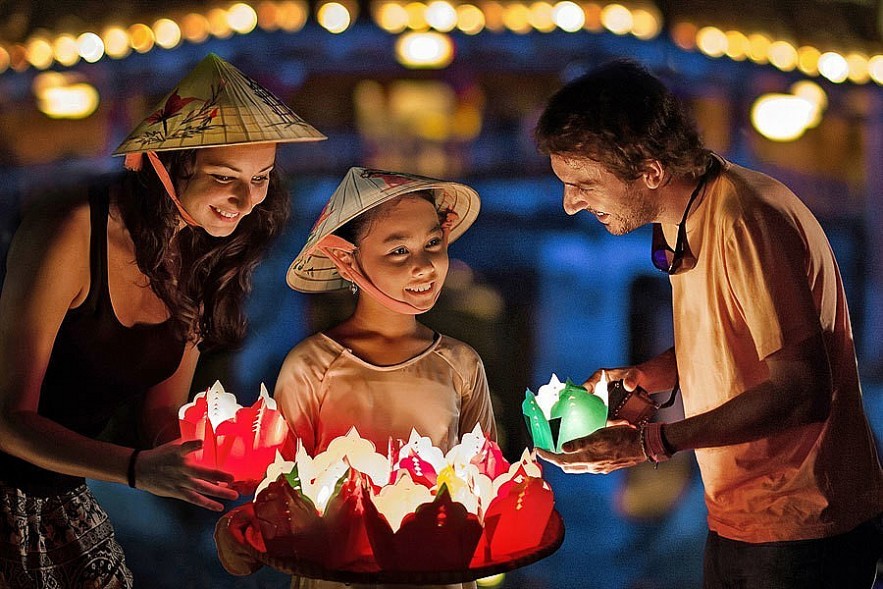 The image of the country, culture, history, people, and policies of Vietnam is well promoted, helping the international community understand and love Vietnam.
Many activities such as Vietnamese culture day, week, and month, art performances, cultural-tourism festivals, film screenings, and cultural exchange are chaired and coordinated by the Ministry of Culture, Sports, and Tourism in cooperation with the Ministry of Foreign Affairs, Vietnamese embassies in many countries and territories around the world. Such events have increased the understanding and affection of international friends towards Vietnam and left a good impression on the international community.
The "Vietnam Year" held in many countries such as Russia, China, Laos or the Vietnam-France, France-Vietnam; Vietnam-Russia, Russia-Vietnam years, annual Vietnamese festivals with hundreds of thousands of visitors in Japan and Korea are becoming channels to attract investment and tourism to Vietnam. The model of Vietnamese cultural centers and houses in France, Germany, Thailand, and Laos, actively contributes to connecting and spreading the typical characteristics of Vietnamese culture and art to local people and Vietnamese communities in foreign countries.
At many global cultural organizations, Vietnamese representatives have shown dynamism and responsibility, contributed many initiatives, which have been approved, and joined hand to raise the country's status.
Cultural promotion activities has helped to promote the image of a modern Vietnam still keeping its traditional values, a country with openness, friendliness, loyalty to friends, respect for partners, and responsibility to the common work of the world. At the same time, cultural promotion activities provide opportunities for local people to interact and understand more about other countries' cultures.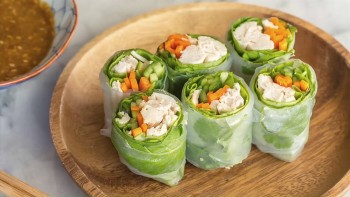 Travel
Rolls are a easy-to-make dish that is loved by many Vietnamese diners as well as Korean stars.