Promoting role of science and technology organization in management and reduction of plastic waste
A scientific conference entitiled "Promoting the role of science and technology organization in the management and reduction of plastic waste" took place in Hanoi on October 11 with the collaboration between the Vietnam Union of Science and Technology Associations (VUSTA) and German Development Cooperation Organization (GIZ) as part of the coalition on Vietnam Environment and Climate Change.
At the event. Photo: GIZ
The objective of the workshop is to create a forum to exchange and share information between scientists and policy makers on national plans and programmes on plastic waste management and reduction; the current situation including difficulties and challenges in creating data sources to manage plastic waste in Vietnam. From there, the delegates propose recommendations on scientific methods to create data sources in the management of plastic waste, and on policies, mechanisms and financial resources to mobilize the participation of scientists in the field.
The seminar includes presentations by representatives of the Ministry of Natural Resources and Environment (MONRE), Vietnam General Department of Sea and Islands, Hanoi University of Science and Technology, Vietnam Academy of Science and Technology, Vietnam Institute of Seas and Islands, representatives of the scientific community and international organizations in Vietnam.
Currently plastic waste is a threat to the environment, seriously affecting ecosystems, water quality as well as people's livelihood. The Vietnamese Government is urgently preparing the National Action Plan for Ocean Waste Management with a Vision to 2030.
According to the draft plan, by 2030, 100% of coastal tourism and service areas will not use disposable plastic products and hard-to-decompose plastic bags; the country will reduce 75% of ocean plastic waste; 100% of marine protected areas will no longer have plastic waste; Vietnam will expand the monitoring system and periodically evaluates the current state of ocean plastic waste in estuaries of 6 major river basins of Vietnam.
At the seminar, delegates listen to the introduction of Project "Rethinking plastics – Circular economy solutions to marine litter". The project is implemented by GIZ and Expertise France with a budget of 10 million Euros, jointly funded by the European Union and the German Federal Ministry for Economic Cooperation and Development. It is executed in Vietnam, Thailand, China, Indonesia, the Phillipines, Singapore and Japan bewteen 2019 and 2020. The project is aimed to support a transition towards sustainable consumption and production of plastic in East and Southeast Asia to contribute to a significant reduction of marine litter.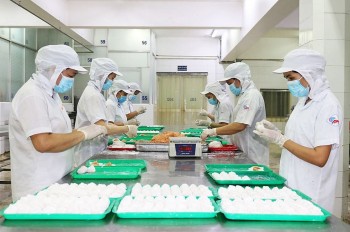 Focus
The fourth wave to hit Vietnam in late April has until now seen over 2 million Covid-19 cases recorded, whilst more than 1.72 million have since recovered from the virus.