RoK, UNDP support Vietnam with typhoon recovery
1,200 poor and near-poor families affected by Typhoon Damrey will get help to rebuild their homes and ensure they are storm resilient thanks to a contribution of nearly USD 1 million from the Republic of Korea (RoK).
1,200 poor and near-poor families affected by Typhoon Damrey will get help to rebuild their homes and ensure they are storm resilient thanks to a contribution of nearly USD 1 million from the Republic of Korea (RoK).
A partnership to this effect was signed on December 12th by representatives of the Vietnam Disaster Management Authority, the Embassy of the Republic of Korea and the United Nations Development Programme (UNDP), through which, affected families will be provided with necessary knowledge and resources to repair and rebuild their homes, while making sure the buildings can withstand future typhoons and floods.
At the signing ceremony. (Photo: UNDP Vietnam)
On November 4th, Typhoon Damrey (Storm No. 12) made landfall in Vietnam, the country's strongest storm in over a decade. More than 4.3 million people affected, 3,500 houses were destroyed in the Typhoon, and a further 300,000 houses were partially damaged. In Khanh Hoa province alone, 114,000 homes have been either partially or fully damaged. Heavy rainfall and flooding in the weeks following have continued to cause extensive damage, in particular in Quang Nam province.
Partners have responded quickly. The Government of Vietnam has committed significant resources to support early recovery activities in storm- and flood-affected provinces, and early recovery assessment missions, together with UN agencies and other partners, are underway to identify key longer-term recovery efforts. The government officially requested the UN to provide response and recovery support and a joint needs assessment identified housing and livelihoods as the most urgent needs for impacted communities. Through resources made available from the UN's Central Emergency Relief Funds, UN agencies have already launched recovery efforts in affected areas. However, the total resources available through Government, UN and other actors are to date far from sufficient to fully respond to the level of need in affected areas.
Speaking at the ceremony, Tran Quang Hoai, Permanent Member of Central Steering Committee for Natural Disaster Prevention and Control and Director General of the Vietnam Disaster Management Authority, said: "We appreciate this support from the Government of the Republic of Korea through UNDP. The support is very timely and important, which will help more than 1,200 affected people to have safe houses after the Storm No. 12 in 2017."
In his remarks, Lee Hyuk, Ambassador of the Republic of Korea to Vietnam, stated: "Korea and Vietnam have built one of the most successful partnerships over the past 25 years. Going beyond economic cooperation, to bonds of friendship and solidarity, today our partnership is also about supporting each other during times of difficulty and working together to address challenges of our times. In this regard, the Korean Government and people hope that this project, launched in cooperation with UNDP, will help repair and restore damaged houses in typhoon-affected areas and enhance resilience against future disasters. Last year, Korea worked with Vietnamese and UN partners to provide humanitarian aid to communities that were severely affected by drought and saltwater intrusion. As such, Korea will continue to work with Vietnam in dealing with challenges of climate change."
"Ensuring access to safe housing is at the core of effective recovery efforts," Kamal Malhotra, UN Resident Coordinator and UNDP Resident Representative in Vietnam, stressed. "Beyond survival, it helps families stay or return to their homes, significantly accelerating smooth transition to normal life with more resilient houses, based on the building back better principle."
Efforts will be undertaken in close collaboration with local level authorities, the Vietnam Red Cross and the Vietnam Women's Union, with a focus on poor and near-poor households in efforts to reach those in most dire need of assistance./.
VNF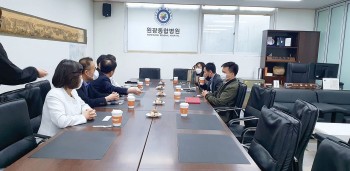 Overseas Vietnamese
A meeting was organized at the Wonkwang Hospital on the provision of medical support for the Vietnamese community in Korea in accordance with the signed cooperation agreement.