Run for the Heart 2018 continues to save lives of children with congenital heart defects
Gamuda Land JSC collaborates with Heartbeat Vietnam, a program under The VinaCapital Foundation to host the 6th Run for the Heart charity event to raise fund for life-saving heart surgeries for disadvantaged children.
Gamuda Land JSC collaborates with Heartbeat Vietnam, a program under The VinaCapital Foundation (VCF) to host the 6th Run for the Heart charity event to raise fund for life-saving heart surgeries for disadvantaged children.
At the press conference on November 21. (Photo: Heartbeat Vietnam)
Run For The Hearts is also part of Gamuda Land's committment to build a healthy community through promoting health awareness, physical exercises and contribution to society.
This year's event, held on December 16 at Celadon City, expects to attract more than 10,000 participants, hoping to fundraise the amount up to VND 4 billion (USD 17,000).
According to the Vietnam Ministry of Health, on average there will be one baby with congenital heart defects in 100 new-borns, equivalent to 16,000 new cases per year. Many of these children die while waiting for help. A surgery ranges from USD 1,500 to USD 7,000 and the average is USD 3,600 which is unaffordable for poor families.
Understanding importance of timely treatments for children with congenital heart defects, since 2013, Gamuda Land has been continously contributing to raise awareness and call for actions to save the children in need as well as provide opportunities for thousands of families across the country.
"Corporate Social Responsibility (CSR) is an integral part of Gamuda Land's core strategy," said Wyeren Yap Vooi Soon, General Director of Gamuda Land. "Sharing the suistainability with the community and improving the living standard for people are among out priorities and responsibilities as as a responsible urban builder. Therefore, Running for Heart is always one of the most prominent and sustainable CSR activities. Gamuda Land believes that children are the future of our country, as we give them a bright future, and we're provide it for everyone. "
Don Lam, the VinaCapital Foundation Chairman, express his faith in the event: "We deeply appreciate Gamuda Land's commitment to philanthropy and their trust in VCF to use the fund raised from Run for the Heart to provide heart surgeries for children. 710 young lives have been saved since 2013 thanks to their efforts.
I believe Run for the Heart 2018 will attract more participants than previous years to help promote humanitarian values to the Vietnamese business community and society."
This year, with the positive message of "Connecting hearts - Reaching life" Gamuda Land believes Run for the Heart will spread the philanthropy spirit. The event also aims to create a sharing community of Gamuda residences as part of a modern urban of Ho Chi Minh city. Run for the Heart is honored to have the support from many artists such as singer My Linh - the event's ambassador, Ha Nhi idol - the media representative, MC Vinh Phu, actress Viet Trang, actor Kim Ly, MC Hong Phu, Miss Phan Ngoc Diem, MC Quynh Chi and many more.
Besides, Run for the Heart has received donations from corporations including VinaCapital, Hoa Binh Construction Corporation, Asian International School, Joint Stock Company Construction Materials (CBM), FECON SOUTH Joint Stock Company, Phuc Hung Holding Construction Joint Stock Company… etc.
In the last 5 years, Run For The Heart events have raised nearly VND 18 billion (USD 774,000) to saved 710 children with congenital heart diseases. Sick, suffering children transfromed into healthy children, full of hope for a bright future.
Founded in 2007 and underwritten by VinaCapital to realize the firm vision of "going forward and giving back", VCF aims to empower the children and youth of Vietnam by providing opportunities for growth and improvement through health and education programs. The work of VCF touches the lives of millions in Vietnam's all 63 provinces every year.
VCF's grassroots medical programs include Heartbeat Vietnam and Outreach Clinics - designed to locate disadvantaged children with congenital heart defects and other non-communicable diseases in even the remotest areas and provide access to quality healthcare.
Medical capacity building programs are partnerships with the Ministry of Health and include Critical Response emergency care – pediatric advanced life support training & emergency equipment, and Survive to Thrive – building capacity for neonatal care.
VCF's education initiative in cooperation with Vu A Dinh Scholarship Fund, the Brighter Path program, is an empowerment and scholarship program for impoverished but academically talented ethnic minority girls that develops communities and reduces poverty./.
VNF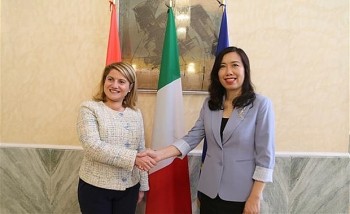 Friendship
The Vietnam - Italy political consultation is part of the occasion of the 50th anniversary of diplomatic ties and the 10th anniversary of the framework of the strategic partnership.