SDG Challenge 2019 competition launched
The Vietnam SDG Challenge 2019 competition, themed 'Innovative Solutions for Increasing Accessibility for Persons with Disabilities', was launched on Wednesday in Ha Noi.
Ms. Caitlin Wiesen - UNDP Resident Representative Viet Nam at the press conference to launch the competition
The competition is part of IMPACT TECHFEST, organised by the the Ministry of Science and Technology and the United Nations Development Programme (UNDP).
The competition aims to improve awareness about social integration for people with disabilities and broadcast information on products and services helping their accessibility.
Enterprises and organisations that offer products helping people with disabilities integrate into the community can enter the competition.
Documents about the products, including a pitch deck, a video and other introduction papers related to the products should be sent to sdgchallenge2019@gmail.com no later than August 4. The documents can be in Vietnamese or English.
The list of the top teams will be announced on August 9. Then the teams will be trained from August 17 to September 15.
The final round of the competition will take place on September 19, with the winning products exhibited on December 3.
The winning team will receive a trip to South Korea to study the country's start-up system and social enterprises support system.
Today in Việt Nam, more than six million people are considered to have disabilities, according to the UNDP.
Speaking at the launching ceremony, Caitlin Wiesen, Resident Representative, UNDP Vietnam, said one of the most pressing challenges for people with disabilities and older persons is accessibility. Accessibility is not only a right, but also a means of ensuring everyone can exercise all their rights and is empowered to participate in society.
"Through the SDG Challenge, we not only want to create opportunities for entrepreneurs and persons with disabilities to explore innovation solutions together, but also aim to use this initiative to raise awareness of the challenges and barriers faced by persons with disabilities. Together, we can ensure that we leave no one behind," she said.
The SDG Challenge was held for the first time in 2017. This is the second edition.
VNF ( VNS )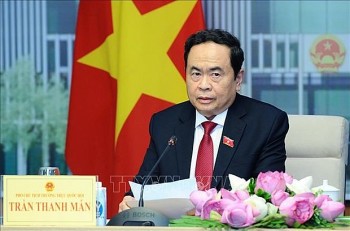 National
China's National People's Congress stands ready to work with Vietnam's National Assembly to play a positive role in carrying forward traditional friendship, enhancing political mutual trust, deepening practical cooperation, properly managing differences, and enhancing people-to-people ties