Sexual harassment in public space, workplaces to decline?
Will surveillance cameras slated for installation on buses in Ho Chi Minh City later this year help allay passengers' concerns of sexual harassment and groping, and a code of conduct deter harassers from striking at the workplace?
(VNF) - Will surveillance cameras slated for installation on buses in Ho Chi Minh City later this year help allay passengers' concerns of sexual harassment and groping, and a code of conduct deter harassers from striking at the workplace?
As most of the bus operators in the city have agreed to have cameras on their buses, installations are expected to begin in the next few months and finish next year, the municipal bus management center has announced.
The cameras are obligatory for the new vehicles that will become operational under a plan to add 1,680 buses to the city's fleet.
The move followed the Ho Chi Minh City Department of Transport's request late last month that bus companies must install cameras on their vehicles to improve their service quality.
The bus management center added each bus will boast three cameras, with two to be used for internal supervision. The other will be employed to oversee its itinerary and pick up/drop off activities.
The cameras are expected to better manage the number of passengers and minimize stowaways, as well as drivers and attendants' behavior.
Particularly, the move will hopefully deter sexual harassers and pick-pockets from striking and prevent other unsafe incidents on the vehicles, a local bus operator said.
Installation is expected to cost VND13 million (US$600) per bus, and another VND400,000 ($18.5) for monthly operation fee.
Many bus passengers, especially female students, have repeatedly called for the installation of cameras to put a curb on cutpurses, sexual harassment and groping on means of public transportation.
The Vietnam's National Committee for Traffic Safety has recently notified the Hanoi and Ho Chi Minh City administration of a surging number of sexual harassment cases on buses.
Thirty-one female students polled by Action Aid, an international non-governmental organization, said they have been sexually harassed on buses, the committee announced in a document dispatched to the cities.
Bus stops and stations are also where respondents believe they are most prone to groping, according to a recent survey conducted on 2,046 public transport users.
The survey, conducted by ActionAid Vietnam and the Research Center for Gender, Family and Environment in Development, also revealed that 57 percent of respondents aged 16 and above consider streets locations where sexual harassment is most likely to occur.
Up to 87 percent of women and girls participating in the survey replied they have experienced sexual harassment with such acts as whistling, teasing, staring at or touching sensitive parts on their bodies.
Approximately 31 percent of surveyed school girls in Hanoi and HCMC said they have been groped on buses.
Meanwhile, 67 percent of women and girls said that they did not take any action in response to the sexual harassment targeted against them.
Will a code of conduct work?
In a similar bid to combat unwelcome sexual advances and attacks at local workplaces, a code of conduct for the prevention of sexual harassment at workplaces was introduced in Hanoi late last month by the Ministry of Labor, War Invalids, and Social Affairs (MOLISA) and the International Labor Organization (ILO) Office in Vietnam.
The set of rules, the first of its kind in Vietnam, is much needed as the current Labor Code, which boasts four articles related to sexual harassment, fails to clearly define sexual harassment, a local newspaper cited Ha Dinh Bon, head of the ministry's Legislation Department as saying.
An instance of sexual harassment at workplace. Photo: internet.
The code will also provide a foundation for employers to prepare regulations that help promote wholesome and harassment-free working environments, he said.
According to a report released in 2012 by the MOLISA and ILO, most victims of sexual harassment in Vietnam were female workers between the age of 18 and 30.
Quite often victims of sexual harassment do not make complaints because they fear losing their jobs or feel embarrassed and humiliated, the report said.
MOLISA said they are planning to issue a decree next year to penalize people who sexually pester their colleagues.
According to the ILO, sexual harassment undermines gender equality at work and, by hindering work relationships, also productivity.
The government, employers and trade unions should create a safe mechanism for complaints, the organization urged.
Sexual harassment increasingly sophisticated
Local experts and victims themselves pulged how sophisticated and discreet ploys used to sexually perturb employees have grown.
The offence has extended into verbal sexual harassment involving the use of words, comments, or sexually explicit or implicit invitations which are offered by scheming male superiors or colleagues.
Non-verbal sexual harassment is also rampant, with attackers employees gestures, looks, glints, images, text messages, emails and other means for sexual purposes.
Offenders these days tend to devise elaborate schemes, patiently stalk and lure their unsuspecting "prey" into their traps.
Some victims do not even realize they are being sexually pestered, as such acts are sometimes mistaken with friendly gestures, or casual jokes, which renders them unable to react properly and shield themselves.
Many victims admitted they find it considerably harder to protect themselves and fight against these highly "skilled" attackers and their elaborate ploys.
Most of the young women traumatized by sexual harassment at their workplace suffer escalating anxiety, emotional disorders or even depression from such insecure working environments.
Believe it or not, sexual pestering is no longer about male employers or colleagues caressing female workers.
A number of girls purposefully don scanty outfits and adopt titillating postures in front of their male superiors and colleagues.
That hinders decent males from focusing on their job as the sexy girls enjoy the spotlight with obscene jokes cracked by other males around them./.
by VNF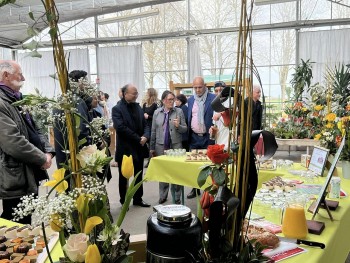 Overseas Vietnamese
Vietnamese Ambassador to France Dinh Toan Thang recently paid a working visit to Saintes, a city in southwestern France, to promote cooperation between the city and Vietnamese localities and attended the Vietnamese Culture Day, VNA reported.