Singapore's Coordinating Minister for National Security Conducts Working Trip in Vietnam
Singapore's Coordinating Minister for National Security Teo Chee Hean is in Hanoi for an official visit to Vietnam to exchange views on international developments.
Vietnamese Minister of Public Security To Lam on November 16 held talks with Singapore's Coordinating Minister for National Security Teo Chee Hean who is in Hanoi for a visit to Vietnam, VOV reported.
Lam welcomed Teo, noting that cooperation between the Vietnamese Public Security Ministry and Singaporean law enforcement agencies has been maintained and enhanced in recent times, through the exchange of delegations, crime prevention, fire prevention and control, digital transformation, and the building of the national population data center.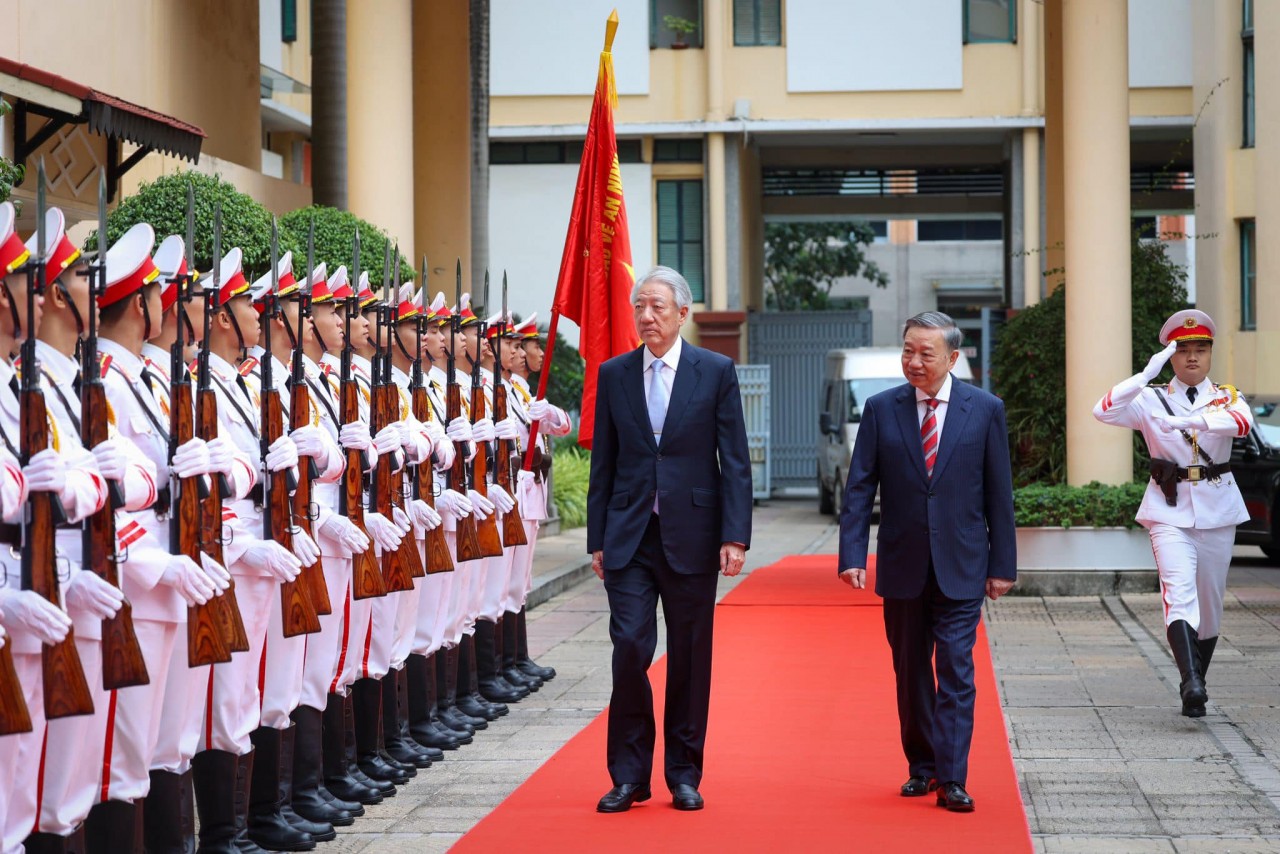 Singapore's Coordinating Minister for National Security Teo Chee Hean inspects the honour guard with Minister of Public Security To Lam at the Ministry of Public Security.
The two sides have actively coordinated in realizing the results of the ASEAN ministerial conferences on cybersecurity, formulating legislation on cybersecurity, and negotiating and signing a Memorandum of Understanding (MoU) on cybersecurity cooperation, cybercrime prevention, and personal data protection between the Ministry of Public Security of Vietnam and the Ministry of Communications and Information of Singapore in 2022.
During the talks, the two sides agreed to speed up negotiations towards signing new legal documents, including an extradition agreement, an agreement on the transfer of sentenced persons, an agreement on mutual legal assistance in criminal matters, a MoU on cooperation in the field of digital transformation and the formation of the national population data center between the Public Security Ministry of Vietnam and the Office of the Prime Minister of Singapore.
They also agreed to increase visit exchanges to share information and strengthen cooperation in the field of ensuring security and safety in cyberspace to effectively prevent attacks and intrusions by hackers as well as to handle cybercrime.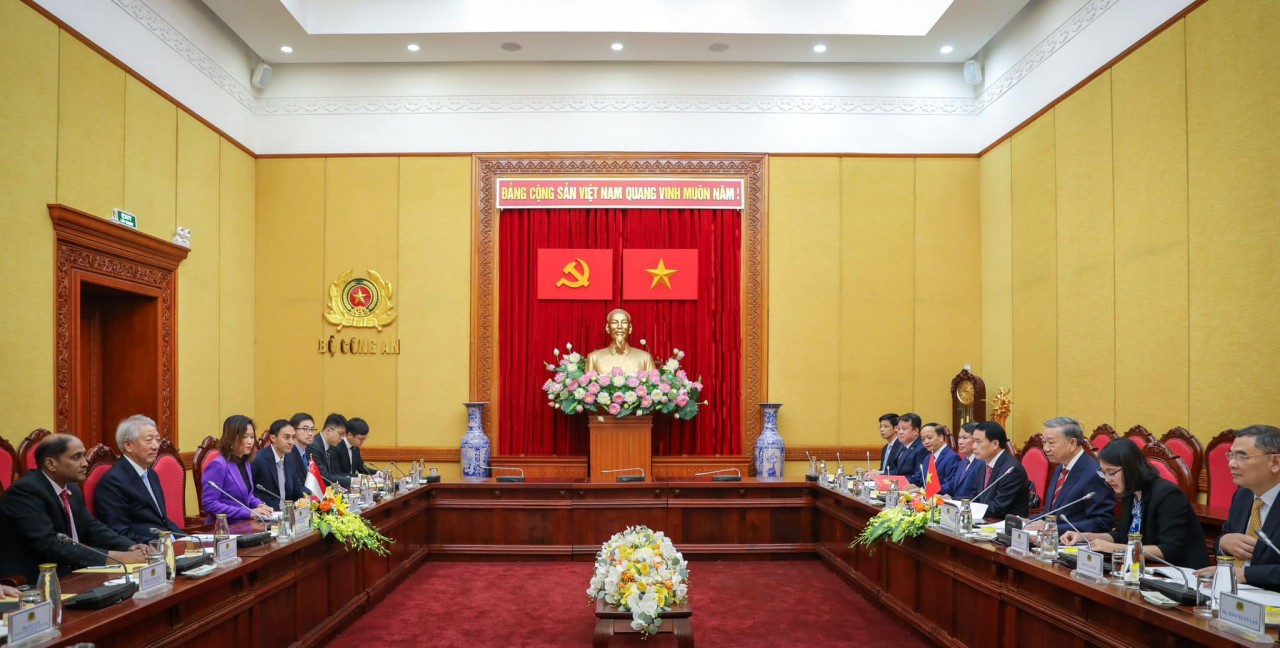 Vietnam and Singapore talked about national security cooperation measures in Hanoi on November 16.
They consented to increase experience sharing in building and managing e-government and smart cities and in deploying legal systems to ensure network security.
The two sides stressed the need to ramp up cooperation in exchanging crime information and arresting criminals hiding in either country to ensure security and safety for investment and business activities while ensuring safety for citizens of this country living, studying, traveling, and working in the other country.
The two ministers also exchanged views on regional and global issues of mutual concern, especially in maintaining peace, stability, and cooperation in the region, and resolving disputes by peaceful means in line with international law.
They voiced their support for strengthening solidarity and unity to build a resilient, prosperous ASEAN and promote its central role in regional architecture.
The same day, National Assembly Vice Chairman Sen. Lieut. Gen Tran Quang Phuong hosted Teo, saying that his visit is a practical activity marking the 50th anniversary of Vietnam-Singapore diplomatic ties and the 10th anniversary of the bilateral strategic partnership, VNA reported.
Phuong said apart from traditional cooperation areas, both countries need to continue expanding ties to new areas such as clean energy, just energy transition, digital transformation, exchange of talents, and innovation.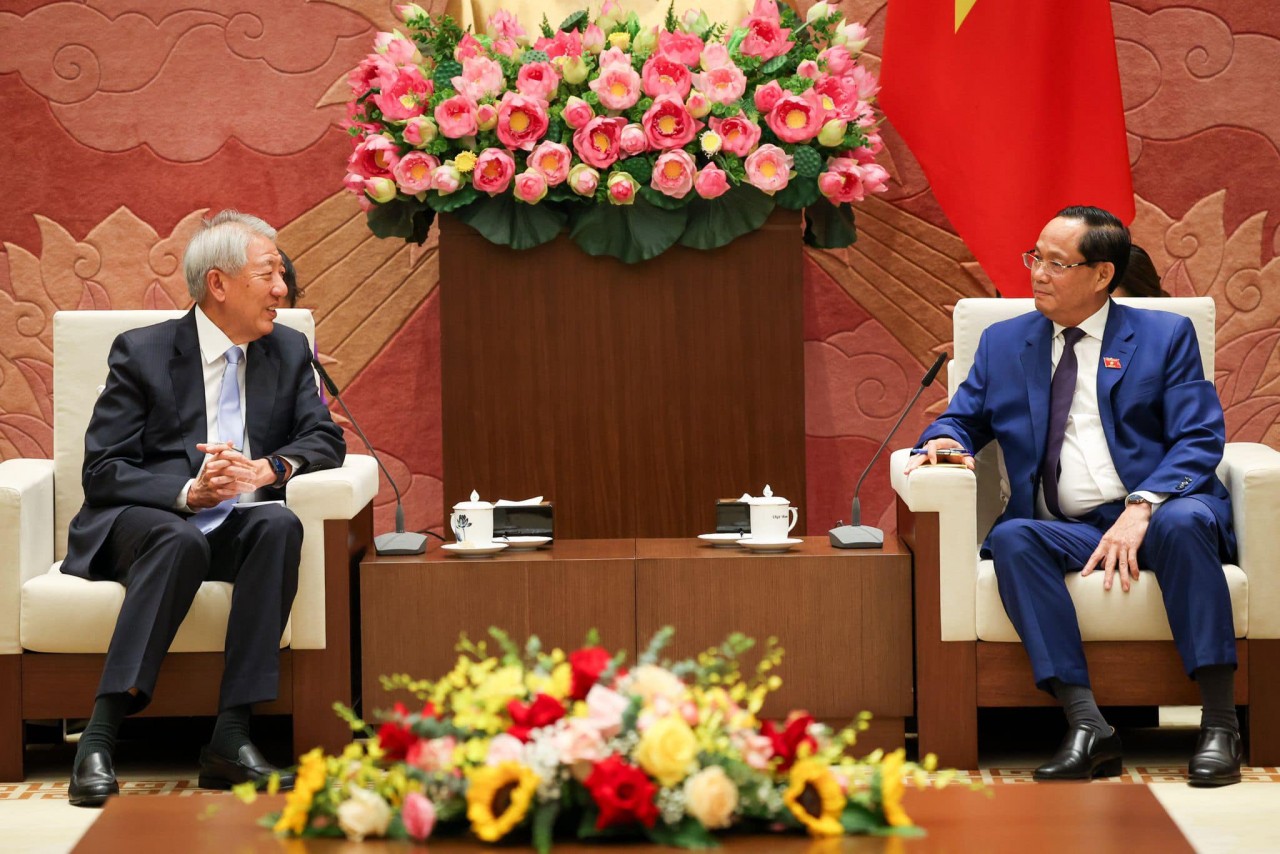 National Assembly Vice Chairman Sen. Lieut. Gen. Tran Quang Phuong (right) and Singaporean Senior Minister and Coordinating Minister for National Security Teo Chee Hean.
Regarding parliamentary cooperation, he suggested both legislatures actively work together for the effective implementation of bilateral cooperation agreements, including the exchange of visits by their leaders, committees, and legislators to share experience in lawmaking as well as global and regional issues of shared concern.
The two sides should offer mutual support at multilateral parliamentary forums in the region and the world, such as the ASEAN Inter-Parliamentary Assembly (AIPA), the Inter-Parliamentary Union (IPU), and the Asia-Pacific Parliamentary Forum (APPF).
He wished that the Singaporean minister would continue supporting the strengthening of bilateral ties across various areas, further deepening bilateral strategic partnership to bring practical benefits to the people of both countries.
Teo, for his part, said Singapore wants to enhance coordination with Vietnam in developing green, clean, and renewable energy.
With ample room for green and clean energy development, Singaporean investors are eager to collaborate with Vietnamese partners to fully tap the potential in this field, he said, affirming that he will continue supporting and playing a role in advancing the increasingly practical and effective strategic partnership between the two countries.