SNV provides trainings on trade fair facilitation skills for women-led businesses
In the scope of "Enhancing Opportunities for Women's Enterprises" (FLOW/EOWE) project with funding from the Ministry of Foreign Affairs of The Netherlands during 2016-2020 and implemented by SNV, some training courses on Business Development and Trade fair facilitation skills for women-led businesses were organized in Ninh Thuan and Binh Thuan provinces.
At a training course. Photo: SNV
During the training classes, participants from women-led cooperatives/SMEs were instructed and given the opportunity to practice business development, marketing, sales and trade fair facilitation skills. The classes offered practical knowledge for women-led businesses contributing to solve difficulties in product output and support these businesses to delicately approach customers in both domestic and foreign markets.
"We have obtained helpful and practical knowledge thanks to the easy-to-digest teaching method and clear evidence. However, because the training is quite short, I feel like that there are still more skills that I need to learn to improve my business.", shared by Nguyen Thu Huong from Chau Re Cooperative, Ninh Thuan province.
SNV will continue to provide further support on these training course within the scope of FLOW/EOWE project with the aim to enhance the capacity of women-led businesses and maximize their potential for greater economic growth.
The EOWE Project, part of the "Funding Leadership and Opportunities for Women (FLOW)" programme, is being implemented in the provinces of Binh Thuan, Ninh Thuan, Quang Binh, and Binh Dinh by the SNV Netherlands Development Organisation between 2016 and 2020, with funding from the Netherlands' Ministry of Foreign Affairs.
The FLOW/EOWE project aims to advance women's economic participation and self-reliance by creating a conducive environment for female entrepreneurship as a vehicle for change. It focuses its support on women working in agribusinesses by increasing their access to agribusiness models, assets, technology, markets, and information.
In order to increase incomes and improve the livelihoods of women in agriculture value chains, the project supports and promotes climate-smart agricultural business models and female leadership in farmer groups and cooperatives.
In addition, it works to transform traditional gender roles within households and communities that inhibit women from starting or advancing businesses; increase the gender-sensitivity of key policies and laws; and establish a women's economic platform and network./.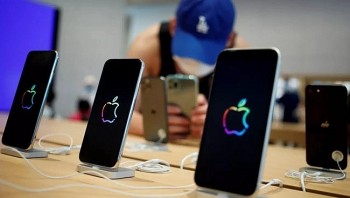 World
India exported iPhones worth $1 billion from May to September 2022, according to a Bloomberg report, but a closer look at the data shows the country is a long way from rivalling China's iPhone manufacturing chops