South Koreans vote for new leader
South Koreans go to the polls on Tuesday (May 9th) to elect a new leader replacing former President Park Geun-hye.
(VNF) - South Koreans go to the polls on Tuesday (May 9th) to elect a new leader replacing former President Park Geun-hye.
The vote will end months of leadership vacuum. Ms. Park was ousted on charges of bribery and abuse of power in March to become South Korea's first democratically elected president to be forced from office. She is in jail, on trial.
Liberal Moon Jae-in, who lost to Ms. Park narrowly in the last presidential election, in 2012, has criticized the two former conservative governments for failing to stop North Korea's weapons development. He advocates a two-track policy of dialogue while maintaining pressure and sanctions to encourage change.
A Gallup Korea poll published last Wednesday (May 3rd) showed Moon Jae-in with 38 per cent support in a field of 13 candidates, with centrist Ahn Cheol-soo his nearest challenger with 20 per cent.
Soldiers wait in a line to vote in advance at a polling station in Yongsan station in Seoul on May 4th, 2017. (Photo: AFP / JUNG Yeon-Je)
The winner is expected to be sworn in on Wednesday (May. 10th), after the Election Commission releases the official result.
The new leader is expected to quickly name a prime minister, who will need parliamentary approval, and main cabinet positions, including national security and finance ministers, which do not need parliamentary confirmation.
Traditionally, conservative candidates have been able to garner more than 45 per cent of votes. Other than the ten years from 1998 to 2007 when the progressive Kim Dae Jung of the National Congress for New Politics and Roh Moo Hyun of the Millennium Democratic Party were in power, the country's conservative party has dominated national politics, despite a number of name changes.
But Park's impeachment has split it into two factions. They comprise those who were against Park's impeachment and remained in the newly named Liberal Korea Party and those who voted for the impeachment and created the Bareun Party.
This implosion of the ruling party has left many conservative voters confused about which party and candidate to support.
This support has wandered from Ban Ki Moon (the former U.N. secretary-general who was regarded as one of the strongest conservative candidates but who decided against running on Feb. 1st) to Hwang Kyo Ahn, the acting president, who also chose not to run in spite of his popularity among conservatives.
Support then shifted from a centrist left Ahn Hee Jung (governor of the western province of South Chungcheong), who lost his party's primaries to Ahn Chu Soo (the centrist People's Party's candidate) and Hong Jun Pyo (the Liberal Korea Party's candidate).
Conservative voters have thus become an unpredictable variable in the election.
Kim Dae Jung's Sunshine Policy, which emphasised inter-Korean cooperation and won him the Nobel Peace Prize in 2000, has been criticised because it's thought North Korea earned time and capital as a result and used both for its missile and nuclear programme.
Moon Jae In is widely expected to win the election. His Minjoo Party, following the convoluted splitting and renaming of political parties in South Korea, is related to Kim's. Conservatives are worried that Moon may try to restart inter-Korean dialogue or rapprochement in spite of tough sanctions facing North Korea for its arms programmes.
South Korea's new president will have much on his plate. Balancing domestic expectations and delicate relations with the country's neighbours while trying to deal with North Korea's race to become a nuclear power will make for a challenging five-year term.
One in every four voters cast ballots in early voting last week, and officials think higher participation by younger people could drive turnout to the highest in three decades./.
Compiled by VNF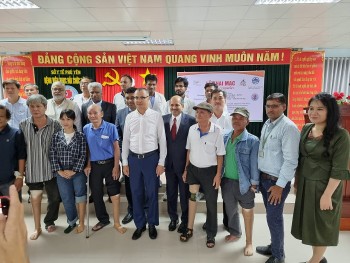 Friendship
This is the 5th time the Jaipur Foot Artificial Limb Fitment Camp has been held in Vietnam since 2018 by the Indian Ministry of Foreign Affairs, Indian agencies and organizations.