Streets face serious traffic jams ahead of New Year Holiday
Many streets in Hanoi and Ho Chi Minh City have seen serious congestion since late Friday afternoon as people started travelling for their New Year Holiday.
Main roads or those leading to bus stations were all jammed with motorbikes and cars.
Serious congestion on both two lanes on Dai Co Viet Street at 5pm on December 29.
On Pham Ngoc Thach Street
A one-kilometre-long line of vehicles on Khuat Duy Tien Street
Nguyen Trai Street at 6pm. This is a main road to the west of Hanoi which faces regular congestion
The pavement was also jammed with vehicles on Le Van Luong Street.
Crowded Chua Boc Street.
On Lang Street at 6.30pm.
Congestion on Thai Ha Flyover.
A couple and their child tried to find their way out of the congestion for the holiday.
Hanoi Highway in District 2 saw serious congestion for many hours.
People waited for their buses at Mien Dong Bus Station.
( VNF/DTnews )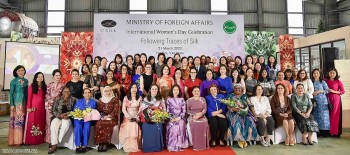 Friendship
Female ambassadors, representatives from diplomatic corps and international organizations, along with spouses of diplomats in Vietnam gathered together to find about more about silk weaving and silk products in Vietnam.