The important thing is ideas, not money, Alibaba's boss Jack Ma
Chinese billionaire Jack Ma this morning (November 6) had a dialogue with Vietnamese business community at Vietnam E-Payment Forum 2017 in Hanoi.
Chinese billionaire Jack Ma this morning (November 6) had a dialogue with Vietnamese business community at Vietnam E-Payment Forum 2017 in Hanoi.
Jack Ma
"Who lose USD 1 million will be compensated USD 1 million by me"
In less than an hour, Jack Ma – the Chinese billionaire who owns nearly USD 40 billion, a legend in the world's e-commerce, left a lot of emotions for Vietnamese business community.
The owner of the world's largest e-commerce company Alibaba expressed his impression of seeing Vietnam as different from his first visit in 2006.
At that time, Jack Ma was quite disappointed for the preparation of Vietnam for e-commerce. However, the story is completely changed now.
"50% of Vietnam's population use mobile phones. Last night in Hanoi, I saw many young people holding smartphones. They can not hang out all night. They must go online and do business online. For a country with young population like Vietnam, we have to create opportunities for them to do business easily. In China, we did it'', Jack Ma started the dialoge.
When Jack Ma established Alipay, he made all people incredulous
"Jack, how could you do that. Chinese people prefer cash. It would be very difficult'', Jack Ma recounted.
However, these difficulties prompted him and his colleaugues to do so. There were some people concerned about the security, privacy and legality of this intermediate payment channel.
Then, Jack Ma showed his strong determination
"Let's go. Go ahead."
"If someone must go to jail, I will go first. There are millions reasons preventing us to do, but there's always a solution.''
A business philosophy is imbued by Jack Ma, it is prestige and trust.
"If you lose 1 USD, I will pay you back 1 USD . If you lose USD 1 million, I will pay you back USD 1 million.''
With passion, desire and determination, everything will grow bigger
Jack Ma said, Vietnamese people are using too much cash. In the mobile payment boom, if it can be successfully implemented, consumers will be less likely to lose money in their wallet, or less likely to be cheated. Government also can fight corruption.
"It's time for us not to use wallets anymore, and the pickpockets will be unemployed,'' Alibaba's boss joked.
Sharing experience of starting a business, Jack Ma said the first problem is not how much money we have, but the creative ideas.
"When you start your career, you must have a passion. Tell people around what you plan to do. You must have ability to attract other people to do with you. Banks will not give you loans because they wait for you to make profits. You have to borrow money from your parents, friends and brothers. They give you a loan because you are reliable, you do things that make them trust you. Let's start with little things. With love and determination, everything will grow bigger.''
Jack Ma said that the Government of Vietnam must create favorable conditions for young people to start a business. According to Jack Ma, the entrepreneurial spirit must always flow forever, easily. As for entrepreneurs when starting a business, think about what you sacrifice and what you do for society, not how much money you earn.
Opportunity for everyone
When asked about the monopoly of ''giants'' such as Google, Ebay and Alibaba, whether there is still opportunity for start-up companies, Jack Ma said it is an illusory question. When he was young, he also complained about ''giants'' taking all opportunities. Alibaba was just a very small company at that time, founded by three people. However, opportunities are always open for all, especially in 4.0 revolution.
Jack Ma said, 15 years ago, he had to fight with Ebay. In that competition, Alibaba survived and developed while Ebay failed in China. That's because Alibaba always treats businesses as friends or partners.
Before ending the dialogue, Jack Ma said 100 years ago, a nation without electricity would have no hope, and today, a nation without being internet connected would be worse.''
"I am happy that the Vietnamese Government has such a forum, and most of what you are concerned about today will not happen. Maybe things we do not worry about can happen. No one is the expert of the future, we are just experts of yesterday. Today, we talk about mobile payments, but tomorrow, mobile phones will no longer. Most importantly, we have to give the youth the opportunity and confidence, "said billionaire Jack Ma./.
VNF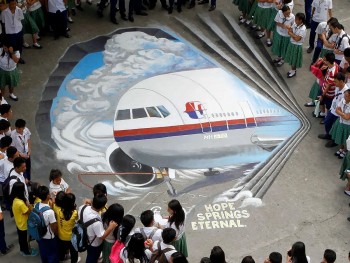 World
The world might never know what really happend when these planes went off the radar. Let's take a look at some of the unsolved mysteries of aircraft disappearances.