Three foreign firms to invest in Hanoi's urban railway network
Hanoi earlier submitted plans to auction 6,000 ha of land to build ten urban railway lines from now to 2030. 
(VNF) - According to Chairman of the Hanoi People's Committee Nguyen Duc Chung, three foreign investors and six Vietnamese companies will jointly build the urban railway lines in Hanoi as the city revs up its public transport system.
The People's Committee will create optimal conditions for the investors so that projects will be completed quickly and help ease traffic congestion, Chung told a recent meeting with voters, though he did not reveal the names of the investors.
It was reported earlier this month that the city would allow two foreign companies - Russia's Mosmetrostroy and South Korea's Lotte Group - to join the railway projects. Five Vietnamese companies will also be involved: Vingroup, Xuan Thanh Group, Lung Lo 5, Tan Hoang Minh, and a consortium of Licogi and MIK Group Vietnam.
The construction of the railway lines is part of the city's plans to enhance its public transport network and limit personal vehicles in the central business district by 2030.
Hanoi's plans to construct urban railway system mainly aims to cope with traffic jam and air pollution which will become serious in the future if no immediate management measures are in place.
Recently, Hanoi authorities have officially approved the motorbike ban which is expected to address congestion and environment pollution during 2017-2020 period and to 2030.
Cat Linh - Ha Dong railway system project in Hanoi (source: dantri)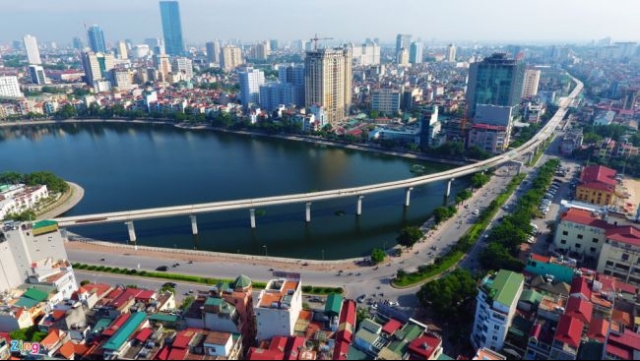 Rail development brings many noticeable changes to areas around train stations: land prices surge, real estate developments boom, and retailers and offices relocate, said CBRE
By the time the railway network is completed, there will be residential quarters on both sides of the route. Urban areas and shopping centers will be set up within a radius of 500 meters around railway stations.
But of the eight routes planned, construction has only begun on four and has been slower than expected due to ballooning costs. The first two routes, the Cat Linh-Ha Dong and Nhon-Hanoi Station lines, are being funded using official development assistance and contractors from China and South Korea. The rescheduled opening dates for the two lines are 2018 and 2021, two and four years behind schedule, respectively.
The first train and La Khe Station on the Ha Dong- Cat Linh line opened to public viewing in May. The line will have 12 stations and one depot and some 90 per cent has been completed./.
( VNF )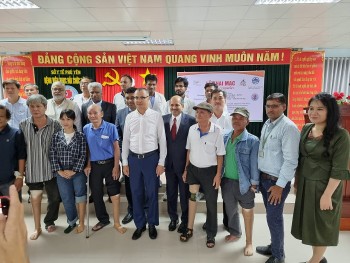 Friendship
This is the 5th time the Jaipur Foot Artificial Limb Fitment Camp has been held in Vietnam since 2018 by the Indian Ministry of Foreign Affairs, Indian agencies and organizations.