Top events of Vietnam in 2018
With 2018 drawing to a close, the Vietnam News Agency (VNA) looks back at the ten most prominent events of Vietnam in the year.
With 2018 drawing to a close, the Vietnam News Agency (VNA) looks back at the ten most prominent events of Vietnam in the year.
1. Party General Secretary Nguyen Phu Trong elected State President
Party General Secretary and President Nguyen Phu Trong takes an oath at the swearing-in ceremony on October 23
On October 23, at the sixth session of the 14th National Assembly, General Secretary of the Communist Party of Vietnam Central Committee Nguyen Phu Trong was elected President of the Socialist Republic of Vietnam for the 2016-2021 tenure with the support of 476 out of 477 legislators. Earlier, the eighth plenum of the 12th Party Central Committee had agreed to nominate the Party leader for the National Assembly to vote as the President.
2. All 12 socio-economic targets fulfilled
Vietnam accomplished or surpassed all 12 socio-economic targets set by the National Assembly. The gross domestic product (GDP) growth rate is estimated at over 6.8 percent, trade surplus hit a record of more than 6.89 billion USD, and the amount of disbursed foreign investment surpassed 19 billion USD, the highest level to date. Meanwhile, 132,000 new businesses were established. The country welcomed nearly 15.6 million foreign tourists. 2018 was the third straight year inflation has been kept below 4 percent. Fiscal and monetary policies stayed flexible, meeting the economy's capital demand.
3. National Assembly ratifies CPTPP
The Comprehensive and Progressive Agreement for Trans-Pacific Partnership (CPTPP) and relevant documents were ratified at the sixth session of the 14th National Assembly on November 12. The CPTPP is considered the world's third largest free trade agreement at present and will take effect in 2019. It will help Vietnam expand its export markets, attract more investment, promote growth and reform policies in a more transparent and open manner.
4. Drastic corruption fight from central to grassroots levels
Many major corruption cases causing serious consequences in the fields of oil and gas, banking and land and public asset management, along with wrongdoings in some sectors and localities, were investigated, prosecuted and brought to trial. Violators, regardless of their positions, including members of the Politburo or the Party Central Committee, Secretary of provincial Party Committee or Chairperson of provincial People's Committee, Minister or former Minister, general of the armed forces, or officials at different levels, were all strictly punished to clean up the state apparatus and consolidate the people's trust.
5. Resolution issued to turn Vietnam into strong sea-based nation
Resolution 36-NQ/TW, issued by the 12th Party Central Committee on October 22, with a vision through 2045, aims to turn Vietnam into a strong sea-based nation with sustainable development, prosperity, security and safety and marine economic activities greatly contributing to the national economy. It targets that by 2030, marine economic sectors will enjoy breakthrough development to contribute to about 10 percent of the country's total GDP, and 28 coastal provinces and cities will make up 65-70 percent of the GDP. The resolution also looks to increase the country's engagement in the settlement of sea-related issues in the region and the world.
6. Most successful year in Vietnam's football history
Vietnamese footballers inspired national pride and solidarity spirit with resounding achievements in the regional arena: Winning the trophy of the ASEAN Football Federation (AFF) Suzuki Cup 2018, coming second at the Asian Football Confederation (AFC) U23 Championship, and entering the semi-finals of the Asian Games (ASIAD) for the first time. The successes were made thanks to concerted efforts of methodically-trained young players and their Korean talented head coach Park Hang-seo.
7. Widespread exam score manipulation uncovered
In the national high school examination in 2018, result manipulation was uncovered in northern Son La, Ha Giang and Hoa Binh provinces, shocking the public. Police launched criminal proceedings against and detained some suspects for investigation. The Ministry of Education and Training later amended regulations on the national high school examination.
8. Vietnam has first tissue bank
The first tissue bank of Vietnam was opened at Viet Duc Hospital in Hanoi. It is tasked with receiving, preserving, delivering, supplying and exchanging tissue for medical, training and research purposes. Vietnam has mastered important organ transplant techniques relating to kidneys, hearts, livers, pancreases and lungs. The country conducts more than 1,500 transplants each year with a success rate comparable to that in many developed countries.
9. Building high-quality Vietnamese brand
VinFast cars displayed at the Paris Motor Show 2018 – the world's most prestigious automobile expo – affirmed Vietnamese businesses' position and put the country on the global automobile industry's map. At the event debuting VinFast vehicles in Hanoi last November, Prime Minister Nguyen Xuan Phuc launched the movement "Vietnamese goods conquer Vietnamese consumers" to boost high-quality Vietnamese brands in global value chains.
10. Vietnam's first field hospital joins in UN peacekeeping force
On October 1, Vietnam deployed a level-2 field hospital with 63 staff members to the UN peacekeeping mission in South Sudan. Earlier, 29 Vietnamese officers had performed peacekeeping tasks in the Central African Republic and South Sudan. These moves demonstrated Vietnam's sense of responsibility in activities of the UN.
VNF/VNA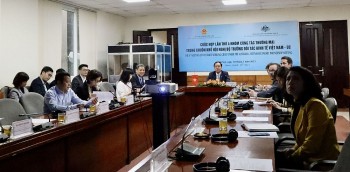 National
Vietnam and Australia facilitate the effective implementation of free trade agreements to beef up ramp up economic and trade cooperation.