UK and Europe weather forecast, July 8: Storm Edouard heading straight to UK
Storm Edouard is heading straight for UK while boiling 40C heatwave emerges despite thunderstorm showers across the Europe.
UK's weather forecast
Storm Edouard warning
Tropical Storm Edouard is moving "quickly" northeastward in the Atlantic Ocean, according to the US National Oceanic and Atmospheric Administration (NOAA). Maps and spaghetti models show the storm is heading straight for the UK.
However, the churning weather system is still far away from any land. Right now, Edouard is located about 530 miles south of Cape Race Newfoundland. There are also no coastal watches or warning in effect.
Tropical Storm Edouard is moving toward the northeast near 36mph and this motion is expected to continue for the next couple of days.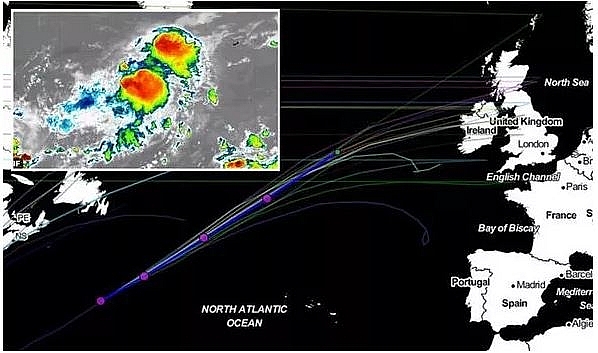 UK weather MAP: Tropical Storm Edouard is heading straight for the UK (Image: CYCLOCANE/WXCHARTS)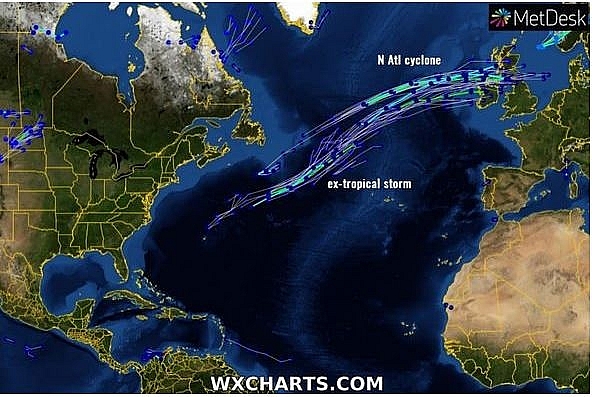 UK weather MAP: The remnants of Edouard could hit the UK (Image: WXCHARTS)
Will Tropical Storm Edouard hit UK?
According to NOAA, Edouard is expected to become a post-tropical storm later on Monday. That means the weather system won't smash into the UK as a tropical storm. However, remnants could, as seen on spaghetti models from Cyclocane, arrive in Britain later this week.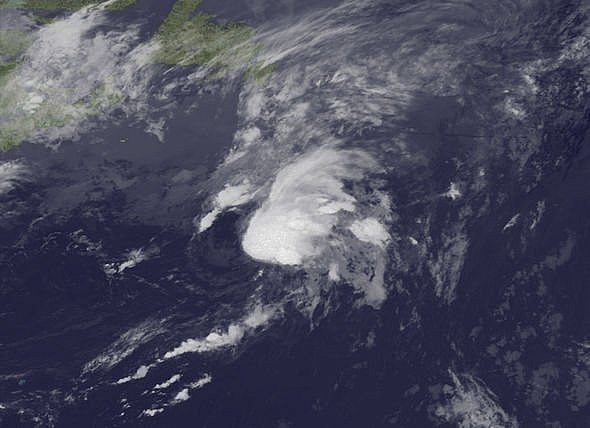 UK weather MAP: Satellite images show Edouard in the Atlantic Ocean on Monday (Image: CYCLOCANE)
Its future trajectory is likely to bring the ex-tropical storm into Ireland and Scotland by mid-week. The storm is currently packing maximum sustained winds near 40mph with higher gusts. Little significant change in strength is forecast before Edouard is forecast to become post-tropical later today or tonight.
Tropical-storm-force winds extend outward up to 60 miles, mainly to the southeast of the centre.
Sunshine and scattered showers across Scotland and Northern Ireland, rather cool here. Humid with extensive cloud and outbreaks of rain across England and Wales, persistent over western hills, clearing Friday is outlook for Wednesday and Thursday.
On July 8
Low pressure brings the threat of a more mixed day on Wednesday. There is uncertainty as to where most of the rain will be. Current thoughts are that Ireland and much of England and Wales will be damp, most rain affecting western and northern areas. Scotland may have sunny spells and a risk of some showers, a few of them could be heavy. Temperature rising to 22C in the far south of England, much coler in the rain at 14 to 18C.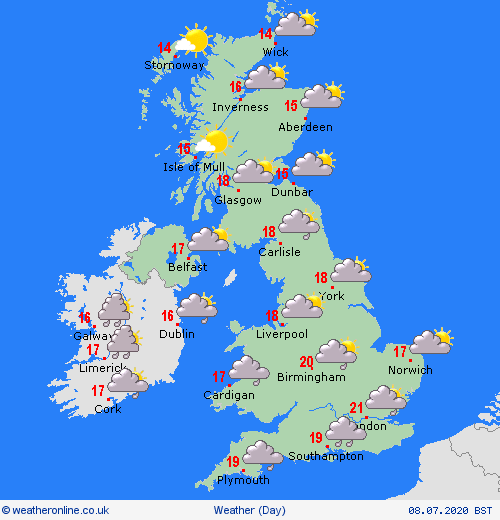 Photo: weatheronline.co.uk
On July 9
An area of low pressure is going to be moving across Ireland and Great Britain during Thursday. This brings cloud and periods of rain as well as strong winds. The heaviest of the rain is likely to be through Northern Ireland, Scotland and northern England as well as western parts of Wales.
Perhaps drier in the far south of England with sunny spells, although some rain in the southwest. Tending to turn brighter and more showers, but still windy in Ireland. Highs at a chilly 9C in central Scotland, but warmer in souther areas, perhaps to 24C in southeast England in any sunshine.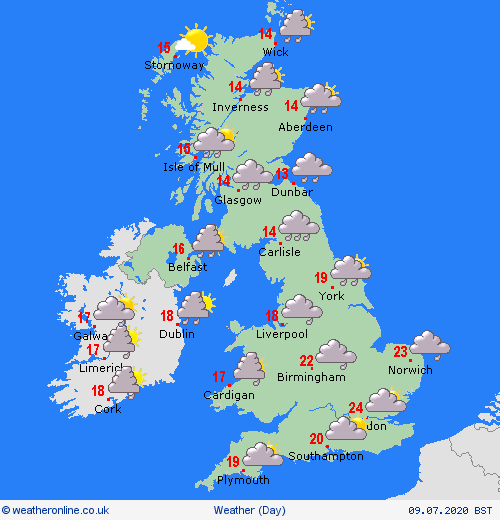 Photo: weatheronline.co.uk
On July 10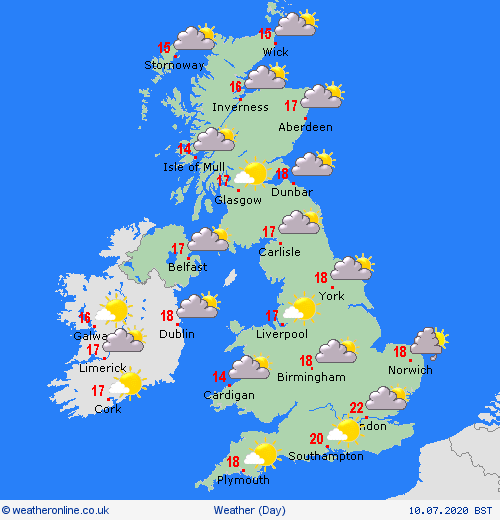 Photo: weatheronline.co.uk
Europe's weather forecast
BBC Weather's Matt Taylor warned thunderstorms are expected to disrupt the sunshine in Europe this week. He explained the continent has seen a divide in its weather as Spain and France will have plenty of sunshine but Norway has hill snow.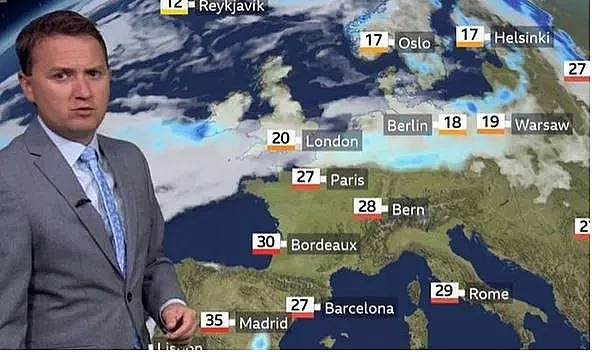 BBC Weather has warned of severe thunderstorms (Image: BBC)
Mr Taylor said: "In Europe, colder air is marching its way eastwards at the moment. "Satellite imagery shows a thin band of cloud which is the dividing line between humid air in the southeast and cooler conditions opposite.
"As it works its way through, there are some severe storms to finish Monday and go through the night into Tuesday. Moving away from Poland and Austria then through the northern portion of the Balkans".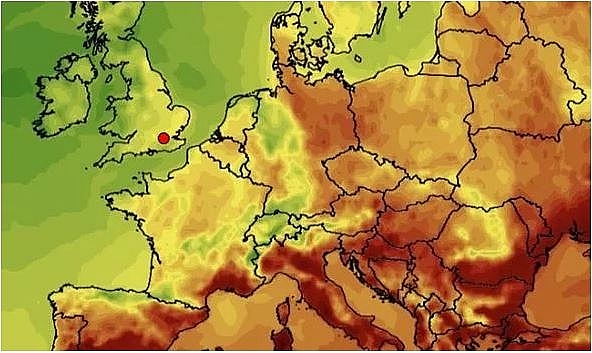 BBC Weather's Matt Taylor warned thunderstorms are expected to disrupt the sunshine in Europe (Image: WXCHARTS)
"There could be the odd thunderstorm and isolated shower in Greece but a big drop in temperature in Budapest and Warsaw." Scandinavia has also turned substantially colder since the heatwaves with highs of only 13C and snow on the hills in Norway.
Mr Taylor continued: "Rain spreading across Ireland and towards the UK. But sunshine continues in France and across Iberia as well".
"We have got some thunderstorms in eastern parts of Europe but those will fade away overnight and could emerge on Monday.
"By Monday we have got this band of cloud heading for the south of Europe, while it is not bringing much rain the air is going to be turning much cooler."
Eastern Europe will see some of the hottest weather over the next few days, as Greece, Turkey and multiple islands will see temperatures above 30 degrees. Mr Bett continued: "The heat is still there in Turkey and Cyprus and it will be topping 40 degrees in some areas.
On July 8
Very warm, dry and sunny for Portugal, Spain, the Balearic Islands, Corsica, Sardinia and Italy on Tuesday. Just a slight chance of a shower developing over southern Italy. Dry, warm and fine too for Greece and Turkey though thunderstorms are expected to develop widely over western Greece later. Isolated showers may also develop over Turkey.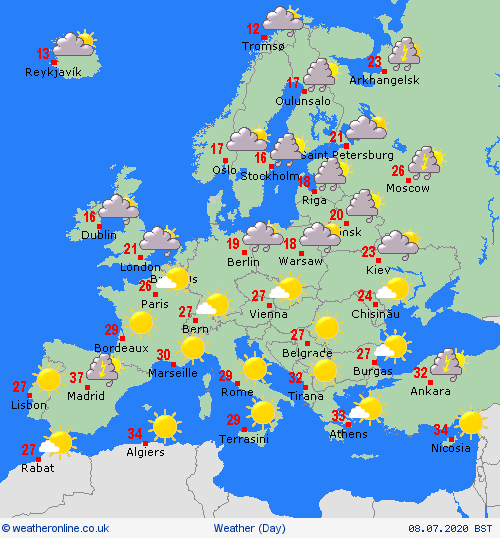 Photo: weatheronline.co.uk
High pressure building over western Europe brings a dry and fine day to much of France, the Low Countries, Germany, Switzerland, Austria and the Czech Republic. Showery outbreaks of rain may affect North Sea coasts of Belgium, the Netherlands and Germany at times. A band of heavy rain clears east from Poland, Slovakia and Hungary leaving a dry and fine day here too.
Scattered showers affect Denmark and southern parts of Norway and Sweden on Tuesday though there will be good spells of sunshine in between. Patchy outbreaks of rain also affect western parts of Finland and the Baltic States while eastern areas are drier but rather cloudy.
On July 9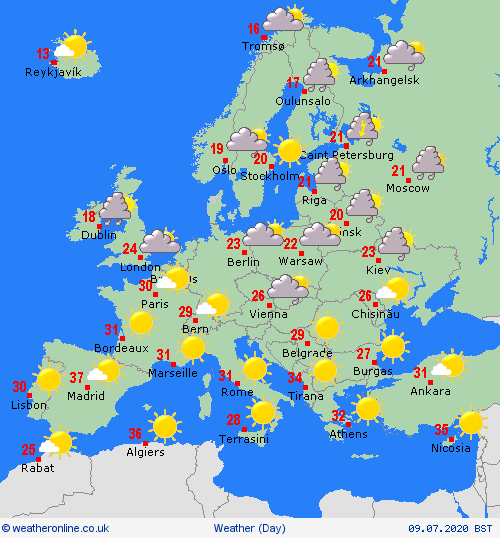 Photo: weatheronline.co.uk
On July 10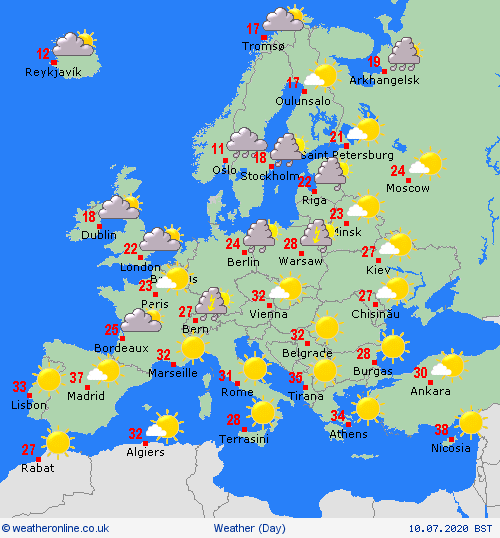 Photo: weatheronline.co.uk