Nearly 300 Vietnamese repatriated from European countries due to COVID-19
A special flight bringing home over 280 Vietnamese citizens stranded in France and other European countries due to the impact of the novel coronavirus (COVID-19) pandemic, has landed at Van Don International Airport in Quang Ninh province.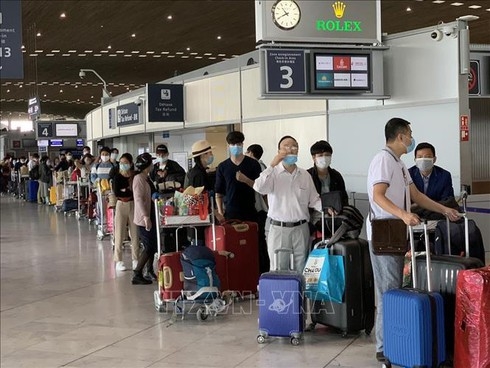 Nearly 300 Vietnamese repatriated from European countries due to COVID-19. Source: VNA
As the world surpassed two sobering coronavirus milestones on June 28 -- 500,000 confirmed deaths, 10 million confirmed cases -- and hit another high mark for daily new infections, the national flag carrier Vietnam Airlines have conducted a special flight between June 28 and June 29 and brought over 280 Vietnamese citizens home.
The arrival of the repatriation flight comes after joint support from the Ministry of Foreign Affairs of Vietnam, the Vietnamese Embassy in France, alongside relevant agencies from both nations.
The majority of passengers on board the flight were minors under the age of 18, the elderly, sick individuals suffering from underlying diseases, pregnant women, guest workers whose labour contracts had been terminated, and students without residence due to the closure of their living accommodation.
To successfully arrange the flight amid the complicated COVID-19 situation in Europe, the Vietnamese Embassy in France has been working closely with local authorities to assist citizens with necessary procedures before they boarded the aircraft.
Moreover, Vietnam Airlines strictly implemented security, safety, and epidemiology measures for the duration of the flight to protect the health of passengers and prevent the possible spread of the virus.
Vietnam had no new COVID-19 cases to report on June 29 morning, marking 74 days in a row without new local transmissions, VNA cited the National Steering Committee for COVID-19 Prevention and Control.
Among the total 355 infections, 215 were imported and quarantined upon arrival.
Therefore, upon arrival at Van Don International Airport, every passenger and crew member on board the flight underwent medical check-ups and were subsequently transferred into quarantine facilities in line with regulations on COVID-19 prevention and control.
At present, 10,027 people having close contact with patients or arriving from pandemic-hit areas are being quarantined at hospitals, concentrated quarantining facilities, and homes.
Under Prime Minister Nguyen Xuan Phuc's direction, more similar flights will be arrange to repatriate Vietnamese citizens stranded abroad depending on future developments of the pandemic, the quarantine capacity of Vietnamese localities, and demand among Vietnamese nationals abroad./.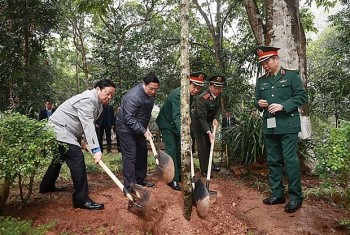 National
The Prime Minister launches a tree planting festival in Ba Vi on New Year of Cat.