UK' s weather forecast
Britons is warned to brace for up to 60mph gales this weekend as "concerning" conditions will hit the country over the next 48 hours, according to BBC.
The BBC Weather forecaster said heavy showers will continue to hit north-western parts of the country today with spots of sunshine for the south and the south-east. But Mr Danaos warned winds will begin to pick up overnight and reach up to 60mph for many tomorrow. He said: "Winds are going to get stronger this weekend, last weekend it was pretty windy if you remember, this one's looking even windier. Very unusually windy for July, it's going to feel more like autumn on Sunday but we should see some sunshine as well.
"Today it's a breezy day, not very windy like it's going to be tomorrow. A lot of cloud around the country, thickening up for spots of rain for western Scotland, northern and western England and northern and western Wales."
He added: "It's tomorrow we've got most concerns. This area of low pressure deepening as it moves north of the UK.
"It's going to be very windy. This is a cold front, behind it there's going to be slightly cooler air so it will be cooler tomorrow than it is today."
On July 5
A blustery day as brisk westerlies affect the British Isles. Gales affect the west coast of Ireland at times. Low pressure lies to the northwest driving showery bursts of rain across the country, most frequent in western Scotland and Ireland. A mix of sunshine and heavy showers across England and Wales. Some areas escaping drier for several hours through the day. Top temperatures 19 to 22C in the Midlands and southeast, 13 to 17C north and west.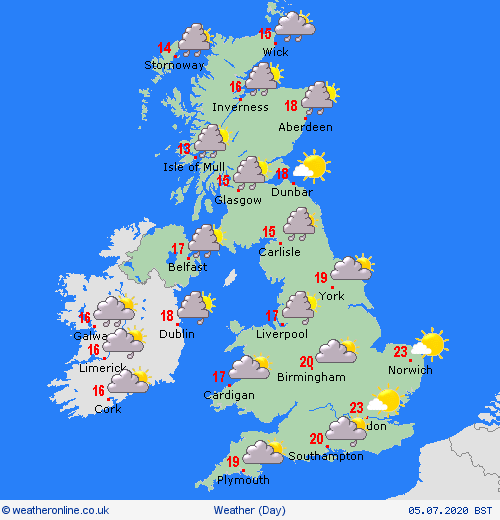 Photo: weatheronline.co.uk
On July 6
Winds turn more northwesterly overnight from Sunday into Monday and stay brisk for most. Showers and outbreaks of rain continue to affect much of Scotland as well as northwest-facing coasts and hills of England, Wales and Ireland. A drier night to the south and east with the clearest skies here too. Overnight lows at 7 to 11C for most, cooler in more rural spots.
Fresh west to northwesterly winds prevail into Monday bringing showery rain most frequent to the northern half of Britain and Ireland. Some frequent bursts of rain in places with local thunder, whilst nearby escapes more often dry. Generally drier across the southern half of Britain, especially to the east, with occasional sunshine. Cool in the north and west, only 14 to 16C here. Temperatures rise to highs of 21C in the southeast.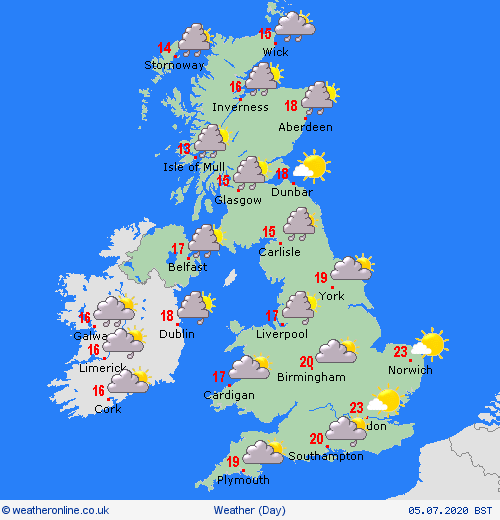 Photo: weatheronline.co.uk
On July 7
A ridge of high pressure begins to build from the south. A few showers are likely to remain but fewer than previous days, and well scattered across England & Wales, more widespread over Scotland. Variable cloud and some sunshine to the east. Winds lighter than previous days and feeling warmer across the UK. Low pressure arrives over Ireland through the day bringing outbreaks of rain across the island, these reaching western parts of the UK later. Highs at 16 to 24C.
Europe's weather forecast
Some areas are expected to reach over 40C, but will eventually give way to cooler air and wetter weather. Further, into the new week, more thunderstorms and showers are expected to wash over Europe, cooling temperatures as they move from the north to the south, BBC reported.
Mr Bett said: "Cooler weather is eventually going to push into central parts of Europe during next week.
"For the second half of the weekend, we will see some wet and windy weather, moving away from the UK and making its way into Scandinavia."
Despite this unsettled weather, the BBC Weather forecaster said there will be hot sunshine for many parts of Europe.
He said: "South of this band of cloud the air is warmer for many places it will be dry and sunny, quite hot as well.
"We have got a few heavy thundery showers inland across Greece, all the way into Bulgaria and Romania."
The west of Europe will also see some hot temperatures to start the new week.
However, more wet weather is expected for central Europe and cooler temperatures.
The BBC weather forecaster said: "In Iberia it is hot and sunny for the most part.
On July 5
Staying warm and sunny across southwestern Europe. Hot for southwestern Spain and Portugal, topping 40C. Dry across the western Mediterranean, north and central Italy, whilst some showers affect the south. Thundery rain for mainland Greece, Bulgaria and Romania. Areas of rain too for central Ukraine.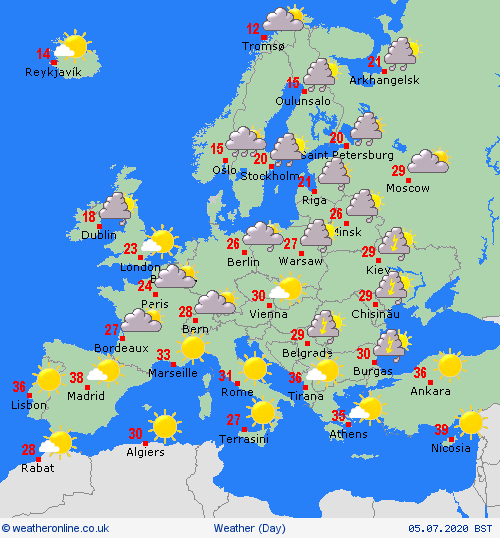 Photo: weatheronline.co.uk
A brisk west to southwesterly wind influences northern Europe, driven by low pressure over the North Sea. A scattering of showers for northern France, the Low Countries and Germany. Alpine regions, plus Hungary and Slovakia will be generally dry. Occasional rain for Poland and the Baltic States.
Frequent rain for Denmark, and prolonged heavy rain for southern Norway and Sweden. Some areas of rain also spread across Finland, but some dry spells too across northern Scandinavia.
On July 6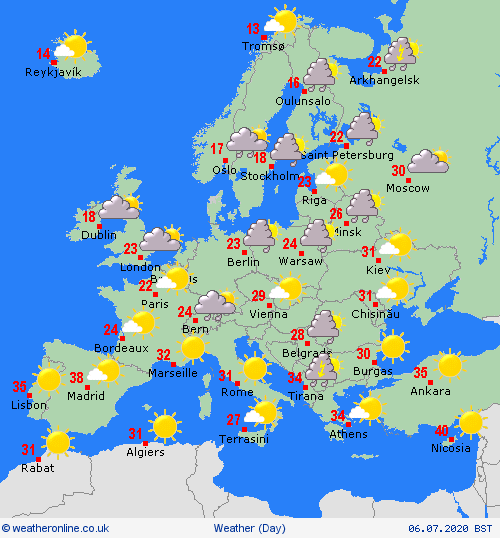 Photo: weatheronline.co.uk
On July 7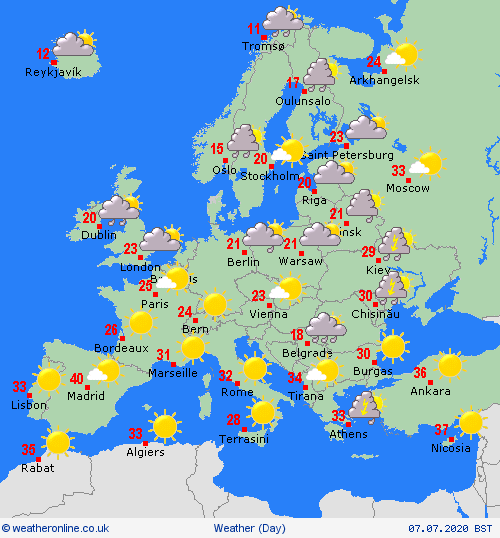 Photo: weatheronline.co.uk
Ruby Lee