UNDP Vietnam, Japan Launch New Partnership to Advance Responsible Business Practice
In Vietnam, the project will focus on promoting Human Rights Due Diligence, a core element of the UN Guiding Principles, through training and guidance sessions for Japanese companies operating in Vietnam and their suppliers.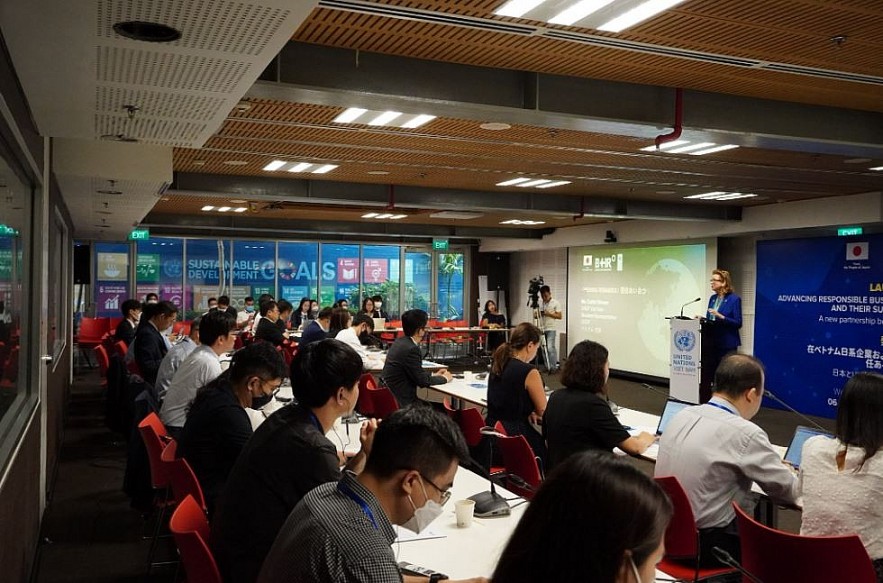 At the event.
United Nations Development Programme (UNDP) and the Government of Japan held a ceremony to launch a new partnership in Vietnam in Hanoi on July 6.
The collaboration enhances responsible business practices among Japanese companies in Vietnam and their supply chains to enable better management of potential risks while improving competitiveness in the global supply chain.
In her speech, UNDP Resident Representative in Vietnam Caitlin Wiesen highlighted the important role Japanese companies play in promoting a more favorable and sustainable business environment in Vietnam given they are among the transnational business actors with the largest global supply chains, and Japan is leading the change in Vietnam and Asia.
"Japan is among the first countries in Asia to adopt a National Action Plan on Business and Human Rights," said Caitlin Wiesen.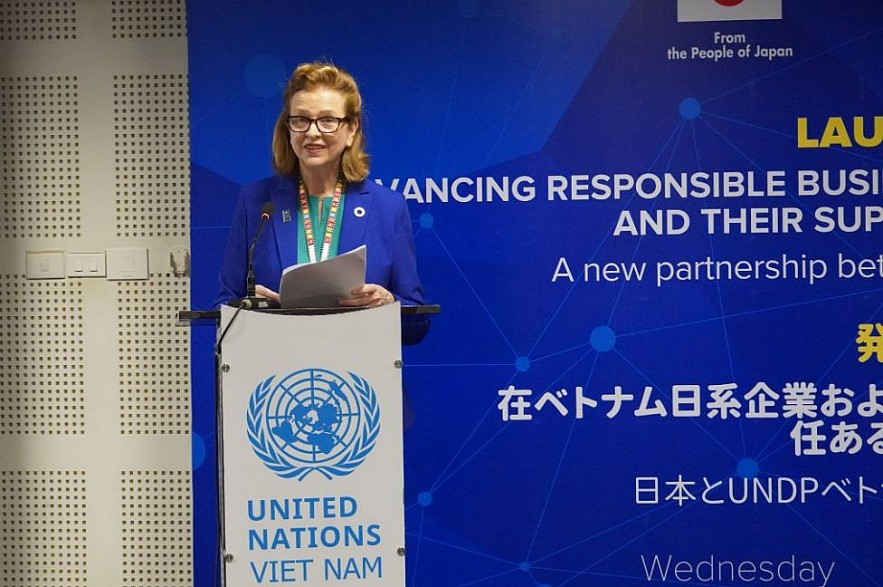 UNDP Resident Representative in Vietnam Caitlin Wiesen.
Daisuke Okabe, Minister of the Embassy of Japan in Vietnam, said: "We hope that Japanese companies will actively use the information provided by this project in their operations to address risks related to human rights and further enhance their reputation in the global market."
The project has been launched in 17 countries by UNDP and the Government of Japan to better equip governments and companies to understand and act upon their duties and responsibilities to prevent abuses such as forced labor, land grabbing, and discrimination.
The project will serve two main purposes. First, it will guide companies to carry out Human Rights Due Diligence (HRDD) to assess, prevent and mitigate adverse impacts. To achieve this, UNDP will support Japanese companies and their suppliers in managing human rights risks potentially associated with their operations. The companies will also benefit from this process, as businesses that demonstrate clean operations have clear advantages in placing their products on the market.
The second objective of the project is to help the 17 target countries develop policies to tackle business-related human rights abuses. UNDP will work with governments to create a level playing field that will motivate more companies to embrace responsible business practices. The project will be implemented by UNDP's Country Offices in Ghana, Indonesia, Kazakhstan, Kenya, Kyrgyzstan, Lao People's Democratic Republic, Mexico, Mongolia, Mozambique, Nepal, Pakistan, Peru, Thailand, Tunisia, Turkey, Ukraine, Viet Nam. Training and guidance to Japanese companies will also be provided in Japan.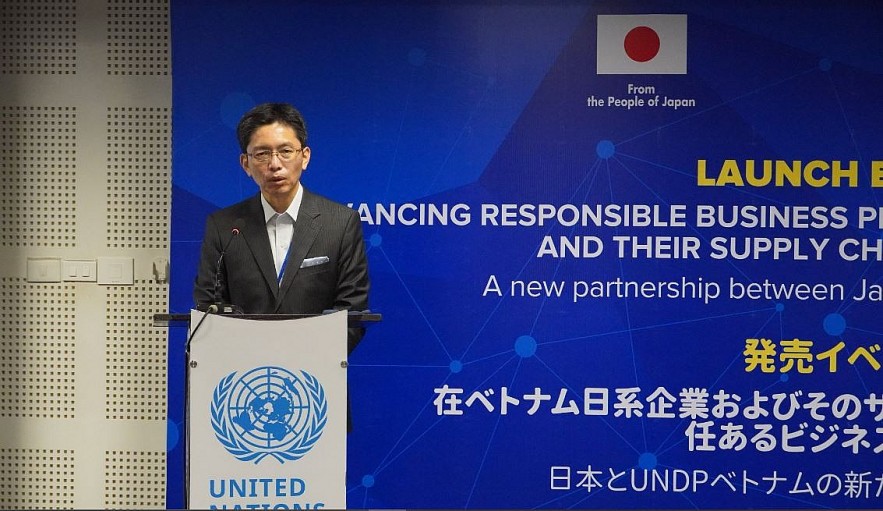 Daisuke Okabe, Minister of the Embassy of Japan in Vietnam.
With this project, UNDP and Japan will further the achievement of the Sustainable Development Goals (SDGs) and the 2030 Agenda. UNDP and the Government of Japan join hands to support businesses in their efforts to comply with human rights standards and to advocate with governments for better policies and legislation to protect rights and stimulate responsible businesses.