US concerns about China's interference in Vietnam's oil and gas activities
The United States on Aug 22 sharpened its criticism of China's activities in Vietnam's longstanding oil and gas activities in Vietnam's Exclusive Economic Zone (EEZ), slamming an "escalation" in efforts to intimidate other claimants".
US State Department spokeswoman Morgan Ortagus called the deployment of the survey vessel "an escalation by Beijing". AFP/ANDREW CABALLERO-REYNOLDS
China redeployed a government-owned survey vessel (survey vessel group Haiyang Dizhi 8) - with armed escorts - into the waters off Vietnam earlier this month, the US said.
"The United States is deeply concerned that China is continuing its interference with Vietnam's long-standing oil and gas activities in its EEZ," State Department spokeswoman Morgan Ortagus said.
In a statement, she called the deployment of the survey vessel "an escalation by Beijing in its efforts to intimidate other claimants out of developing resources in the East Sea."
"This calls into serious question China's commitment ... to the peaceful resolution of maritime disputes," she added.
Earlier the same day, Vietnam also demanded China to immediately withdraw all vessels from Vietnam's EEZ and not have actions to increase tensions, complicate the situation, and threaten peace, stability and security in the East Sea and the region.
"Over the past days, China's survey vessel group Haiyang Dizhi 8 returned and continued their serious infringements of Vietnam's exclusive economic zone and continental shelf determined by regulations of the 1982 United Nations Convention on the Law of the Sea (UNCLOS)," Spokesperson of the Foreign Ministry Le Thi Thu Hang said at a press conference on August 22.
She informed that Vietnam's competent forces at sea have continued to enforce and protect Vietnam's sovereignty, sovereign right, and jurisdiction in accordance with international law and the country's law.
A Vietnam Coast Guard ship is on mission around the DK1/15 oil rig. Photo: VNA
The United States, regularly criticizes China's militarization of the East Sea, which Washington sees as a way to establish its dominance.
"In recent weeks, China has taken a series of aggressive steps to interfere with ASEAN claimants' long-standing, well-established economic activities," Ortagus said, referring to member states of the Association of Southeast Asian Nations.
The US said these actions were intended to "coerce" the countries to "reject partnerships with foreign oil and gas firms, and to work only with China's state-owned enterprises."
"China's actions undermine regional peace and security, impose economic costs on Southeast Asian states ... and demonstrate China's disregard for the rights of countries to undertake economic activities in their EEZs," Ortagus said.
She specifically warned Beijing not to hinder efforts by US oil and gas companies to forge partnerships with other countries in the region.
On Tuesday, the White House - via a tweet from National Security Advisor John Bolton - accused China of using "bullying tactics."
Bolton called those efforts "disturbing."
VNF/VNA/AFP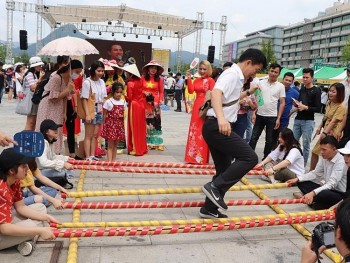 Focus
Vietnam Days Abroad is an annual national promotion program hosted by the Ministry of Foreign Affairs since 2010.