Vietnam Airlines to divest state shares
Vietnam Airlines is moving forward as its state shareholders plan to divest 430 million shares, cutting state holdings to 51 per cent.
Vietnam Airlines is moving forward as its state shareholders plan to pest 430 million shares, cutting state holdings to 51 per cent.
The figure was stated in the report on the results of restructuring Vietnam Airlines in the 2013-16 period and the plan from 2017 to 2020, which has just been sent to relevant bodies for approval. Accordingly, about 430 million shares of the State will be pested to a tough 51 per cent.
Vietnam Airlines has a solid plan in place for pestment of state holdings_Photo: Le Toan
A two-phase plan
Although Vietnam Airlines is waiting to receive the green light from the regulatory authorities, its plan to pest state shares down to 51 per cent within the next three years has begun to take shape.
The airline has recently submitted a report focusing on its restructuring from 2013 to 2015, and a plan for 2017 to 2020. Under this plan, the airline will pest state holdings in two phases.
In the period of 2017-2018, Vietnam Airlines will issue more than 191 million shares to current shareholders so as to increase its charter capital. It will also transfer the right to buy the 57.9 million state shareholders' shares, according to the plan approved by the government in May 2017.
The sale is expected to be completed by the first quarter of 2018. If Vietnam Airlines achieves a complete take-up, it will kill two birds with one stone by raising its charter capital to VND14 trillion ($616 million) and equity capital to VND16 trillion ($704 million), while reducing state ownership by 4.1 per cent to 82.1 per cent.
In the period of 2018-2019, Vietnam Airlines will continue the sale to raise its charter capital. With the issue of 10 to 20 per cent new stake to the market, the airline will lower state ownership to 60-65 per cent. At the same time, state shareholders will continue to pest down another 10 to 15 per cent of state holdings.
If everything goes as planned, the government will reduce its holdings in Vietnam Airlines to 51 per cent. The plan follows Decision No. 1232/QD-TTg on August 17, approving the state stake pestment for state-owned enterprises (SOEs) and corporations for the period of 2017-2020.
Duong Tri Thanh, general director of Vietnam Airlines, said that, following the capital increase in the first phase, Vietnam Airlines will move its listed shares under the stock code HVN to Ho Chi Minh City Stock Exchange (HoSE) in the second quarter of 2018.
The move aims to improve liquidity in HVN shares of Vietnam Airlines, thereby promoting the national carrier's image, as well as facilitating upcoming capital injection and pestment plans.
The concerns of market absorption
Vietnam Airlines' current chartered capital is VND12.27 trillion ($539.88 million), of which the state owns 1,057 million shares (or an 86 per cent stake). 107 million shares (or an 8.7 per cent stake) are owned by Japan's largest airline, ANA Holdings.
To reduce state ownership of the airline, state shareholders need to sell over 430 million shares for the par value of VND4.34 trillion ($190.96 million). Regarding the market value, state shareholders are expected to earn roughly VND17 trillion ($748 million) as HVN shares currently stand at VND40,000 ($1.76) a piece.
A technician is maintaining an aircraft at the Nội Bài International Airport. — Photo courtesy of Vietnam Airlines
Vietnam Airlines has achieved better performance after becoming a joint-stock company in April 2015. However, the airline should gauge the market absorption within the next three years, especially when Vietnam accelerates its state pestment from high-profile businesses with large charter capital.
Elsewhere in the aviation industry, Airports Corporation of Vietnam (ACV) will pest a 28 per cent state stake or 435.5 million in shares with a price of VND10,000 apiece ($0.44) in 2018. With an average transaction price of VND90,000 ($3.96), market capitalisation for state shares at ACV is likely to reach VND39 trillion ($1.71 billion).
The representatives of state shareholders at Vietnam Airlines are taking into consideration the capital injection plan to lower state holdings. Specifically, Vietnam Airlines may choose to sell shares to new investors via private placement, issue shares to current shareholders, or take other measures according to regulations and market trends.
"Besides reducing state ownership to make room for new investments, Vietnam Airlines will make the most of the sale to strengthen financial capability and autonomy, as well as reduce the debt equity ratio," said Vietnam Airlines' leader./.
( VNF/VIR )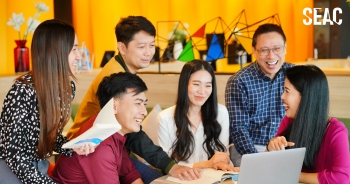 Economy
SEAC, a leading corporate and lifelong education innovator, is shaking up the Thai and ASEAN education market with significant investment to expand its SMART learning solutions across the ASEAN region.