Vietnam can help parties involved in denuclearization of Korean Peninsula to conduct dialogue: Diplomat
Vietnamese Ambassador to South Korea Nguyen Vu Tu says Vietnam can help parties involved in denuclearization of the Korean Peninsula to conduct dialogue, during a recent interview with The Korea Times.
Vietnam's National Assembly Chairwoman Nguyen Thi Kim Ngan (L) meets with South Korea's President Moon Jae-in in Seoul on December 6, 2018. Photo: VNA
Please explain Vietnam's foreign and economic policies on East Asia. In what ways can such policies create synergy with President Moon Jae-in's New Southern Policy?
Vietnam attaches great importance to and always strives to cultivate friendly and cooperative relations with its neighboring East Asia countries.
As you know Vietnam is a member of ASEAN.
In the Northeast Asian region, Vietnam has established strategic partnerships with the Republic of Korea, China and Japan.
Vietnam also has friendly relations with North Korea and Mongolia.
Three economic powers of the Northeast Asian region including South Korea, China and Japan are also the biggest investors and trading partners of Vietnam.
Vietnam is a full member of many regional economic cooperative mechanisms and has been participating in a net of high-quality bilateral and multilateral free trade agreements (FTAs).
With the aforementioned external background, its important geopolitical position in the region and its membership of ASEAN, Vietnam is able to support relations between Korea and Southeast Asia as well as other Southeast Asian countries — the main focus on President Mon Jae-in's New Southern Policy.
Economically, Vietnam is in an advantageous position to participate in developing and establishing manufacturing and supplying chains of Korean goods and services in the region.
It is worth noting that Vietnam is currently the leading economic partner and market of South Korea in Southeast Asia.
Please explain the strategy of Vietnam regarding the intensifying U.S.-China row.
It's a very interesting question.
Vietnam, since 1986, has pursued a reform in foreign policy. And in essence, we can say that Vietnam is a friend to every nation in the world and Vietnam wants to be a reliable partner in the international community.
And Vietnam pursues a foreign policy of persified, and multi-directional external relations.
Basically we're a friend to all.
It is true that there is increasing strategic competition between the U.S. and China.
China has become the second-largest economy in the world and it's something that a neighboring country has to live with.
So we will have to balance between the United States and China.
That's what we diplomats are supposed to do at the forefront of this issue. It's s not an easy task. That's the answer. I don't have a clearer answer for that.
How would you assess your achievements after taking office in 2017? Also, how do you plan to build on such achievements in the future?
Vietnam and South Korea have all the strong foundations based on that the bilateral relationship has prospered.
We have a trusted political relationship, complimentary economies, shared histories, cultures and traditions and no conflicting national interests.
Since the establishment of diplomatic ties, South Korea and Vietnam have made remarkable development in a wide range of areas, including political,https://vietnamtimes.org.vn/stores/news_dataimages/vietnamfriendshipcomvn/082019/14/12/vietnam-can-help-parties-involved-in-denuclearization-of-korean-peninsula-to-conduct-dialogue-diplomat-13-.9402.jpg, economic and people-to-people exchange activities.
We have become indispensable partners to each other.
My role as the ambassador of Vietnam in South Korea is to facilitate and contribute to the development of our bilateral relationship, to make sure that our relations be further expanded and strengthened and to explore and implement measures for achieving practical outcomes.
Since my arrival in South Korea, our relations have been further expanded and strengthened.
In 2017, we celebrated 25 years of establishment of diplomatic relations with many memorable and meaningful events.
In March 2018, I had the privilege to serve the first state visit of President Moon Jae-in to Vietnam.
In November 2018, National Assembly Chairwoman Nguyen Thi Kim Ngan paid an official visit to Korea.
South Korea is currently the second-largest trading partner of Vietnam and Vietnam is the fourth-largest trading partner of South Korea with a bilateral trade turnover in 2018 more than 100 times higher than in 1993.
In terms of investment, since 2017, South Korea has become the largest foreign investor in Vietnam.
Totally, South Korea is investing in more than 7,600 projects with accumulative committed capital of more than $63 billion.
Along with our strengthened political and economic cooperation, cultural exchanges between Vietnam and South Korea have also seen significant development based on a shared historical and cultural background. In the last two years, we have organized a number of cultural and tourism festivals in Seoul as well as in other cities of Korea.
Also with the deepening of bilateral relations in the socio-economic area, people-to-people contacts have greatly increased.
Last year, almost 3.5 million South Korean tourists visited Vietnam (an increase of 144 percent compared with the year before) and more than 450,000 Vietnamese tourists visited South Korea (a year-to-year growth rate at 30 percent) and comprising about 0.5 percent of the total number of foreign tourists.
In spite of the steady development of cooperation over the past years, we still have a great potential to further strengthen and bring the bilateral relations to new heights.
Vietnamese Minister of Public Security To Lam (L) meets with South Korean Prime MinisterLee Nak-yeon in Seoul on July 8, 2019. Photo: VNA
What do you think of the recent controversy over the beating of a Vietnamese wife by a Korean husband in Mokpo?
There are many Vietnamese women getting happily married with Korean men.
The number is about tens of thousands. Recently there was an incident of a South Korean man beating up his wife. It's a rare case.
There are, as I said, tens of thousands of other cases that are happily married.
Now regarding that one case, it happened during the visit of our minister of publichttps://vietnamtimes.org.vn/stores/news_dataimages/vietnamfriendshipcomvn/082019/14/12/vietnam-can-help-parties-involved-in-denuclearization-of-korean-peninsula-to-conduct-dialogue-diplomat-13-.9402.jpg, it happened during the visit of our delegation from the National Assembly.
South Korea's National Assembly Speaker Moon Hee-sang and Prime Minister Lee Nak-yon personally offered their regrets and have undertaken to look into the case very carefully.
I think the case has received a very high-level attention.
I want to say that these things happen, I mean there are different types of Korean guys.
The important issues are what the larger number of couples are doing and what the two governments should do when a negative case happens.
I thank the South Korean government agencies and civil groups for their positive response.
My staff and I went to Mokpo. I think the case is being handled in a way that is acceptable for both sides.
What are areas of cooperation for South Korea and Vietnam to make their relations "brighter for the next 20 years" as you mentioned in 2018? What is Vietnam's strategy to decrease with its trade deficit with South Korea while expanding their trade volume to $100 billion by 2020? How do you want South Korea's investment to be expanded in Vietnam?
As our economies are complimentary to each other, the economic cooperation has been spectacularly strengthened over the last decades.
Bilateral trade turnover in 2018 was $65.7 billion, in which South Korea's exports to Vietnam were about $47.5 billion, while imports from Vietnam were about $18.2 billion.
Given the huge trade deficit for Vietnam in our bilateral relations, to make bilateral trade more balanced and sustainable, we expect South Korea put more efforts in simplification of import procedures and to import more products from Vietnam.
In terms of investment, South Korean investors are doing business in 18 among 21 sectors of the Vietnamese economy, mainly concentrating in processing, manufacturing, real estate, construction, entertainment industry and logistics.
We are welcoming more South Korean investment in Vietnam and particularly encouraging South Korean businesses to invest more in the areas of that are critical for Vietnam to overcome the middle-income-trap and move up the country to the new phase of development such as infrastructure, high technology and renewable energy.
At the same time, we hope South Korean investors will attach greater importance to the transfer of technology, the development of supporting industries, and the creation of more opportunities for Vietnamese enterprises to participate in the South Korean-led global supply chains.
We had a very painful past together.
But South Korea is now No. 1 foreign investor, No. 2 trade partner and No. 2 ODA provider and there is a huge wave of people-to-people exchanges between Vietnam and Korea.
And that's something that Vietnam does not achieve with other countries in any other bilateral relationship in such a time span.
As twenty-five years is not long in history, (it may be long in a man's life), we have achieved so much.
And I truly believe the prospects of the next 25 years of relationship between Vietnam and South Korea on the basis of the past 25 years will be even brighter and there will more waves of people-to-people exchanges, like the case of head coach of Vietnam's male football team Park Hang-seo.
The leaders of the sports sector present Prime Minister Nguyen Xuan Phuc's gift to Vietnam head coach Park Hang-seo prior to returning to his Republic of Korea homeland to join his family for the Lunar New Year festival on January 28, 2019. Photo: VOV
Please introduce Vietnam's vision as the 2020 ASEAN chair.
Vietnam's ASEAN 2020 chairmanship will be the largest multilateral diplomatic endeavor of the year.
The ASEAN chairmanship's responsibility is also an opportunity for the country to promote its role and position in the regional and global arenas.
Year 2020 has a more special meaning, as it will mark 25 years of Vietnam's membership in ASEAN.
We are proud to say that as an active, responsible member who always regards ASEAN as a top priority in the country's multilateral diplomacy policies, Vietnam has made meaningful contributions to ASEAN's achievements.
In the words of Prime Minister Nguyen Xuan Phuc at the beginning of this year at the ceremony launching the National Committee tasked with ASEAN chairmanship preparations, Vietnam always attaches importance, looks forward to, and is willing to make our utmost efforts for the success of the ASEAN 2020 chairmanship.
For the 2020 chairmanship task, Vietnam must work to maintain ASEAN growth, promote the building of a stronger ASEAN community and take the guiding role in building an ASEAN into an association with strong internal solidarity, extensive cooperative relations with dialogue partners and an enhanced position and prestige in the region, thus making contributions to global peace andhttps://vietnamtimes.org.vn/stores/news_dataimages/vietnamfriendshipcomvn/082019/14/12/vietnam-can-help-parties-involved-in-denuclearization-of-korean-peninsula-to-conduct-dialogue-diplomat-13-.9402.jpg./.
VNF/Korea Times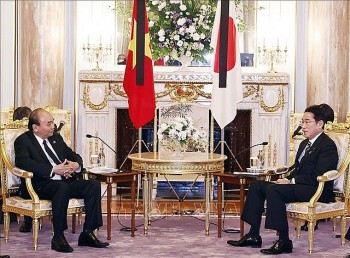 Friendship
Vietnam always treasures the extensive strategic partnership with Japan and views Japan as an important and long-term strategic partner, President Nguyen Xuan Phuc told Japanese Prime Minister Kishida Fumio in Tokyo on September 26.