Vietnam faces shortage of teachers in special education
Students at Nguyen Dinh Chieu School for Blind Children.
Vietnam is facing a shortage of teachers for disabled children, the issue is recently mentioned in an article by Ha Cuong published on Dan Tri News. The article features opinions of experienced insiders in the sector.​
An uneasy job
Teaching is an uneasy job, especially when it comes to working with students with special needs. According to Luu Quynh Trang, a teacher at Hai Phong School for Blind and Handicapped Children, she had taught disabled children 15 years. Trang still remember her feeling when she had to deal with her first hyperactive child that screamed, climbed windows and stole toys from other children.

"I held him tightly, hoping he would stop hitting other children. Then he bit me really hard. I was shocked and scared but seeing him like that, I could only continue holding him until his fit ended," she said. "Regular blackboards and chalk are replaced by passion and love."

Each teacher is often assigned to look after a class of 10 children age from four to six. However, due to lack of teachers, sometimes, Trang had to look after 30 children at a time. This was obviously a difficult situation and the children lack sufficient inpidual care.

Trang said she always felt worried whenever she had to take a leave for a few days because the children are very sensitive to yelling, a mistake inexperienced teachers may commit.
Lack of motivation

Most disabled children feel lonely and need a close relationship with their teaching staff, said Dr Hoang Thi Nho, deputy head of the Special Education Department at Vietnam National University of Education. As the number of disabled children is on the rise, especially those with autism, the expert is worried both about the number and quality of the teachers.

According to Nho, those trainee teachers that choose the Special Education Department, often have their own reasons such as a difficult background or because their families also have a disabled member. Teachers in special education have to face a tough job and low salary.
Another senior in special education, Pham Thi Kim Nga, head of Nguyen Dinh Chieu School, said average monthly wages were VND3.5m (USD150) to VND5m.
"Teachers for disabled children have to work three times harder," she said. "One time, we were able to get two teachers for a class of 30 children. But the teachers quit as time went by," she said.

Pham Minh Muc, director of Vietnam National Institute of Educational Sciences, said Vietnam had only five colleges and universities that have training courses for teachers in special education. The enrollment quota is also the lowest, with only 30-50 students.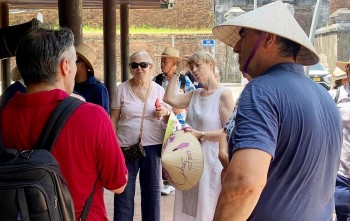 National
Vietnam News Today (Mar. 29): Vietnam to issue e-visa to foreigners of all countries; Vietnam, China beef up defence ties; Outbound tours prove popular during April holiday; Vietnam International Travel Mart 2023 to spotlight cultural tourism.