Vietnam makes a leap in Global Innovation Index
Vietnam has jumped two positions to reach 45th place on the Global Innovation Index (GII) 2018 released by the World Intellectual Property Organisation.
This is the highest achievement the country has ever gained, marking a significant growth in knowledge creation, research and development.
Illustration picture. (source: VN Plus)
Improvements in educational investment are key for Vietnamese innovation, the report points out. Vietnam has topped ASEAN countries in expenditure on education since 2017 by spending 5.7 percent of its GDP for teaching and learning activities.
Regarding education in the category of human capital and research, Vietnam occupies 18th place out of 126 countries. By issuing Resolution 29 on education reform in 2013, the Government demonstrated its commitment to promoting high quality human resources and research, especially in higher education.
The percentage of university lecturers acquiring PhDs and master's degrees rose from 14.4 percent to 21.8 percent, and 47 percent to 59.4 percent, respectively, between 2012 and 2017.
More than 50 percent of Vietnam's scientists work in educational institutions, contributing to the development of training and research quality.
By the end of 2017, there were 945 research groups in the country's universities.
According to Professor Nguyen Dinh Duc from Vietnam National University-Hanoi, between 2017 and June 2018, Vietnam's top 30 universities released more than 10,500 research publications, equal to all national publications in the five years from 2011 to 2015.
From 2011 to 2016, the Ministry of Education and Training invested more than 292 billion VND (12.5 million USD) in 46 projects on enhancing research capacity. These projects focused on providing modern equipment for labs and research facilities, expecting to create applicable products serving the country's socio-economic development.
More than 1,400 science and technology organisations have been established under 142 surveyed universities. Top universities of technology in Hanoi, Da Nang and HCM City are also accelerating technology exchange and calling for investment from both domestic and international agencies for research activities.
Vietnam National University - Hanoi, and Vietnam National University - HCM City are named in the QS 1000 World University Rankings while Hanoi University of Science and Technology is ranked among the 505 best Asian universities by QS in the period 2018-19.
The 2018 GII provides detailed metrics about the innovation performance of 126 countries and economies around the world. Its 80 indicators touch upon a large field of innovation, covering factors of political environment, education, infrastructure and business sophistication.
Not only analysing the energy innovation landscape of the next decade, but it also discovers breakthroughs in energy production, storage, distribution, and consumption as well as their impacts on countries' educational improvements./.
( VNF/VNA )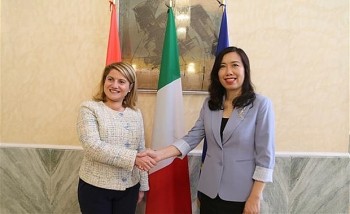 Friendship
The Vietnam - Italy political consultation is part of the occasion of the 50th anniversary of diplomatic ties and the 10th anniversary of the framework of the strategic partnership.