Vietnam, Netherlands mark 45 years of diplomatic relations
The ceremony took place in The Hague on March 26
The 45th anniversary of the Netherlands-Vietnam diplomatic ties has been held in The Hague, with the attendance of Vietnamese National Assembly Chairwoman Nguyen Thi Kim Ngan.
Vietnamese and Dutch officials attend the 45th anniversary of the Netherlands-Vietnam diplomatic ties in The Hague on March 26, 2018. Photo: Vietnam News Agency
Chairwoman Ngan participated in the ceremony after arriving in the Dutch city on Monday for her official visit to the European nation from March 26 to 28, the Vietnam News Agency reported.
Speaking at the event, the Vietnamese legislator highlighted the continuous development of the two countries' cooperation in all areas over the past 45 years.
Vietnam and the Netherlands have become a strategic partner in major spheres including climate change response, water resources management, food safety, and sustainable development, she said.
The Netherlands is affirming its role as Vietnam's leading European investment and trade partner, with famous businesses such as Heineken, Damen, Unilever, Fiesland Campina, and Philips.
Ngan hailed the contributions of Dutch businesses to Vietnam's socio-economic development, as well as to the two nations' bilateral relationship.
Hanoi has received valuable support from Amsterdam through various cooperation programs over the years.
National Assembly Chairwoman Nguyen Thi Kim Ngan (R, 2nd) meets the Vietnamese community in the Netherlands. Photo: Vietnam News Agency
The Vietnamese official expressed her belief that the bilateral relationship will continue to advance via investment and trade promotion forums, as well as cultural and art exchange programs.
According to Cora van Nieuwenhuizen, Dutch Minister of Infrastructure and Water Management, Vietnam and the Netherlands share a lot of similarities.
She emphasized the achievements gained by the two countries over the past decade, especially the cooperation in water management and climate change, with the most noticeable project being the Mekong Delta Plan 2013.
The Netherlands wants to maintain close cooperation with Vietnam toward a Mekong Delta of sustainability and prosperity, Nieuwenhuizen said.
Later the same day, Chairwoman Ngan had a meeting with representatives of the Vietnamese community and officials of the Vietnamese Embassy in the Netherlands./.
VNF/TTO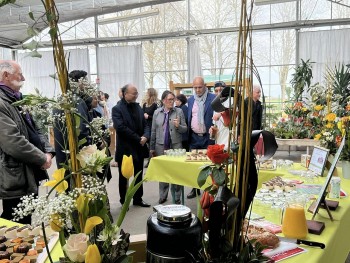 Overseas Vietnamese
Vietnamese Ambassador to France Dinh Toan Thang recently paid a working visit to Saintes, a city in southwestern France, to promote cooperation between the city and Vietnamese localities and attended the Vietnamese Culture Day, VNA reported.