Vietnam News Today (Apr. 10): Positive Economic Recovery Following Two Years of Covid-19 Impact
Vietnam News Today (Apr. 10): Daily infections see sharp fall, PM orders finalized vaccination for children; Vietnam, Australia foster comprehensive cooperation: Ambassador; Positive economic recovery following two years of Covid-19 impact; Nearly 61,000 young people volunteer to support F0 cases at home.
Vietnam News Today (Apr. 10) notable headlines
Daily infections see sharp fall, PM orders finalized vaccination for children
Vietnam, Australia foster comprehensive cooperation: Ambassador
Positive economic recovery following two years of Covid-19 impact
Nearly 61,000 young people volunteer to support F0 cases at home
Tourism festivals underway in Quang Nam, Nghe An, Lao Cai
Netherlands supports Mekong Delta's sustainable development
Winners of Golden Dragon Awards 2022 announced
GDP forecast to surge US$30 billion through digital transformation of SMEs
Two new railways to connect to Long Thanh Int'l Airport
Photo: VOV
Daily infections see sharp fall, PM orders finalized vaccination for children
The number of Covid-19 cases continued to record a sharp fall over the past 24 hours, with 34,140 new cases detected, a drop of over 5,100 cases from a day earlier, the Ministry of Health said on April 9.
Of the latest infections, 34,138 were found in the community and 2 were imported.
Hanoi continued to record the highest number of infections with 2,202 cases, followed by Bac Giang with 1,956 and Nghe An with 1,656.
The overall infection tally now stands at more than 10.69 million cases, including 10,162,185 domestic cases during the fourth wave of outbreaks which started in April last year.
An additional 26 deaths were also confirmed on the same day, taking the total number of fatalities to 42,794, accounting for 0.4 of the overall caseload.
Furthermore, the total number of recoveries rose to 8,497,532 after a total of 41,857 patients were declared to be free from the virus, cited VOV.
By the end of April 8, over 208 doses of Covid-19 vaccines had been inoculated across the country.
Moreover, during a meeting held the same day to discuss the nation's Covid-19 response, Prime Minister Pham Minh Chinh accentuated the highest determination to finalize the administration of Covid-19 vaccines for children aged five to 11 in the second quarter of the year. Indeed, this should be done to ensure safety for them before the start of the academic school year.
He ordered the completion of administering second shots to children aged 12 to 17 in April this year. As such, vaccines remain the strategic weapon and the most important shield to cope with the pandemic, PM Chinh emphasized.
The number of daily Covid-19 cases has seen to see a steep fall from late March, despite the country fully resuming international tourism.
As a result of the country's high vaccination rate, the number of local infections, severe cases, and fatalities over the past three weeks has dropped by 39.6%, 31.7%, and 26.1%, respectively, according to the Ministry of Health.
Vietnam, Australia foster comprehensive cooperation: Ambassador
The governments of Vietnam and Australia are promoting bilateral comprehensive cooperation in various fields, towards the 50th anniversary of the diplomatic ties in February 2023, Vietnamese Ambassador to Australia Nguyen Tat Thanh has said.
The ambassador made the statement at a workshop regarding Vietnam's foreign policy and shared future with Australia held on April 7 at Macquarie University in Sydney, which saw the participation of about 80 Australian and international students under the 'Global Leadership Program'.
Vietnamese Ambassador to Australia Nguyen Tat Thanh speaks at the event. Photo: VNA
Thanh underlined 'independence' in Vietnam's foreign policy, which helps strengthen the country's strategic position and soft power amid global uncertainties. Vietnam has become a strategic and comprehensive partner of 30 countries and an active member of more than 70 regional and international organizations, he said.
Economic partnership serves as an important foundation of the Vietnam-Australia ties, with bilateral trade turnover surging 50 percent to AUD17 billion (nearly US$12 billion) last year despite Covid-19, according to VNA.
The countries have closely cooperated in numerous major issues such as ensuring freedom of navigation and aviation in the East Sea and water security in the Mekong Delta.
Besides, people-to-people exchange is a highlight as more than 27,000 Vietnamese students are studying at Australian universities.
The diplomat believed that the countries will uphold the growth momentum and bring the strategic partnership to a new height on the basis of respect for each other's sovereignty and political regimes.
On the occasion, he met with Vietnamese lecturers and students at Macquarie University.
Positive economic recovery following two years of Covid-19 impact
Vietnam's ongoing economic recovery after being negatively affected by the Covid-19 pandemic for two years can be put down to the Government's efforts to create optimal conditions for local businesses to resume normal operations in line with safe pandemic control conditions.
According to experts, Vietnamese GDP in the first quarter of this year reaching over 5% can be viewed as a very positive signal for the local economy, showing that the national economy is on the right track for recovery moving forward after two consecutive years suffering the adverse impacts of the Covid-19 pandemic.
Statistics detailed by the General Statistics Office (GSO) in the first quarter of this year indicate that the country's GDP was estimated to have expanded by 5.03% over the same period last year, higher than the growth rates of 4.72% and 3.66% recorded in the same quarters of 2021 and 2020.
Furthermore, industrial production in the first quarter continued to prosper, with added value of the entire sector growing by 7.07% on year. This is in addition to the agriculture, forestry and fishery sector increasing by 2.45%, the industry and construction sector soaring by 6.38%, and the service sector rising by 4.58%.
At present, consumer activities are gradually regaining growth momentum thanks to flexible and effective anti-pandemic measures being put in place, VOV reported.
The first quarter's GDP growth of more than 5% is seen as a very positive signal, according to economic experts. Photo: VOV
Nguyen Trung Tien, deputy director general of the GSO, highlighted the first quarter's GDP as a very positive signal, with growth seen across all industries and fields. This shows that the economic recovery under the Government's Resolution 128 on safe and flexible adaption to and effective control of the Covid-19 pandemic has proved to be effective so far, thereby ensuring socio-economic development moving forward.
Sharing this view, according to economic expert Hoang Van Cuong, the Vietnamese economy is showing signs of a rapid recovery. Accordingly, up to 25,600 enterprises returned to operation, up 73.6% over the same period from last year.
Most notably, the amount of capital in newly-established and existing enterprises has increased, displaying their readiness for business activities, as well as production expansion.
This success is the combined result of all three factors, firstly, business support policies and tax extension, delay, and exemption measures which have helped local businesses escape from bearing the burden in order to make all-out efforts for the purpose of economic recovery.
The second factor is the fiscal-monetary policy package, which has just been approved by the National Assembly and issued by the Government. This has a direct impact on the economic recovery process, with the most typical example being tax reduction and consumption stimulation.
The third factor is the country's consistent efforts in pursuing an open-door policy, Cuong concluded.
Nearly 61,000 young people volunteer to support F0 cases at home
The Ho Chi Minh Communist Youth Union mobilized nearly 61,000 Youth Union members and other young people to volunteer to support and care for nearly 180,000 F0 patients at home in March.
The information was announced at a conference to review the Youth Month 2022 held by the Ho Chi Minh Communist Youth Union Central Committee on April 8.
With the theme "Creative Youth", the Youth Month 2022 recorded the participation of young people in more than 18,000 construction projects worth over VND1 trillion.
Youth Union members volunteer to support F0 patients at home. Photo: NDO
Notably, young people volunteered to repair over 1,100km and build over 170km of rural roads and planted more than 2.4 million trees, cited NDO.
More than 7,200 teams of volunteer youths were also mobilized to take part in environmental protection and climate change response at localities nationwide.
During the Youth Month 2022, Youth Union members nationwide proposed more than 247,000 ideas and initiatives in various fields, while nearly 40,000 young medical workers volunteered to provide health examination and consultations, medicines and health insurance cards for more than 81,000 needy people.
Youth Union at all levels also organized 556 concentrated and mobile blood donation activities, receiving nearly 58,000 units of blood in March alone.
Tourism festivals underway in Quang Nam, Nghe An, Lao Cai
Festivals are underway in the central province of Quang Nam, the north-central province of Nghe An and northern Lao Cai province to boost tourism recovery and development following Covid-19.
A festival opened on April 8 in Tam Ky city of Quang Nam, part of the National Tourism Year - Quang Nam 2022. It is expected to welcome about 8,000 holiday-makers.
Local dishes are served while exhibitions featuring farming tools and outstanding craft products of Hong Lu smith village, Tam Thanh community art village and Thach Tan sedge mat-making one, are taking place.
A panoply of events such as calligraphy, performance of the art of Bai Choi, and a boat race will be held at the festival.
On the same day, a tourism festival kicked off in Cua Lo town of Nghe An province.
Firework display at Cua Lo. Photo: baonghean.vn
Cua Lo has been viewed as a dynamic coastal urban area capable of serving more than 30,000 tourists per day, with numerous entertainment services and high-end resorts being operational in Cua Hoi, Lan Chau and Hon Ngu islets.
The festival opened up a chance for Nghe An to promote its tourism products to domestic and foreign tourists so as to surmount difficulties brought by Covid-19 and build a safe and friendly tourism destination upholding traditional cultural values, Vice Chairman of the provincial People's Committee Bui Dinh Long said.
A highlight of the festival was the 15-minute firework display marking the commencement of the tourist season at the coastal locality, VNA reported.
A chain of activities will be held until the end of April, notably a chess tournament, a music and cuisine festival, a trade fair promoting products in the 'One Commune, One Products' program. A whale worshipping festival is slated for April 14-15 in the coastal town.
Cua Lo aims to greet 1.6 million visitors this year, earning VND1.52 trillion (US$66.48 million) from tourism.
Another festival began in Bac Ha district of the northern province of Lao Cai on April 9.
The annual event aims to promote tourism products and cuisines of ethnic groups in Bac Ha, with a hope of building a tourism brand for the district and attracting domestic and foreign tourists.
The festival enthralls visitors with an ancient mansion decorated with 20,000 roses, along with a musical performance. Wine and traditional alcoholic beverages together with more than 50 local dishes were also served at the event.
Of note, the Bac Ha night market will re-open to the public after a halt due to Covid-19.
The festival is underway until April 12 and projected to draw more than 12,000 visitors.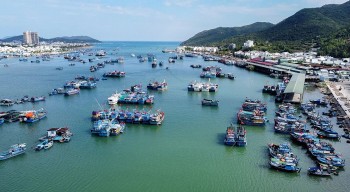 Economy
GDP growth quickened to 7.72% in the quarter ended June, beating the government's 6%-6.5% target.