Vietnam News Today (Apr. 6): Vietnam-developed Covid-19 Vaccine Candidates Now in Clinical Trials
Vietnam News Today (Apr. 6): Covid-19: New cases on April 5 total 54,995; Vietnam effectively working on socio-economic recovery, development: PM; Vietnam-developed Covid-19 vaccine candidates now in clinical trials; Vietjet offers promotional tickets on several int'l routes.
Vietnam News Today (Apr. 6) notable headlines
Covid-19: New cases on April 5 total 54,995
Vietnam effectively working on socio-economic recovery, development: PM
Vietnam-developed Covid-19 vaccine candidates now in clinical trials
Vietjet offers promotional tickets on several int'l routes
Hanoi recruits volunteers for 31st SEA Games
Vietnam more attractive to Korean tourists: Ambassador
Hoi An welcomes first foreign tourists in 2022
Hanoi's core zone develops typical cultural tourism
Coach Park Hang-seo calls up 27 players to prepare for SEA Games 31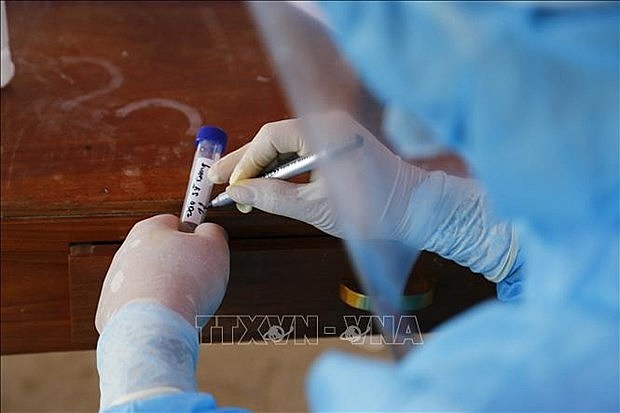 Testing for SARS-CoV-2. Photo: VNA
Covid-19: New cases on April 5 total 54,995
The number of new Covid-19 cases came to 54,995 in the past 24 hours from 4pm April 4 to 4pm April 5, up 6,280 from the previous day, according to the Ministry of Health.
Hanoi continued to report the highest number of infections on the day with 5,199 cases, followed by Nghe An with 2,925 and Phu Tho with 2,827.
The national tally reached 9,922,040, cited VNA.
A total 303,455 patients were given the all-clear during the day, raising the number of recoveries to 8,147,290.
There are 2,055 patients in critical conditions, while an additional 39 deaths were recorded in the past 24 hours, taking the total fatalities to 42,681, equal to 0.4 percent of the total caseload.
By April 4, the country had injected 207,023,415 doses of Covid-19 vaccines.
Despite the big number of infections due to the highly contagious variant Omicron, the numbers of serious patients and fatalities have dropped strongly thanks to the high vaccine coverage and better treatment.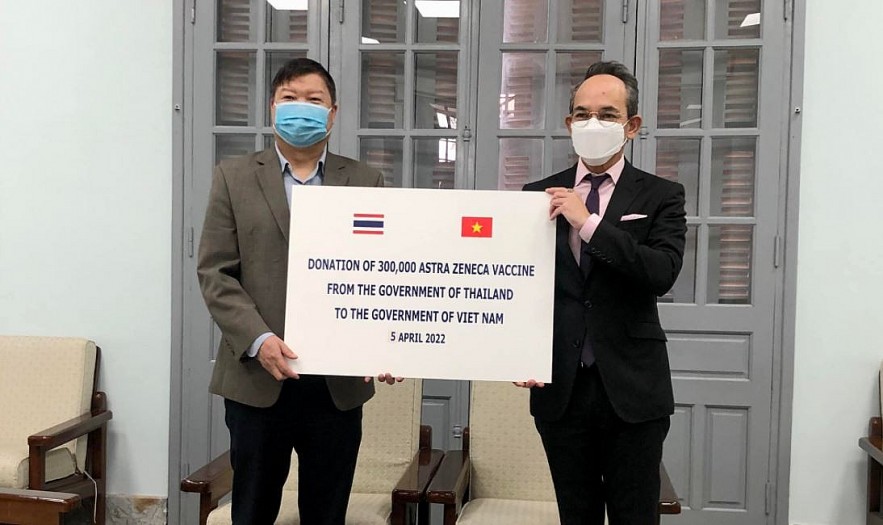 Photo: Embassy of Thailand
Embassy of Thailand hands over 300,000 vaccine doses to Vietnam
On 5 April 2022, Nikorndej Balankura, Ambassador of Thailand to Vietnam represents the Royal Thai Government at the handover ceremony of 300,000 doses of AstraZeneca vaccine worth more than 53 million Baht to the Vietnamese Government to support her effort in controlling Covid-19. The ceremony was held at the National Institute of Hygiene and Epidemiology (NIHE) with Assistant Prof.PhD. Tran Nhu Duong Deputy Director as representative of the Government of Viet Nam.
The Royal Thai Embassy wishes to express its sincere appreciation to the Department of Disease Control, Ministry of Public Health of Thailand, and AstraZeneca Thailand as well as, SCG and Leo Logistics for sponsoring the transportation.
Since 2020, Thailand has provided aid to Vietnam in various forms, including financial aid and medical equipment for the people, to combat Covid-19 total of approximately 58.6 million baht.
Vietnam effectively working on socio-economic recovery, development: PM
Prime Minister Pham Minh Chinh chaired a national teleconference between the Government and localities on March 5 to look into the socio-economic situation in the first quarter of 2022.
In his opening remarks, PM Chinh said since a similar meeting with the presence of Party General Secretary Nguyen Phu Trong on January 5, the international situation has recorded new developments, including the Ukraine conflict, soaring inflation in some countries, and surging prices of input materials and fuel, which have directly affected Vietnam.
There are now more challenges than opportunities, but the country has kept a close watch on the situation and made timely response, especially in repatriating Vietnamese citizens in Ukraine, controlling inflation, flexibly adjusting fuel prices, and dealing with power supply issues, he noted.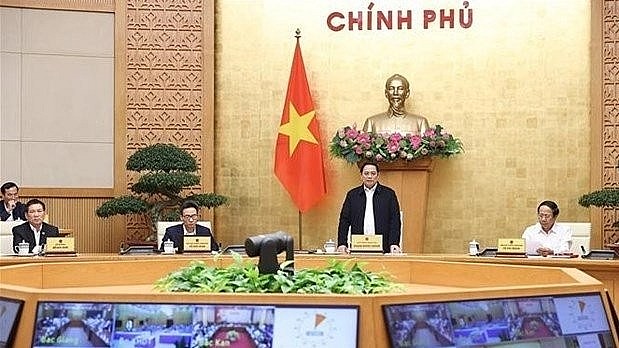 Prime Minister Pham Minh Chinh (standing) chairs the national teleconference on March 5. Photo: VNA
Over the last three months, the PM went on, under the Party's leadership, the Government and all-level administrations' governance, along with people and businesses' support, Vietnam has been effectively implementing the socio-economic recovery and development program, NDO reported.
Besides, it is pressing on with building an independent and self-reliant economy, completing a rule-of-law socialist state and a socialist-oriented market economy, and taking breakthrough measures for infrastructure development, administrative reform, and human resources quality improvement, he added.
During the meeting, participants discussed the socio-economic situation in March and Q1, the socio-economic recovery and development program, key tasks and solutions for the time ahead, and ways to accelerate public investment disbursement in 2022.
They also looked into some major transport projects, including North - South Expressway, Long Thanh International Airport, Belt Road 4 of the Hanoi Capital Region, Belt Road 3 of Ho Chi Minh City, and Khanh Hoa - Buon Ma Thuot, Bien Hoa - Vung Tau, and Chau Doc - Can Tho - Soc Trang expressways.
Vietnam-developed Covid-19 vaccine candidates now in clinical trials: official
All the three Covid-19 vaccine candidates Vietnam is developing are currently in the stage of clinical trials, and if they are qualified as assessed by the ethics and advisory councils, the Ministry of Health (MoH) will grant licenses, an official has said.
Speaking at the Government's regular press meeting on April 4, Deputy Minister of Health Do Xuan Tuyen said the three vaccine candidates are Nano Covax, Covivac, and ARCT-154.
Nano Covax has reached the third phase's mid-term review. Its producer, Nanogen Pharmaceutical Biotechnology JSC, is supplementing data to its dossier at the request of the advisory council, which will convene more meetings on this candidate's eligibility.
Covivac, developed by the Institute of Vaccines and Medical Biologicals, is undergoing second-phase assessment and prepared to enter third-phase clinical trials, cited VNA.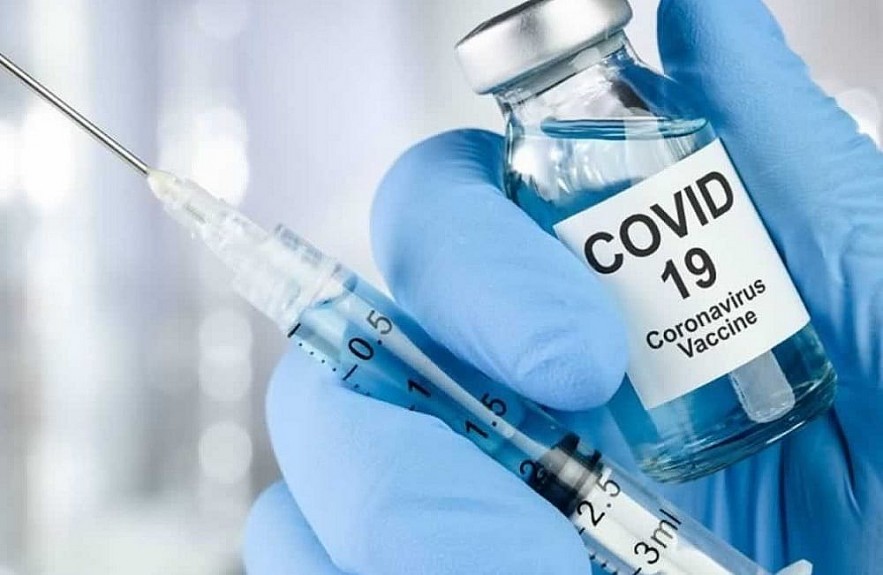 Photo: vietnaminsider
Meanwhile, ARCT-154, the first to be produced using the mRNA technology in Vietnam, of the VinBioCare Biotechnology JSC already underwent mid-term review of clinical trials on the first 1,000 volunteers and is now in Phase 3b.
As these are human vaccines, they must ensure high safety and need full research and assessment, Tuyen noted.
Regarding Covid-19 vaccines for children aged 5 - 11, he said the Government had issued a resolution on buying 21.9 million doses. While discussing the purchase with Pfizer, some countries and organizations expressed their willingness to donate vaccines for children.
On April 3, the MoH had meetings with the Australian Embassy and Pfizer, both of which agreed to deliver vaccines to Vietnam as soon as possible. The authorized vaccines for children consist of Pfizer and Moderna.
The Australian Embassy expected that if procedures are completed quickly, the first batch of Moderna vaccine can be handed over as early as April 10, according to the official.
He added a recent survey by the MoH's Health Strategy and Policy Institute shows that the rate of parents agreeing on the vaccination for children aged 5 - 11 varies, from 60 to 80 percent. Given this, the ministry has devised a communications plan and organized training so that child vaccination can be carried out as soon as vaccines are available.
Vietjet offers promotional tickets on several int'l routes
Vietjet is offering 8,888 discounted tickets priced from only zero dong (excluding tax and fees) on several routes.
The promotional airfares are available during three 'golden days' from Tuesday to Thursday. They are for routes connecting HCM City and Hanoi to Thailand, Singapore, Malaysia with a flexible travel period from April 12 to December 31.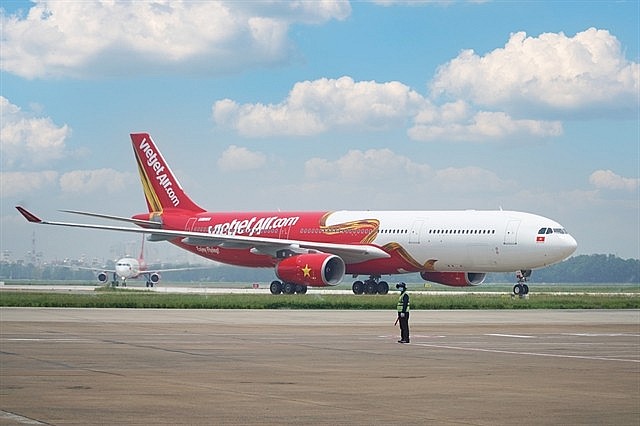 A Vietjet plane lands at Tan Son Nhat Airport in HCM City. Photo: Vietjet
Vietjet will provide all passengers with 15kg of free checked baggage when booking tickets from Vietnam to Singapore, Malaysia, and Thailand on these promotional days, with the flight period until May 25, VNS reported.
Detailed information about flight schedules and entry and exit regulations is regularly updated on vietjetair.com, Vietjet Air mobile app, and Vietjet Facebook fanpage.
The airline said it still offers free RT-PCR for all passengers who fly internationally with Vietjet.
Hanoi recruits volunteers for 31st SEA Games
The Hanoi Committee of the Ho Chi Minh Communist Youth Union will recruit 2,500 - 3,000 young volunteers to support the 31st Southeast Asian Games (SEA Games), slated for May 12 - 23.
Illustrative image. Photo: mic.gov.vn
Eligible candidates need to have good health, been vaccinated with at least two Covid-19 vaccine doses, show high sense of responsibility, and comply with the organizing board's regulations, according to a plan issued by the committee's standing board.
Meanwhile, the candidates serving as interpreters should also have good looks and be fluent in English or other languages in Southeast Asia. Those who used to work as interpreters at diplomatic events will be prioritized.
Registration is open through April 10, cited NDO.
The 31st SEA Games, themed "For a stronger South East Asia", is scheduled to run in Hanoi and 11 neighboring localities. It will feature 40 sports with 526 events and expect to attract around 10,000 participants. The biennial event was initially slated for late 2021 but delayed due to the pandemic's impact.