Vietnam News Today (Apr. 8): Cold Spell Hit Northeastern, North-central Regions
Vietnam News Today (Apr. 8): Forbes names Ninh Binh among top 23 best places to visit this year; Cold spell hit northeastern, north-central regions; FTAs and trade promotion key to boosting exports; Ho Chi Minh City Tourism Fair promotes products, services.
Vietnam News Today (Apr. 8) notable headlines
Forbes names Ninh Binh among top 23 best places to visit this year
Cold spell hit northeastern, north-central regions
FTAs and trade promotion key to boosting exports
Ho Chi Minh City Tourism Fair promotes products, services
Vietnam needs to diversify markets to boost exports: ADB Country Director
Vietnam – a must-visit holiday destination: Telegraph India
State President to pay official visit to Laos next week
Vietnam eyes 30 billion USD in food, food stuff exports annually
Vietnam strives to ensure people's access to best medical services
The northern province of Ninh Binh is named among top 23 best places to visit this year by Forbes
Forbes names Ninh Binh among top 23 best places to visit this year
American magazine Forbes has named the northern Vietnamese province of Ninh Binh among the top 23 best places to travel this year.
The magazine quoted Catarina Mello, an award-winning luxury travel content creator, photographer, entrepreneur, and online educator as saying that Ninh Binh, where Hollywood movie 'Kong: Skull Island' was filmed in 2016, is one of the most underrated destinations in Asia. Indeed, the northern locality is often referred to as one of the most beautiful hidden gems throughout all of the Asian continent.
"It's rising in popularity on social media, so it won't stay a hidden gem for too long. Go while it still offers a very authentic northern Vietnam experience," said Forbes.
Forbes also suggested that some travel experiences in Ninh Binh for visitors to enjoy, including touring scenic landscapes and tasting special cuisine.
"The most famous dishes include goat soup, grilled goat meat with five spices and steamed goat meat with ginger," it revealed.
Forbes also recommended that tourists rent a bike to travel through rice fields or some of the area's hike limestone mountains to enjoy incredible views.
Other Asian destinations featured on the list include Kuala Lumpur, Hong Kong (China), and Rajasthan in India.
In the first quarter of the year, Ninh Binh welcomed a total of 3.2 million tourist arrivals, surging 4.8-fold year on year. Among the visitors, nearly 126,000 were international travelers.
Cold spell hit northeastern, north-central regions
A cold spell has reached northeastern provinces and some areas in north-central provinces since April 7 morning, making the temperature drop to 18-21 degrees Celsius, according to the National Centre for Hydro-Meteorological Forecasting.
Some northern mountainous areas can see temperature of under 17 degrees Celsius at the weekend.
From April 8 to 9, the northern region is forecast to have rains, scattered showers and thunderstorms, cited VNA.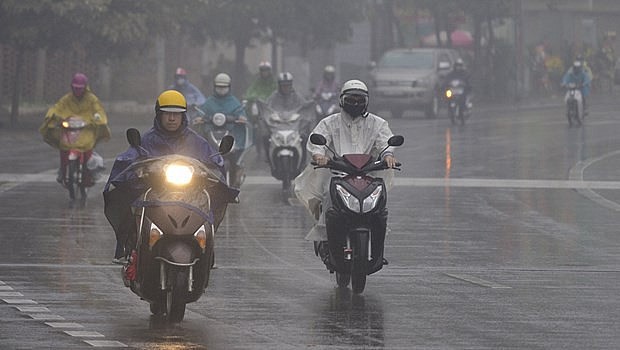 Scattered showers are expected to appear in north-central provinces from April 7 to 9. (Photo: hanoimoi.com.vn)
From April 7 to 9, the north-central provinces from Thanh Hoa to Thua Thien - Hue are predicted to see scattered showers, thunderstorms, moderate rains, heavy rains, and strong wind.
Thunderstorms accompanied by the whirlwind, lightning, hail, and strong wind can affect agricultural production, break trees, damage houses, traffic works, and infrastructure, according to the centre.
FTAs and trade promotion key to boosting exports
Taking full advantage of Vietnam's numerous free trade agreements (FTAs) and rolling out measures to promote trade are keys to boosting the country's export in the future, said the Ministry of Industry and Trade (MoIT).
According to the ministry, the Southeast Asian economy's export picked up in March, reaching US$29.57 billion, a 13.5% increase from February. Total exports during the first three months of the year dropped by 14.8% compared to last year.
Domestic firms were hit the hardest, with a drop of 17.4% compared to foreign firms, who also experienced a drop of 10%.
The ministry said the situation wouldn't likely improve soon as global demand for goods slows down, especially in major markets such as the EU and the US. Competition has been on the rise since the reopening of the Chinese market.
Vietnam's agriculture and aquaculture export for the first quarter of 2023 is projected to reach US$6.86 billion, a 7.5% decrease from last year.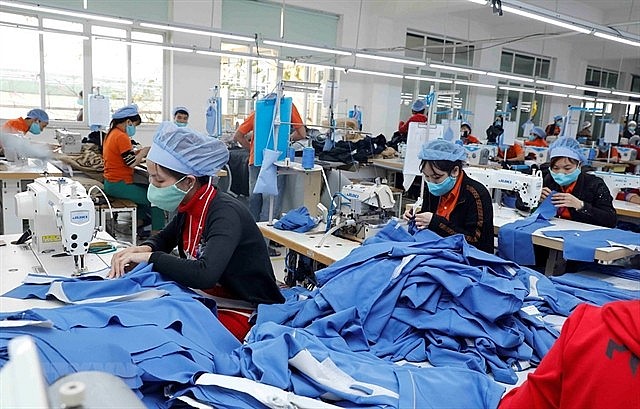 Workers during a shift at a textile company in the northern province of Hung Yen. Photo: VNS
Seafood firms have voiced concerns over a lack of orders, a stark difference from what is usual for this time of year.
"We have been hit hard by both weaker demand and a strengthening dong against the dollars," said a representative from the seafood industry.
To Tuong Lan, deputy director-general of the Vietnam Association of Seafood Exporters and Producers (VASEP), said orders from all markets were fewer during the first three months of the year.
Lan said a global credit crunch hindering retailers from stocking up, on top of increased competition, has resulted in fewer orders this year, according to VOV.
Industrial sectors also reported lower export, with just US$67.5 billion in value during the last three months, a 13.1% and mineral exports dropped by 3.1% compared to the same period last year.
On the other hand, Vietnamese rice has seen some success in both raising export quality and prices. The country exported nearly 70% more rice in the first quarter of 2023 compared to the same period last year.
The US remained Vietnam's largest buyer, with a total value of goods imported at US$20.57 billion.
Do Ngoc Hung, Vietnam's trade representative in the US, said Vietnam-US trade would likely continue to grow strong for the foreseeable future with the two countries seeking out new products and services, removing trade barriers and work together on products safety and standards.
Hưng said his office has been holding regular working sessions to help connect Vietnamese and US businesses while keeping Vietnamese exporters up-to-date with the US's trade policies.
During the first quarter of 2023, Vietnam imported US$75.1 billion in goods and services, a 14.7% decrease year-on-year.
The country maintained a trade surplus of US$650 million in March to bring the first quarter's trade surplus to US$4.07 billion, a marked improvement over the same figure last year at US$1.87 billion.
The ministry said Vietnamese seafood and textile products would likely face increased competition in many of their major markets as strong competitors, including Bangladesh, Cambodia, El Salvador, India, and Indonesia, have managed to sign FTAs with said markets.
The ministry called on firms to make greater efforts to meet consumer demand in foreign markets, start additional marketing campaigns, and improve product safety and quality.
Ho Chi Minh City Tourism Fair promotes products, services
The 19th Ho Chi Minh City Tourism Fair kicked off on April 6, featuring a series of tourism-sports-music events for both domestic and foreign visitors.
The fair themed "Center of intersection - A lively journey" consists of more than 100 booths showcasing a range of tourist products and services provided by localities nationwide and travel firms in Ho Chi Minh City.
Ho Chi Minh City Tourism Fair opens on April 6. (Photo: Baovanhoa.vn)
The exhibition and art spaces offer visitors a variety of art performances and folk games, including painting on pebbles, bags and papers, as well as rice painting, along with walking on stilts.
A food corner serves festival-goers signature dishes from localities across the country, VOV reported.
During the four-day fair, a workshop will be organised to promote tourism connectivity between the southern and northwestern regions.
At the opening ceremony, the organising board launched a piece of work themed "Map of Vietnam" made from over 100,000 toothpicks. The 1.8m x 2.8m piece was designed by around 10,000 people.
Vietnam needs to diversify markets to boost exports: ADB Country Director
In the context of uncertain global economy, the Asian Development Bank (ADB) suggested Vietnam diversify its markets to boost exports in 2023 and beyond.
In a recent interview with VGP, ADB Country Director for Vietnam Andrew Jeffries said that Vietnam's exports are facing headwinds due to the global economic slowdown, adding that is a lot of external factors to Vietnam and beyond Vietnam's control.
Besides promoting exports to China and the U.S., the nation's top two trading partners, Vietnam should consider expanding its export markets to ASEAN, which is also the country's fourth largest trading partner, as well as looking for opportunities with other countries such as Canada, Australia and New Zealand, he recommended.
In the longer term, Vietnam needs to increase its productivity, and move up the value chain and strengthen capacity of its manufacturing and export-oriented businesses.
Vietnam's GDP growth target for 2023 is achievable
Vietnam's GDP growth reached 8.02 percent in 2022, a record high in the 2011-2022 period as the economy is recovering strongly, noted the ADB Country Director.
However, the nation faced some headwinds from the global economy, which occurred in the fourth quarter of 2022, have picked up pace this year. The below target growth for the first quarter of this year (3.32 percent) is mainly due to the global economic slowdown.
In addition, external factors such as continued geopolitical tensions, supply chain issues and commodity market pressure as well as some turmoil in the domestic capital market and corporate bond market are potential drags on growth this year.
Andrew Jeffries expressed his hope that Vietnam's economy will be improved in the second half of this year thanks to the Government's measures to ease the monetary policy and its efforts in managing the growth scenario and financial market's stability.
Furthermore, Vietnam shows very high targets for public disbursement, which is important for the industrial sector given construction had a little bit of contraction in the first quarter. The service sector shows strong growth this year and accounts for 3.5 percentage point of GDP growth.
Vietnam's economy in 2023 is also boosted by a number of factors, including strong tourism growth and the reopening of the Republic of China that can be a boon for tourism as well as trade, cited VGP.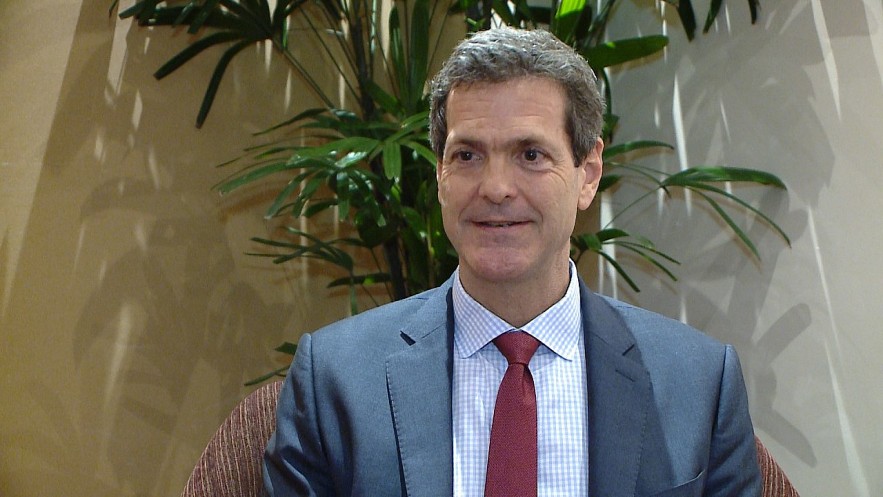 ADB Country Director for Viet Nam Andrew Jeffries. Photo: VGP/Quang Thuong
Thus, the ADB Country Director induced his belief that Vietnam's GDP growth target of 6.5 percent for 2023 is achievable.
ADB Country Director for Vietnam Andrew Jeffries talks about Vietnam's economy forecast in 2023
Vietnam-attractive investment destination for foreign investors
According to Andrew Jeffries, Vietnam has been an attractive investment destination for foreign investors owing to its growing economy, growing middle class, increased purchasing power and a lot of new-generation free trade agreements with many countries.
There has been a slowdown in FDI attraction in the first quarter, but it is not a real concern because the slowdown is not steady.
The biggest-ever U.S. business delegation travelled to Vietnam last month, showing a lot of interest in pouring more FDI into Viet Nam and investing in clean energy in line with Vietnam's commitment to net-zero emissions.
Not only Asian countries but also many other countries are also on the upswing in business environment so that Viet Nam needs to improve its business environment as well together with proposing conducive transparent and predictable investment policies, maintaining macro-economic and political stability, and continuing to upgrade infrastructure.
FDI investors need a growing intermodal transport infrastructure, digitalization of customs services and access to clean energy, said the ADB Country Director, suggesting Vietnam consider these factors alongside its own net-zero commitment.
The country needs very large investments in energy supply because it is growing very fast so that its demand for energy and electricity is growing very fast, too.
For fostering the development of green economy and clean energy, Vietnam should consider applying new technologies and address a different set of technical challenges.
Over the last three decades, the country has successfully built out its infrastructure and met demands for electricity across the nation. Almost 100 percent of Vietnamese people has full access to electricity.
In the near-term, it is crucial that Vietnam should upgrade and make more investment in its transmission system to enable clean and renewable energy sources to come on quickly, recommended Andrew Jeffries.