Vietnam News Today (Jun 21): Vietnam Among Fastest Growing Countries in ASEAN
Vietnam News Today (Jun 21): Vietnam attaches importance to expanding ties with Russia: NA Chairman; Vietnamese tourism growing faster than Thai and Japanese tourism: Agoda CEO; Vietnam hopes for stronger cooperation with EU: Deputy Prime Minister; Maybank: Vietnam among fastest growing countries in ASEAN.
Vietnam News Today (Jun 21) notable headlines
Vietnam attaches importance to expanding ties with Russia: NA Chairman
Vietnamese tourism growing faster than Thai and Japanese tourism: Agoda CEO
Vietnam hopes for stronger cooperation with EU: Deputy Prime Minister
Maybank: Vietnam among fastest growing countries in ASEAN
Vietnam tourism promoted in Cambodia
Proposal to bring COVID-19 from Class A disease to Class B approved
Petrol prices forecast to experience slight fluctuations in next adjustment: VPI
HCM City looks to effectively develop medical tourism
Quang Ngai fosters partnership with Chinese locality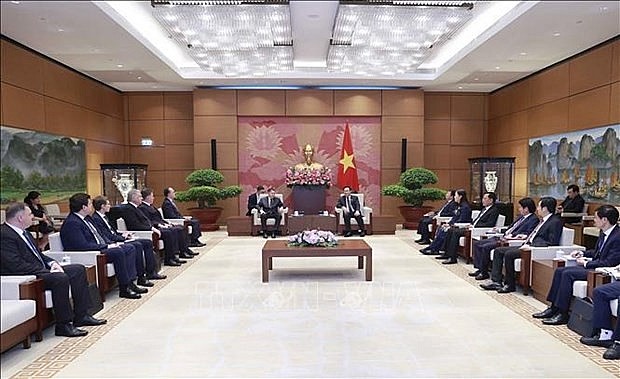 At the reception (Photo: VNA)
Vietnam attaches importance to expanding ties with Russia: NA Chairman
Vietnam always attaches importance to strengthening and expanding relations with Russia, considering it one of the top priorities in its foreign policy, National Assembly Chairman Vuong Dinh Hue has said.
At a reception in Hanoi on June 20 for Chief Justice of Russia Lebedev Vyacheslav Mikhailovich, Hue welcomed the Russian official's ongoing visit which takes place at a time when the two countries are celebrating the 10th founding anniversary of comprehensive strategic partnership, cited VNA.
Congratulating Lebedev and Chief Justice of the Supreme People's Court of Vietnam Nguyen Hoa Binh on their successful talks, Hue affirmed that the Vietnamese NA supports comprehensive and extensive cooperation between the two nations' judicial sectors in general and the supreme courts in particular. He believed that the outcomes of the talks will lead to significant and beneficial cooperation between the two sides in the near future.
He expressed his delight that the exchange of delegations at all levels between the two nations have been maintained and stepped up despite the COVID-19 pandemic. In particular, the Vietnamese NA is actively preparing for an official visit to Vietnam by Chairman of the State Duma of Russia Vyacheslav Volodin.
According to the top legislator, the 13th Party Central Committee issued a resolution on continuing to build and complete the socialist rule-of-law State of Vietnam in the new period, which includes various contents related to improving the effectiveness of the court system. In this process, the invaluable support, cooperation and sharing of experience regarding law and justice from Russia and its Supreme Court in particular holds significant importance.
Lebedev, for his part, said the Supreme Court of Russia submitted 187 draft laws to the Federal Assembly, of which 108 have become laws. According to the Russian law, when the Federal Assembly reviews draft amendments or supplements to certain laws, the collection of the Supreme Court's feedback is mandatory. Apart from the legislative work, the Supreme Court has also engaged in various forms of cooperation with the Federation Council and the State Duma, particularly in fine-tuning and enforcing laws, amending and supplementing activities of courts.
Vietnamese tourism growing faster than Thai and Japanese tourism: Agoda CEO
Japanese news outlet Nikkei Asia has published an article highlighting that online travel company Agoda views tourism in Vietnam as growing faster than in Thailand and Japan.
According to the media publication, Omri Morgenshtern, CEO of Agoda, points out that Thailand could maintain its edge by removing visa issues, opening more flight routes, and creating business reasons to promote travel.
The article outlines that Vietnam has grown its share of inbound travel over the first five months of the year, coming in third behind Japan and Thailand among Asian destinations. It duly jumped from fifth place in 2019, the last year of pre-pandemic travel.
Thailand topped Agoda's list in 2022, but was quickly overtaken by Japan, which reopened its borders in October.
Thailand has welcomed over 11 million visitors this year, already surpassing figures from 2022. With inbound, outbound, and domestic travel already recovered, Thailand's task is to sustainably grow its tourism industry, which in 2019 accounted for roughly a fifth of gross domestic product, according to VOV.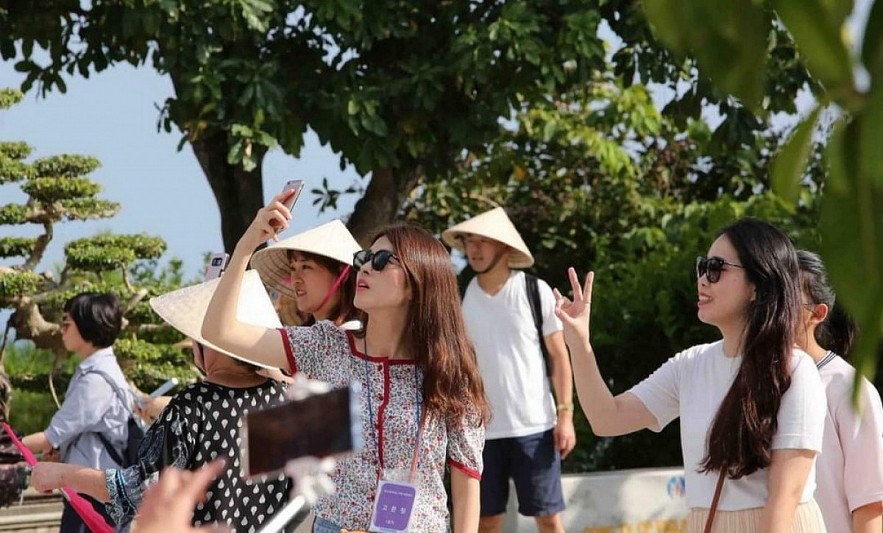 More Koreans tourists are traveling to Vietnam.
Morgenshtern told reporters on June 19 that while the Republic of Korea has sent the biggest group of inbound travelers to Thailand, more Koreans are traveling to Japan and Vietnam. He attributed this to a significant number of Korean factories opening in Vietnam over the past two decades, a factor which has seen the establishment of a community of expatriates who spread word about Vietnam back home.
"The more you can bring in investment, business and people... you can also drive tourism over time," said Morgenshtern.
According to figures from the General Statistics Office, Vietnam welcomed nearly 4.6 million international tourists during the first five months of the year, representing a 12-fold increase compared to the same period last year and fulling 57.5% of the annual plan.
Vietnam hopes for stronger cooperation with EU: Deputy Prime Minister
Deputy Prime Minister Tran Luu Quang on June 20 received the European Parliament Delegation for Relations with the Countries of Southeast Asia and ASEAN led by its Chairman Daniel Caspary who are paying a visit to Vietnam.
At the meeting, Quang expressed his delight at the profound and substantive developments in the relationship between Vietnam and the EU over the past time. Currently, the EU is one of Vietnam's leading trade-investment partners. Meanwhile, Vietnam is the EU's largest trading partner in ASEAN.
Quang said that he hopes the two sides will continue to cooperate closely, focusing on areas where the EU has advantages and those that follow common trends to serve green growth, sustainable development and climate change response.
Stronger bilateral cooperation will contribute to promoting the Vietnam-EU comprehensive partnership, bring practical benefits to people and businesses of both sides as well as actively contribute to maintaining peace, stability, development, and prosperity in the region and the world, reported VNA.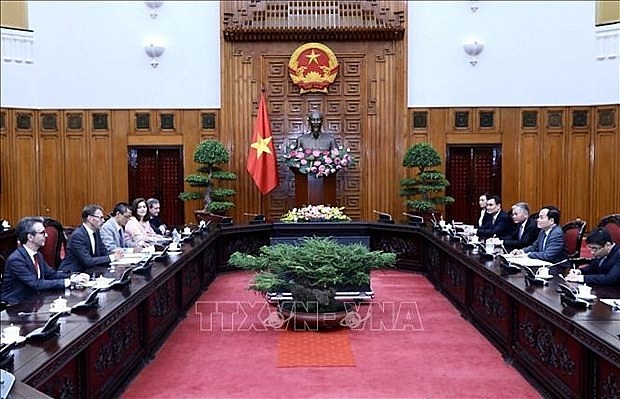 At the meeting (Photo: VNA)
Quang called on the EU official and the delegation to support Vietnam in having the European Commission (EC)'s "yellow card" warning against its seafood exports lifted.
For his part, Caspary and the delegation appreciated the role and position of Vietnam in the region as well as in the world.
He said Vietnam is also considered one of the good examples of achieving outstanding results in poverty reduction, foreign direct investment attraction, infrastructure development, and its commitment to net-zero emissions by 2050.
Regarding the removal of the yellow card, Caspary noted that it is an important issue for Vietnam and expressed his hope that the issue will soon have results in line with the expectations of the two sides.
At the meeting, the two sides also discussed regional and international issues of common concern, including the East Sea issue and the Russia-Ukraine conflict.
Maybank: Vietnam among fastest growing countries in ASEAN
The six economies of ASEAN, including Malaysia, Singapore, Thailand, Indonesia, the Philippines, and Vietnam are predicted to grow by 4.2% this year, far exceeding the projected global GDP growth of 2.0%, according to Maybank Group of Malaysia president and chief executive officer (CEO) Datuk Khairussaleh Ramli.
Citing growth projections made by the group's research team, Khairussaleh assessed the bloc's strength in diversity, honouring cultural intersection, while navigating differences in political, economic, and social systems.
In his speech given at the opening of the ASEAN Investment Conference organised by Maybank in Singapore, he emphasised that the spirit of the bloc is in its resilience.
The president of Maybank outlined that now that the COVID-19 pandemic is over, ASEAN has moved to reopen for business and is likely to remain a bright spot amidst increasing headwinds as the region's resilience is once again demonstrated.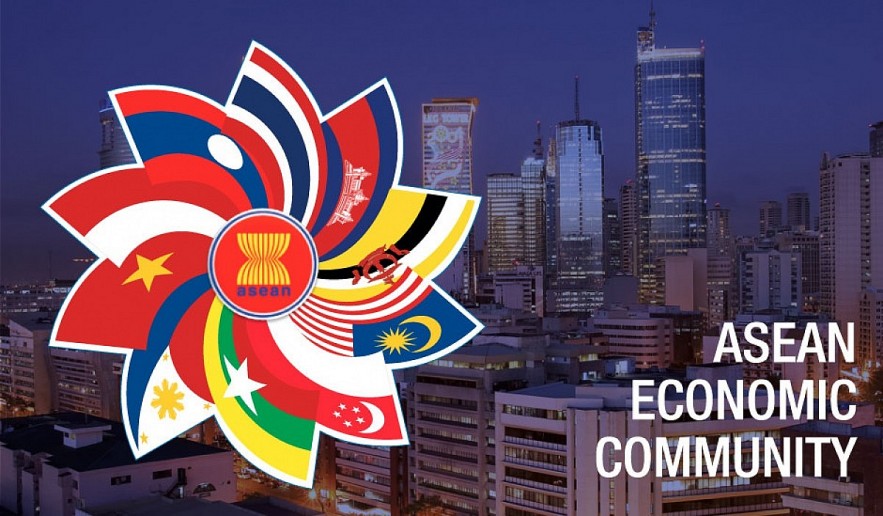 Photo: VOV
Boasting a total population of more than 660 million people and a total GDP of nearly US$3.66 trillion by 2022, Khairussaleh noted that the bloc ranks as the third largest largest regional economy in Asia, as well as being the fifth largest economy in the world, behind the United States, China, Japan, and Germany.
Foreign direct investment (FDI) inflows into ASEAN rebounded in 2021 to US$174 billion, marking a rise of 42% from 2020, with these figures reflecting the attractiveness of the region's economy to global investors, cited VOV.
Khairussaleh stated that ASEAN's resilience is evident in its investment flows, noting that even when foreign investors withdrew from the stock market last year, there was still a large number of domestic investors capable of coping with regional fluctuations.
According to the chairman of Maybank, another area of optimism for the regional economy is digitalisation, especially in the financial service sector.
He assessed that the digital economy currently accounts for only 7% of the regional group's GDP, compared with 35% in the US and 16% in China, adding that there is a lot of room for future growth.
However, he noted that ASEAN must consider the fact that the regional bloc is experiencing a slowing global economy, due to inflationary pressures and geopolitical and geo-economic fragmentation.
Established back in 1960, Maybank Group is one of the largest financial groups in Malaysia. In addition to operating in Malaysia, Maybank has moved to expand its business activities to other countries such as Singapore, Vietnam, the UK, and the US.
Vietnam tourism promoted in Cambodia
A roadshow promoting Vietnam and Ho Chi Minh City tourism in Cambodia was held in Phnom Penh on June 19, highlighting tourist destinations and services of Vietnam and especially Ho Chi Minh City to Cambodian enterprises and people.
Speaking at the event, Counsellor of the Vietnamese Embassy in Cambodia Ngo Van Tuat said that the event made an important contribution to fostering tourism cooperation between the two countries as well as between Ho Chi Minh City and Phnom Penh.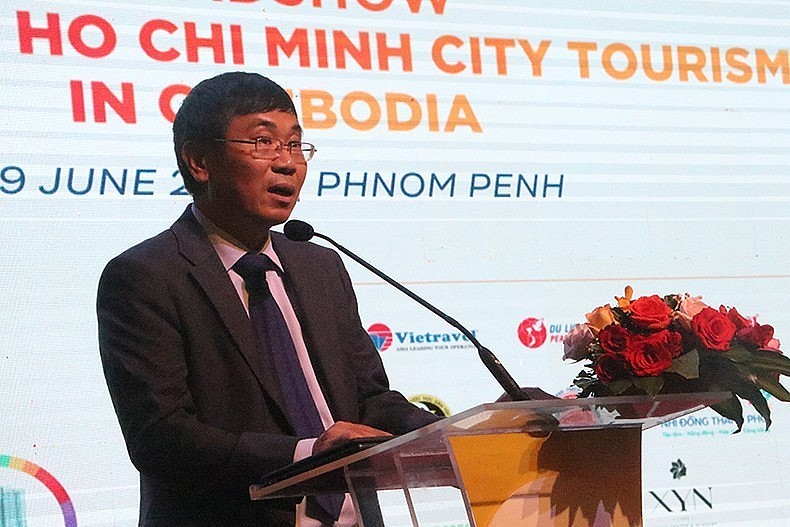 Counsellor of the Vietnamese Embassy in Cambodia Ngo Van Tuat speaks at the event. Photo: Nguyen Hiep
He expressed his hope that the potentials, strengths, and tourism services in Ho Chi Minh City will be known to businesses and many Cambodian people, thus opening many cooperation opportunities for tourism businesses of both sides.
Deputy Director of Ho Chi Minh City Department of Tourism Bui Thi Ngoc Hieu said that the city's Department of Tourism and Department of Health have been working to support tourism enterprises to build medical tourism packages, one of the tourism services favoured by Cambodian visitors. She noted that this event will be a good chance for tourism enterprises of both sides to expand cooperation opportunities in the future.
Under Secretary of State of the Cambodian Ministry of Tourism Prak Chandara believes that the tourism promotion programme will help increase the number of tourists between the two countries in the post-pandemic recovery period, cited NDO.
Vietnam recorded nearly 200,000 Cambodian visitors in 2022, the fourth largest group of foreign visitors to Vietnam that year. Vietnam also ranked second among foreign tourists to Cambodia with 466,000 Vietnamese tourists visiting Cambodia in 2022, accounting for 21.7% of the total number of foreign tourists to the country.