Vietnam News Today (Jun 22): 41 Localities in Vietnam Develop 'Smart Cities'
Vietnam News Today (Jun 22): Vietnam attends 16th ADMM in Cambodia; 41 localities in Vietnam develop 'smart cities'; Vietnamese and German localities augment co-operation ties; Retail petrol prices up slightly in latest adjustment.
Vietnam News Today (Jun 22) notable headlines
Vietnam attends 16th ADMM in Cambodia
41 localities in Vietnam develop 'smart cities'
Vietnamese and German localities augment co-operation ties
Retail petrol prices up slightly in latest adjustment
Travel firms make plans for summer vacation
Photo exhibition spotlights Truong Sa archipelago, DK1 platform
Sports sector focuses on completing upcoming goals
Get-together for HCM City's former experts assisting Cambodian revolution
Huge potential for HCM City to expand ties with India: City leader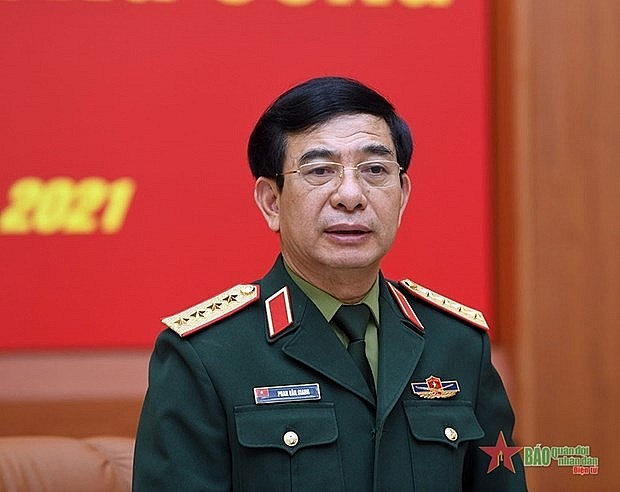 Defense Minister Gen. Phan Van Giang. Photo: qdnd.vn
Vietnam attends 16th ADMM in Cambodia
Defense Minister Gen. Phan Van Giang is leading a high-ranking military delegation of Vietnam to attend the 16th ASEAN Defense Ministers' Meeting (ADMM) in Phnom Penh, Cambodia at the invitation of Cambodian Deputy Prime Minister and Defense Minister Gen. Tea Banh.
Minister Giang will also attend informal ASEAN meetings with China and Japan on June 21-23.
The Vietnamese delegation's presence at the events aims to affirm Vietnam's role as an active, proactive and responsible member in promoting intra-bloc defense cooperation as well as defense ties between ASEAN and its partners. This also shows Vietnam's support for Cambodia as the ASEAN Chair 2022.
41 localities in Vietnam develop 'smart cities'
Building cities and smart domestic and international connections is one of the important issues in urban sustainable development. However, many problems in the process exist.
According to the Deputy Head of Party Central Committee's Economic Commission Nguyen Duc Hien, 41 out of 63 centrally-run cities/provinces have been building plans on developing smart cities. Nearly 40 of the cities/provinces have been developing smart city services, while 17 cities/provinces have started building or have agreed on the building of smart city operating centers.
Seventeen provinces have started smart tourism service applications, and more than 10 provinces use apps on smart traffic and urban orders and security.
There are also apps in other fields, such as smart education and smart healthcare. The capital from different sources in society and preferential loans used to implement smart city projects account for 50-90 percent.
On January 24, 2022, Politburo issued Resolution 06 on the planning, management and sustainable development of Vietnam's urban areas by 2030 with a vision until 2045.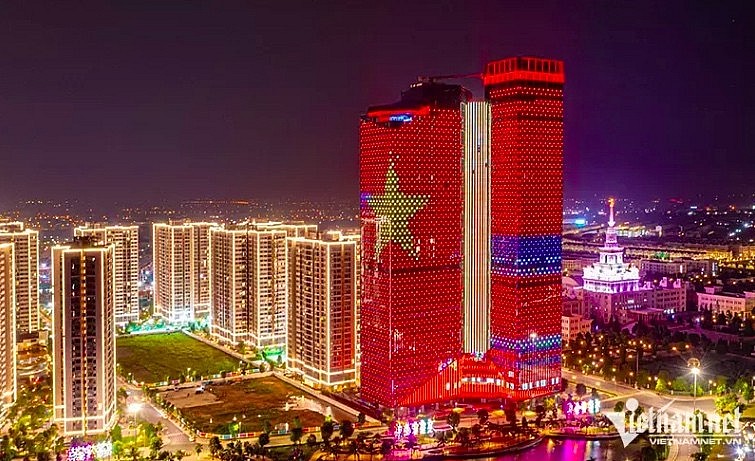 Photo: VNN
Deputy Head of the Party Central Committee's Economic Commission Nguyen Thanh Phong said the resolution emphasizes the task of accelerating digital transformation in urban management, building electronic government, and striving for digital government in cities with close association with smart city development.
Fifty-five out of 63 localities have issued resolutions/directives/documents from municipal and provincial Party Committees about digital transformation, according to VNN.
Meanwhile, 59 out of 63 localities have launched programs/plans/projects on digital transformation for five years. The provincial indexes are defined based on the digital transformation level on three pillars – digital government, digital economy and digital society, with an average point of 0.3 on a 1.0 grading scale.
Of the three pillars, the pillar of digital government has higher average point than digital economy and digital society thanks to the results of the e-government development process.
Studies and practice show that in order to form smart cities, it is necessary to carry out digital transformation comprehensively in all fields, with focus on urban management.
According to Hien, Vietnam has just begun applying smart city services, while the content about smart urban planning and smart urban construction management has not been given much attention. There are still few smart city projects that have a comprehensive approach with the goal of not only solving urgent problems of cities, but also striving for socio-economic development.
Nguyen Hoang Minh from the Architecture University commented that smart cities include smart urban planning, smart economy, smart transport, smart energy, smart urbanites, smart community, smart urban management and digital society. Of these, planning is the pillar in the development of smart cities in Vietnam.
Vietnamese and German localities augment co-operation ties
Vietnamese Ambassador to Germany Vu Quang Minh and Dr. Peter Tschentscher, the First Mayor of the City of Hamburg, have compared notes on current relations and prospects for future co-operation between the countries, as well as between Vietnamese localities and Hamburg.
During his recent courtesy visit to the Mayor of Hamburg, Ambassador Minh expressed his joy and honour at being back in the city in the role as Vietnamese Ambassador to Germany, while hailing the sound friendly relations which exist.
Even during the Covid-19 pandemic, both sides offered mutual support to one another, clearly demonstrating the spirit of the joint strategic partnership, he added.
As part of the occasion, the Vietnamese Ambassador thanked both the authorities and people of Hamburg for their timely support in helping the country cope with the impact of the pandemic during the most difficult period.
In June 2021, the German states of Hamburg, Bremen, Mecklenburg-Vorpommern, and Saxony-Anhalt donated more than 190,000 Covid-19 rapid test kits to the nation.
Regarding economic relations, Ambassador Minh emphasized that Germany is currently the largest Vietnamese trading partner in the EU and the fifth-largest investment partner among the bloc.
The Vietnamese diplomat also highlighted the importance of Hamburg in trade exchanges between the two countries, particularly as major Vietnamese export staples such as footwear, clothes, coffee, pepper, and wood products primarily entered the German and European markets via the port of Hamburg.
The Ambassador said that co-operation between Vietnamese localities and Hamburg still have ample room for stronger development, particularly as the country has signed 16 free trade agreements with major partners. Indeed, the EU-Vietnam Free Trade Agreement (EVFTA) which became effective from August 1, 2020, has opened up greater opportunities for co-operation between firms from both sides.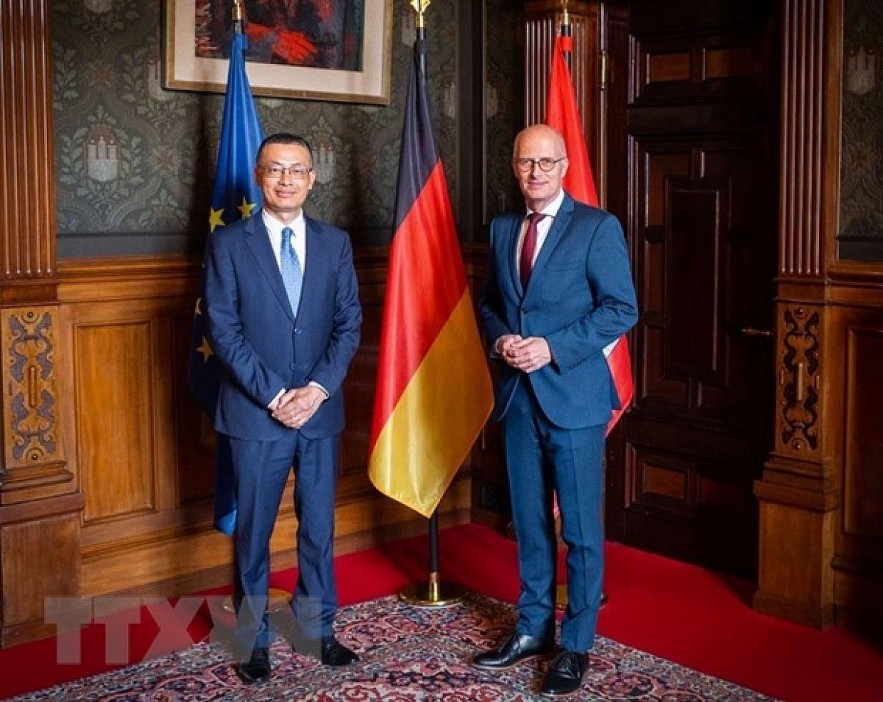 Vietnamese Ambassador to Germany Vu Quang Minh (L) and Dr. Peter Tschentscher, the First Mayor of the City of Hamburg. Photo: VNA
Furthermore, Ambassador Minh expressed his hope that the future will see localities of Vietnam and Hamburg continue to tighten co-operation in traditional fields such as shipping, shipbuilding, and human resource training, as well as expanding into new fields such as green and renewable energy, reported VOV.
He went on to suggest that the administration of Hamburg consider the possibility of establishing a municipal partnership with a Vietnamese locality, especially with port cities such as Da Nang, Hai Phong, and Ho Chi Minh City. This should be done with a view of sharing experience and taking advantage of the available potential in order to complement each other.
As part of the occasion, Ambassador Minh also expressed his sincere thanks to the Hamburg administration for continuing to facilitate the Vietnamese community's integration into local society. He firmly believes that this community has been and will continue to make positive contributions to the socio-economic life of Hamburg, as well as serving as a bridge connecting the two countries' people.
In response, Hamburg Mayor Peter Tschentscher applauded the nation's dynamic development over the years, noting that Hamburg backs the EVFTA because of the undeniable advantages it brings, especially minimizing trade barriers, and creating new dynamics to promote economic development of the two continents.
Mayor Tschentscher said that in the near future, apart from its major partner China, Hamburg will focus on diversifying economic-trade-investment ties and expanding co-operation with many more countries in Asia, with a specific focus on Vietnam.
He therefore supports Ambassador Minh's proposal to ramp up co-operation between Hamburg and Vietnamese cities, whilst expressing his wish that representatives of Vietnamese localities could visit Hamburg in order to discuss issues of mutual concern. They could also use this opportunity to explore co-operation opportunities, thereby creating a foundation for the establishment of city partnerships moving forward.
Mayor Tschentscher also noted his appreciation for the positive contributions made by the Vietnamese community to the socio-economic life, as well as to the cultural diversity and prosperity, of Hamburg.
Moreover, he said that there are now more than 100 foreign honorary consuls in Hamburg and expressed his willingness to assist the nation in finding suitable candidates to name as the country's honorary consul in Hamburg.
Ambassador Minh used the occasion to invite Mayor Tschentscher and agencies and businesses from Hamburg to visit the nation at an appropriate time in a bid to further foster co-operative relations between the two sides moving forward.
Retail petrol prices up slightly in latest adjustment
Retail petrol prices were up by nearly 500 VND per liter from 3pm on June 21 following the latest adjustment by the Ministry of Industry and Trade and the Ministry of Finance.
The retail price of E5RON92 bio-fuel increased 185 VND to a maximum of 31,302 VND (1.35 USD) per liter, while that of RON95 rose 498 VND to 32,873 VND (1.42 USD) per liter.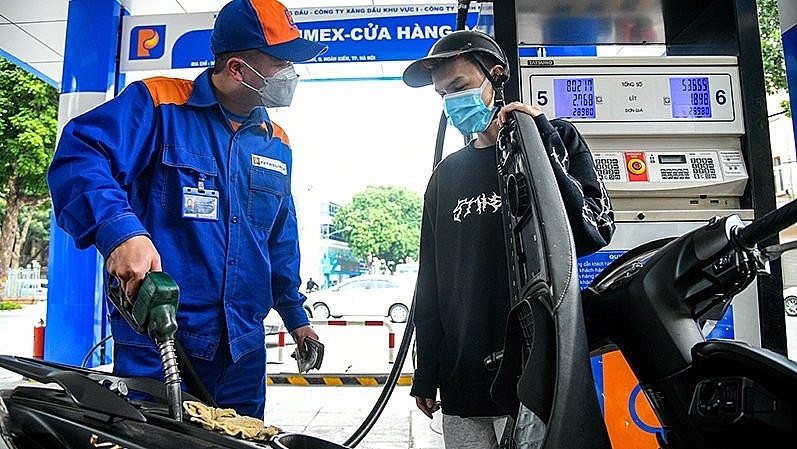 Retail petrol prices up slightly in latest adjustment. Photo: NDO/Thanh Dat
The prices of diesel 0.05S and kerosene, meanwhile, went up 999 VND and 946 VND to 30,019 VND and 28,785 VND per liter, respectively, reported NDO.
This is the seventh consecutive price increase since April 21. In total, the price of RON 95-III and E5 RON 92 bio-fuel surged by about 5,500 VND and nearly 5,000 VND per liter, respectively.
Travel firms make plans for summer vacation
Travel companies in Vietnam have made plans to meet the rising demand for visitors as the summer holiday peaks.
Tran Quoc Bao, deputy general director of Saigontourist, a leading tour operator, said it expects to serve more than 280,000 customers and the number may be higher because the demand for domestic and outbound tours is still growing strongly.
"Summer is the peak season of the year, so we focus all financial and human resources to diversify services, invest in renovating most products in line with the current market situation," he was quoted by Tuoi tre (Youth) newspaper as saying.
Up to 160 package tourism products have been built to match market trends, meeting the requirements of resort tourism, Bao said.
According to Huynh Phan Phuong Hoang, deputy general director of Vietravel, there has been a sharp rise in the number of tours but the way Vietnamese tourists travel this year has also surprised the market. cited VNA.
A corner of Grand World Phu Quoc. Photo: vinpearl.com
Many families are willing to spend on high-class tours, demanding more stringent requirements on the quality of accommodation facilities and food services, she said.
Hoang said that by the end of May, tours that let travelers stay at 4-5 star hotels have been booked in some destinations such as Phu Quoc, Da Lat or Sa Pa.
Tran Thi Bao Thu, marketing and communications director of Fiditour, said the demand for tours to the seas and highlands has risen strongly, adding visitors must book tours early to ensure their places and reasonable prices.
The price of air tickets to domestic destinations during the summer holiday is on the rise in line with a hike in petrol prices.
The tickets of flights from Hanoi and Ho Chi Minh City to Phu Quoc, Nha Trang, Hue and Quy Nhon are reported to be nearly four times that of two years ago.
According to the aviation businesses, the summer holiday is forecast to record an unprecedented increase in demand for air travel in the past three years since the outbreak of the Covid-19 pandemic
A representative of budget carrier Vietjet said ticket booking for summer vacations on domestic flights increase sharply, even higher than that for Liberation and Reunification holidays. The operating frequency in mid-July is up to 450 flights per day, including domestic and international ones, instead of 200-300 flights as before.
According to the Vietnam National Administration of Tourism, in the first five months of this year, the number of foreigners arriving in Vietnam reached around 365,300, growing by 4.5 times compared to the same period last year. The volume of domestic travelers hit 48.6 million in the period and the revenue from the tourism sector was estimated at 211 trillion VND (9.1 billion USD).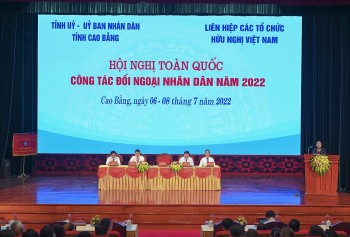 Friendship
During the event, many important issues will be discussed, and constructive suggestions and solutions will be provided to promote more effective people-to-people diplomacy operations.