1. Vietnam records no new COVID-19 case on May 2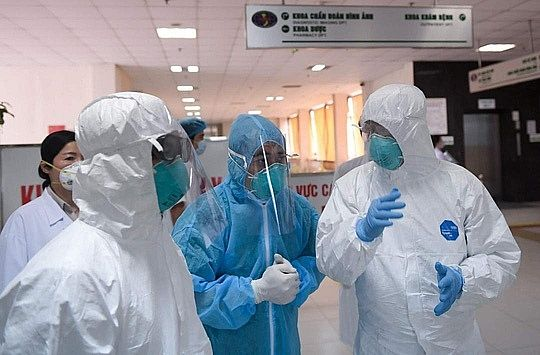 Illustrative photo.
VNA cited statistic from the National Steering Committee for COVID-19 Prevention and Control showing that no new cases of COVID-19 were recorded in Vietnam as of 6pm on May 2.
Total infections in the country remain at 270, of whom 219 have fully recovered. By May 2, Vietnam had a total of 130 infection cases quarantined right upon their arrival in the country.
At present, among the remaining 51 patients, 12 tested negative for the novel coronavirus (SARS-CoV-2) once and nine negative more than twice.
In another move to prevent possible infections from relapsed patients, the Health Ministry last week suggested that patients eligible for discharge from hospitals spend the additionally mandated quarantine period of 14 days at the hospitals, instead of at home.
2. US to aid Vietnam a 9.5 million USD package for COVID-19 fight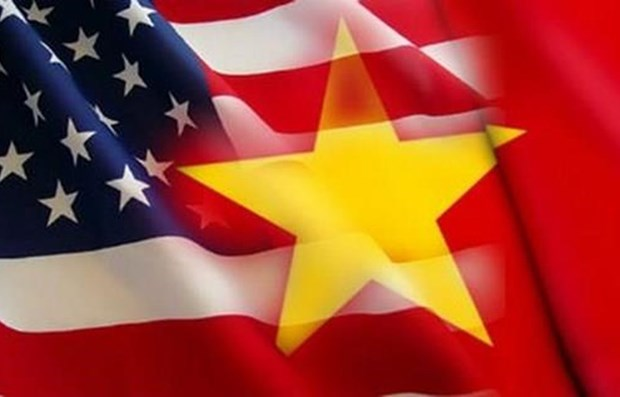 Over the past 20 years, the US has provided Vietnam with more than 1.8 billion USD, including more than 706 million USD for health. (Source: VNA)
Vietnam will receive an aid package worth 9.5 million USD to cope with COVID-19, including 5 million USD for Economic Support Funds, according to the US Department of State, VNA reported.
The funds will be utilised to bring much needed resources to bear immediately, including supporting private sector recovery by mitigating the financial impacts of the pandemic on small and medium-sized-sized enterprises (SMEs), addressing the non-financial impacts facing SMEs, and partnering with Government of Vietnam stakeholders to bolster the government's relief interventions.
Of which, 4.5-million-USD medical assistance for the Vietnamese Government to prepare laboratory systems and activate case-finding and event-based surveillance.
3. Customs clearance resumes at Lang Son border gate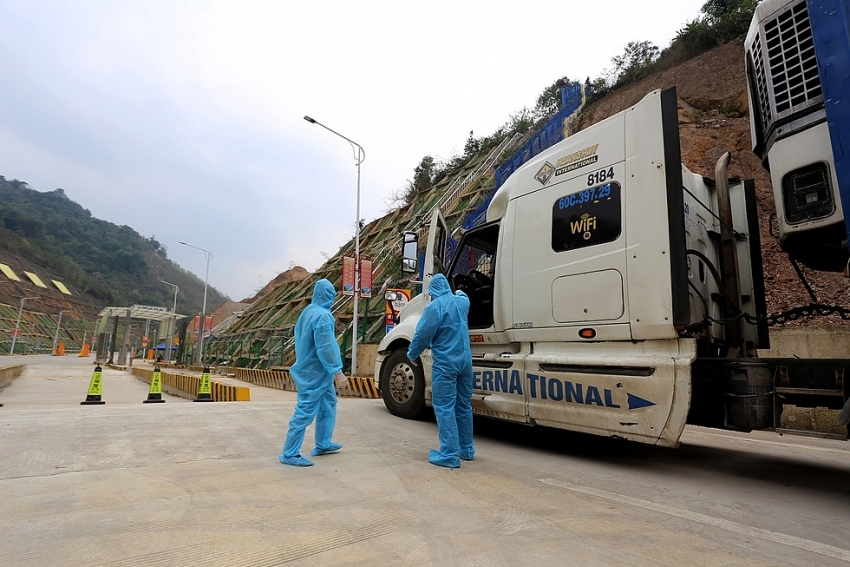 Illustrative photo.
The Tan Thanh - Po Chai border gate in the northern province of Lang Son resumed customs clearance on April 30 thanks to joint efforts from Vietnam and China to maintain trade amid the COVID-19 outbreak, according to VTV4.
Customs clearance is now available daily from 8am to 11am and 12pm to 4pm (Vietnam time). As from May 1, customs clearance is also conducted on holidays and weekends.
This is a positive sign for Vietnamese enterprises, which have seriously influenced since the Covid-19-induced trading halt between the two countries. Although, they are warned to keep a close watch on the situation and remain updated on relevant information to have a suitable goods regulation plan to avoid any congestion and losses.
4. Israeli Forbes hails Vietnam's great efforts on combating COVID-19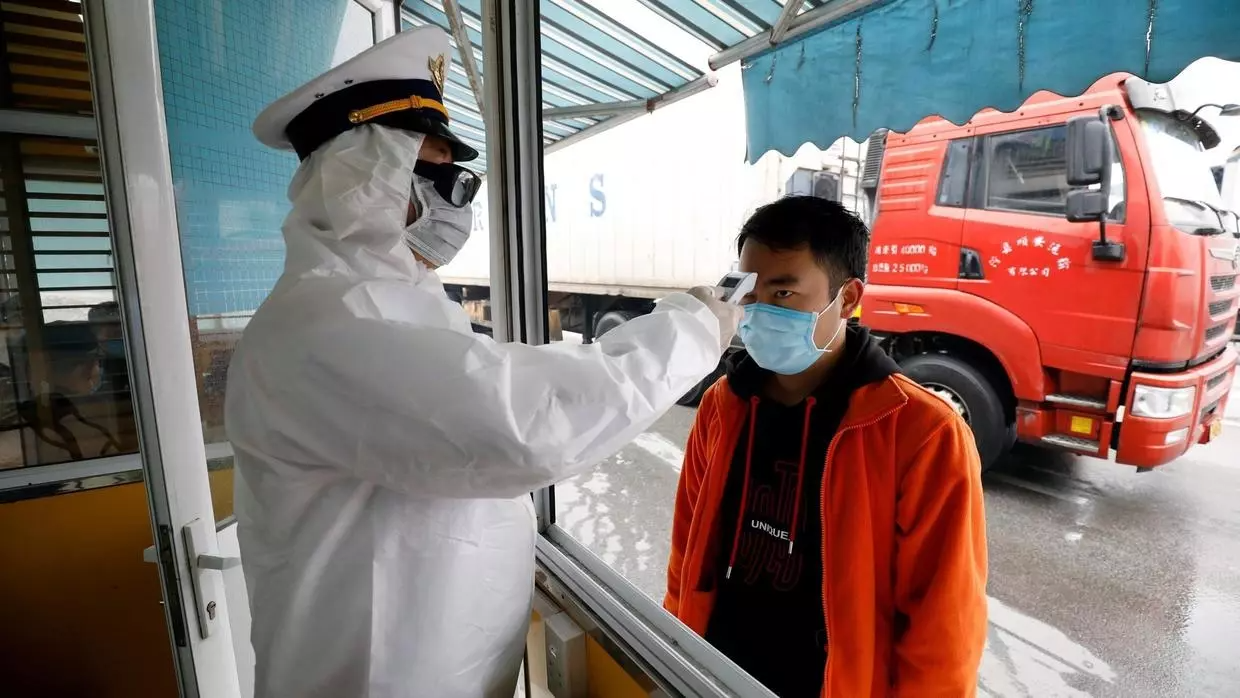 Illustrative photo by Reuters.
Forbes magazine in Israel recently ran article entitled "Why should we think more about Vietnam?" that highlighted the country's political, economic, and diplomatic achievements and its successful fight against COVID-19.
The article cited some achievements of the Southeast Asia country in recent years, which has seen its economy rank jumping positively with some notable trade agreements appear to take effect in the present and the coming time including the free trade agreement with EU (EVFTA), Comprehensive and Progressive Agreement for Trans-Pacific Partnership (CPTPP) among others.
Lauding Vietnam's achievements in terms of how the country dealt with the coronavirus outbreak, Forbes quoted the Financial Times as saying that "Vietnam has proved a model in containing the disease in a country with limited resources but determined leadership."
Vietnam shares a 1,100-km-long border with China but had reported only 270 infections and no fatalities as at April 25, it said, adding that succeeding in containing the COVID-19 pandemic domestically allows Vietnam to have more room to play its key role in regional and international diplomatic forums.
5. Nearly 300 Vietnamese expatriates stranded in Canada repatriated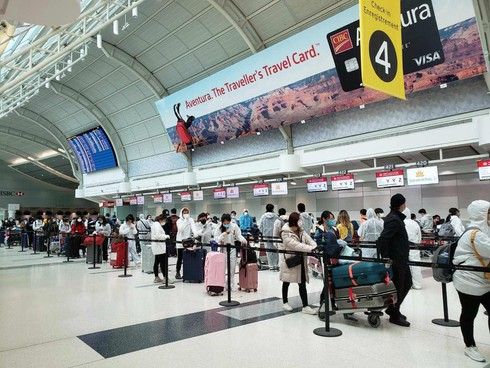 Vietnamese citizens were seen lining up for check-ins at Toronto airport . Photo VOV.
Nearly 300 Vietnamese citizens stranded in Canada due to the novel coronavirus (COVID-19) boarded a Vietnam Airlines plane on April 30, departing from Toronto for Quang Ninh, VOV reported.
Most of the passengers were people under 18, sick people, travelers and students without a temporary residence following the closure of dormitories.
The flight was conducted with great support from relevant Vietnamese agencies, the Vietnamese Embassy in Canada and Vietnam's national flag carrier – Vietnam Airlines.
The Vietnamese embassy in Ottawa sent officials to Toronto Pearson International Airport to assist the citizens with necessary flight procedures.
Earlier, on its flight from Vietnam to Canada, the aircraft transported several Canadian citizens stranded in Vietnam to their homeland, with assistance from relevant Vietnamese agencies and the Canadian Embassy in Hanoi.
Lyan Vu