Vietnam News Today (Nov. 8): Vietnam Wishes For All-around Co-operation With German State
Vietnam News Today (Nov. 8): Vietnam wishes for all-around co-operation with German state; Vietnam considers Japan long-term, important partner; UK news website highlights development potential of Vietnam; Vietnam cashes in on FTAs to boost exports.
Vietnam News Today (Nov. 8) notable headlines
Vietnam wishes for all-around co-operation with German state
Vietnam considers Japan long-term, important partner
UK news website highlights development potential of Vietnam
Vietnam cashes in on FTAs to boost exports: Minister
Hanoi night cycling tour on trial
PM urges utmost efforts to have EC's "yellow card" against seafood removed
Vietnam on fastest pace for digital economic growth in region
Deputy PM hosts Minister-President of Germany's Thüringen state
Can Tho seeks investment from Republic of Korea in large-scale industrial production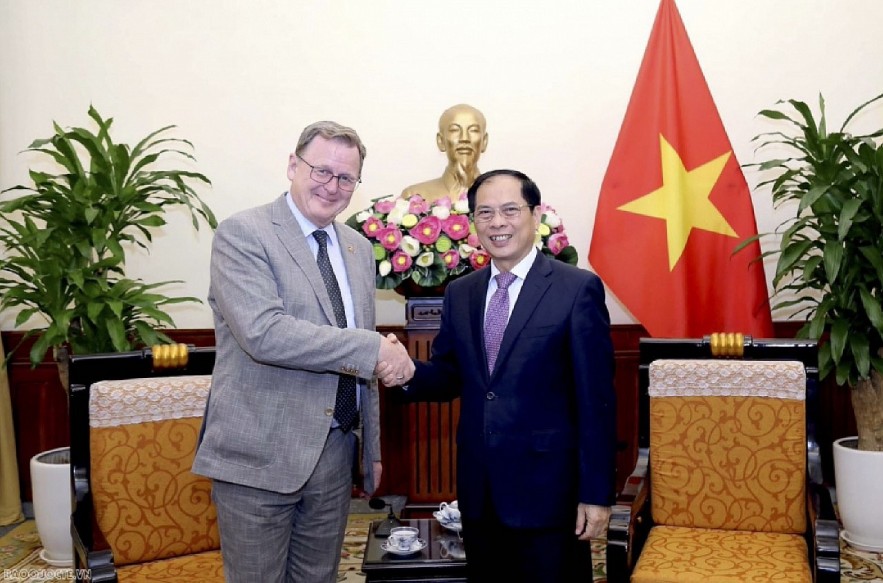 Foreign Minister Bui Thanh Son (R) welcomes Minister-President of the eastern German federal state of Thüringen Bodo Ramelow (Photo: dangcongsan.org.vn)
Vietnam wishes for all-around co-operation with German state
​​Foreign Minister Bui Thanh Son made the statement at a reception held on November 7 in Hanoi for Minister-President of Thüringen Bodo Ramelow who is on a working visit to Vietnam.
At the reception, FM Son welcomed the visit of the German official and his delegation, which took place amid positive progress made in the Vietnam - Germany Strategic Partnership.
The two sides have maintained meetings and exchange delegations at all levels, with German Chancellor Olaf Scholz making a successful visit to Vietnam back in 2022, cited VOV.
The Vietnamese diplomat highlighted Germany and the State of Thuringia as important partners of the nation, expressing confidence that Bodo Rammelow's visit will contribute to creating fresh momentum for the relationship between the two nations, as well as with the State of Thuringia, thereby meeting the interests of their localities and businesses.
With a view to further developing ties, Minister Son suggested that Thüringen State support the German Parliament to adopt the EU – Vietnam Investment Protection Agreement (EVIPA), adding that the deal will open up new cooperation opportunities for business communities, investors, and localities of both nations.
The official also suggested that Thüringen bolster linkages with Vietnamese partners across the fields of its strengths such as agriculture, high technology, processing, and manufacturing.
Both sides should seek to enhance human resources training co-operation in various sectors, Minister Son said, affirming the Ministry of Foreign Affairs will help to enhance connection between Thüringen and competent ministries, sectors, localities, and businesses in Vietnam.
He used the occasion to thank Thüringen for its support for the Vietnamese people who are living and working in the German state.
In response, Ramelow affirmed that Thüringen desires to become a trustworthy partner of Vietnam, viewing the nation as a dynamic market with huge potential for further collaboration in the region.
He agreed with Minister Son's recommendations on measures aimed at boosting bilateral trade, while affirming Thüringen's readiness to serve as a bridge for Vietnamese enterprises to access the German market and many others throughout Europe.
The official said he will accompany the nation in human resources training, particularly in the fields of environment, energy transition, circular economy, and health care.
He applauded the contributions made by more than 4,000 Vietnamese people who reside in the state with regards to its socioeconomic development, highlighting that the state has carried out a wide range of incentives to ensure employment, social integration, and cultural identity of the Vietnamese community.
As part of his working trip, Rammelow and his entourage held meetings with several ministries and localities, including Hanoi, Phu Tho, and Da Nang, as well as launching a string of activities to connect both sides' businesses.
Vietnam considers Japan long-term, important partner: official
Vietnam always considers Japan as a long-term and leading important partner, said Deputy Minister of Foreign Affairs Nguyen Minh Vu while meeting a visiting delegation of the Japan-Vietnam parliamentary friendship alliance of Kobe city, Japan's Hyogo prefecture, in Hanoi on November 7.
Expressing his delight at the robust and comprehensive growth of the strategic partnership between Vietnam and Japan in recent years, Vu emphasized that Japan is Vietnam's top economic cooperation partner across various fields such as official development assistance (ODA), investment, trade, labor, tourism, locality-to-locality cooperation, and people-to-people exchange, according to VNA.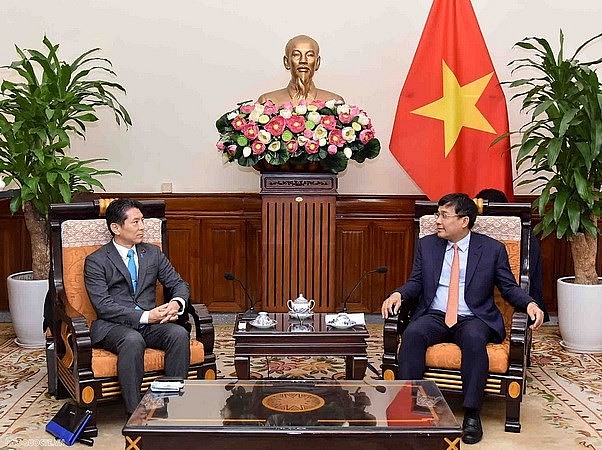 Deputy Minister of Foreign Affairs Nguyen Minh Vu and Murano Seiichi, chairman of the Japan-Vietnam parliamentary friendship alliance of Kobe city, at their meeting in Hanoi on November 7. (Source: baoquocte.vn)
Commending the Vietnam's development and the countries' relationship over the years, chairman of the alliance Murano Seiichi said he wants to enhance effective and substantive collaboration between Kobe and Vietnamese localities, including Ha Nam and Quang Ninh provinces, Hai Phong city, particularly in economics, investment, trade, and cultural and people-to-people exchange.
Kobe is willing to create favorable conditions to receive outstanding Vietnamese individuals to study and work in the city and hopes to strengthen tourism cooperation with Vietnam by establishing a direct flight route connecting the two.
Acknowledging positive contributions and support from the alliance, Vu suggested that it encourage Kobe's businesses to invest in areas of Vietnam's interest like manufacturing, high-tech agriculture, processing, and farm produce export-import.
The alliance, established in 2019, is the first of its kind in the prefecture, with the number of its members amounting to 36 out of Kobe's 65 parliamentarians.
UK news website highlights development potential of Vietnam
UK media outlet moneyweek.com recently published an article describing Vietnam as a thriving regional hub with ample scope for further rapid development.
The newswire assessed that the country's smartphone dominance can in large part be put down to huge investments made by the Republic of Korea's giant Samsung.
Vietnam remains intent on pivoting from "labor-intensive" textiles and electrical assembly work into more profitable sectors, such as semiconductors. Foreign capital is keen to contribute to this growth, particularly amid the growing pressure to diversify supply chains away from China.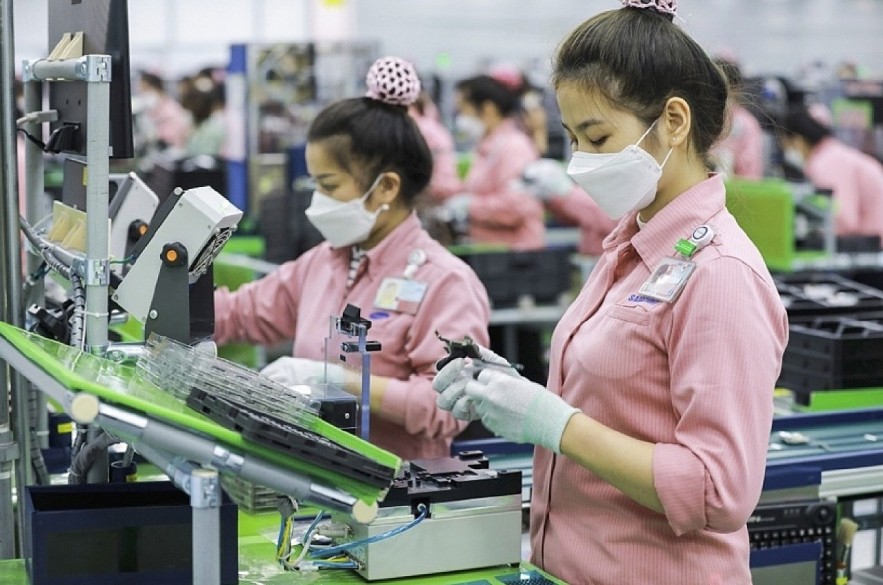 Photo: VOV
The article mentioned the frontier market advantages, noting that the booming Vietnamese economy has remained below the radar for most foreign investors for the simple reason that it is still not classified as an emerging market by the MSCI.
The leading index compiler continues to consider the country a "frontier market", putting its stocks in the same category as Benin, Kazakhstan, and Serbia, VOV reported.
An upgrade to emerging market (EM) status would likely prompt large inflows from funds that track the benchmark EM index, thereby delivering a boost to local stocks of an estimated US$5billion and US$8 billion.
Vietnamese stocks are the single largest component of the frontier-markets sector, with foreign investors spending recent years betting that an upgrade for such a dynamic emerging economy was only a matter of time.
According to information given by the article, the preponderance of property companies has made Vietnamese shares vulnerable to a post-pandemic bust.
The nation has faced milder inflation compared to many Western economies of late, a factor in enabling the central bank to cut interest rates four times this year. That has sent ordinary retail investors flooding into the market in search of better returns than those available on bank deposits. Indeed, there is never a dull moment on the Vietnamese market.
The article states that the nation has been dubbed the new Asian tiger, bringing to mind the rapid development of the Republic of Korea, Taiwan (China), Hong Kong (China), and Singapore in the latter half of the 20th century.
Vietnamese investors certainly hope that the country can emulate the example of the earlier tigers to climb into the high-income bracket, with these being defined by the World Bank as having a gross national income per capita above US$13,845.
Vietnam cashes in on FTAs to boost exports: Minister
Vietnam has capitalized on the free trade agreements (FTAs) it has signed to bolster exports amidst weakening demand, high input costs, and inflation pressure across the globe, Minister of Industry and Trade Nguyen Hong Dien said on November 7.
Answering deputies' questions at the National Assembly's ongoing 6th meeting on measures to enhance export, Dien highlighted that Vietnam is among the 20 countries in the world with the largest international trade in goods, with annual growth rate from 12.5%, in recent three years, while the country has posted trade surplus for months with the figure in October recorded at US$2.6 billion.
Amidst global headwinds, the country has cashed in on FTAs which helps bring its products to 60 countries and territories worldwide, he said, adding negotiations on FTAs with the European Free Trade Association which comprises Switzerland, Norway, Ireland and Liechtenstein, the Southern Common Market (Mecosur), the United Arab Emirates (UAE) and Canada are underway.
The ministry has paid due attention to studying the feasibility to negotiate and sign trade deals and incentives with countries that have economic complementary advantages, and those that hold strengths in science and technology, reported VNA.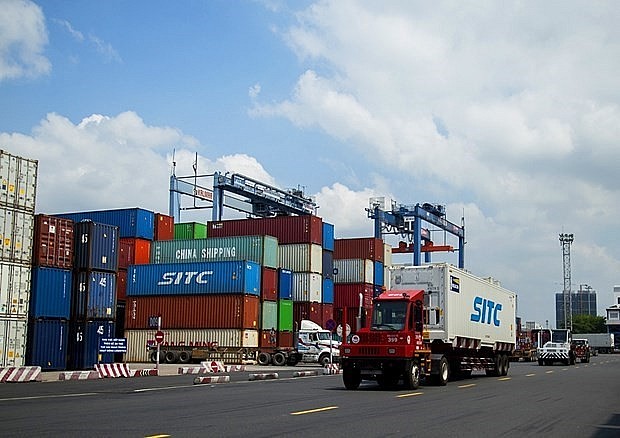 Vietnam is among the 20 countries in the world with the largest international trade in goods. (Photo: VNA)
On the other hands, the ministry has effectively implemented the international commitments under the FTAs to which Vietnam is a signatory to ensure sustainable development, with focus on the implementation of action plans to carry out new-generation FTAs such as the Comprehensive and Progressive Agreement for Trans-Pacific Partnership (CPTPP), the EU-Vietnam Free Trade Agreement (EVFTA), and the UK – Vietnam Free Trade Agreement (UKFTA).
Enhancing international economic relations has been prioritized, he said, describing it as a lever to develop domestic trade and economy.
Through Vietnamese trade offices in foreign countries, the ministry has kept a close watch on the global economic situation and policy updates so as to help enterprises make rational adjustments to their production plans.
He also stressed that trade activities have been backed by administrative reform, sound logistics services, and e-commerce development.
In the coming time, the ministry will continue promoting digital transformation in its trade promotion programs, developing national-branded products, engaging Vietnamese firms in foreign supply chains, giving early warnings to products at risk of trade remedies, and popularizing commitments under the signed FTAs, he added.
Hanoi night cycling tour on trial
The Thang Long - Hanoi Night Cycling Tour promises to give visitors an exciting nighttime experience in Hanoi.
Participating in the tour, travelers will have a chance to explore the landscape of Hanoi at night and learn about Hanoi's culture and history through famous tourist attractions such as museums, historical relics, and night food street, cited Hanoitimes.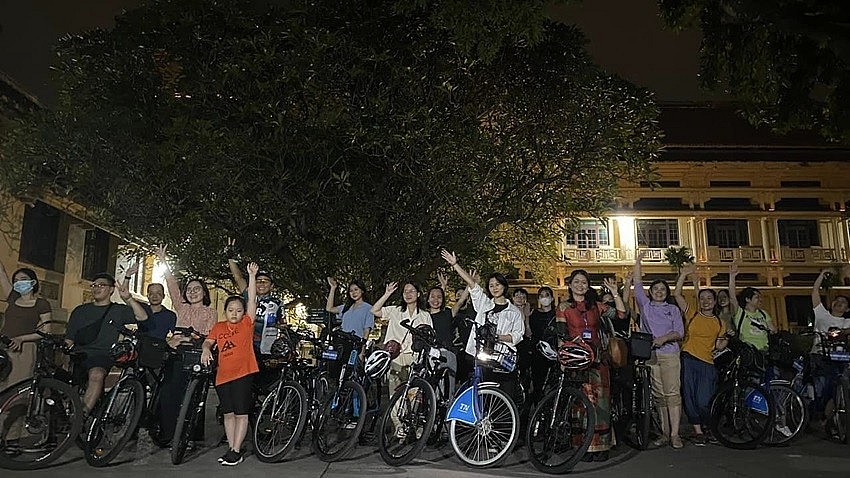 The Vietnam National Museum of History and Vietnam Sustainable Tourism Investment and Development JSC (Vietnam STID) have launched a trial bicycle tour.
The bike tour lasts between 90 and 120 minutes and starts from Vietnam Fine Arts Museum, then to Hanoi Flagpole - Thang Long Imperial Citadel - Ba Dinh Square - Ho Chi Minh Mausoleum - National Assembly Building - Presidential Palace - Quan Thanh Temple - Tran Quoc Pagoda - Ngu Xa Pearl Island Night Street Food (to enjoy some of Hanoi's delicacies) - North Gate of Imperial Citadel - Quan Chuong Gate - State Guesthouse - Vietnam National History Museum - Hanoi Opera House.
At the Vietnam National Museum of History, travelers would learn about the history of Thang Long - Hanoi through the remaining relics such as the Incense Tree at Tu Ky Pagoda dating back to 1666, under the reign of King Le Huyen Tong (1654- 1671); Nam Giao Stone Stele (1679, King Le Huy Tong), and the Bac Co Building or École française d'Extrême-Orient.
The price of the Thang Long - Hanoi Night Cycling Tour includes an audio guide, tour guide, entrance ticket to Thang Long Imperial Citadel, snacks at Ngu Xa Pearl Island Night Food Street, bicycle rental fee, and travel insurance.
For information about the tour, email tnvbtlsqg@gmail.com or visit the website of the National Museum of History at www.baotanglichsu.vn/en.