Vietnam News Today (November 20): HCMC Seeks Approval to Allow in Foreign Tourists Without Quarantine
Vietnam News Today (November 20): Vietnam, Thailand promote strategic partnership; Vietnam records 9,617 new Covid-19 cases; HCMC seeks government approval to allow in foreign tourists without quarantine; Positive outlook ahead for Vietnamese FDI attraction.
Vietnam News Today (November 20) notable headlines
Vietnam, Thailand promote strategic partnership
Vietnam records 9,617 new Covid-19 cases
HCMC seeks government approval to allow in foreign tourists without quarantine
Positive outlook ahead for Vietnamese FDI attraction
Exhibition reflects 2,000-year history of Vietnam's ceramics
Vietnam holds ceremony to commemorate pandemic victims
Vietnamese, Chinese localities step up trade exchange
Seminar looks into culture-art development
Exhibition shows Vietnam through the lens of int'l photographers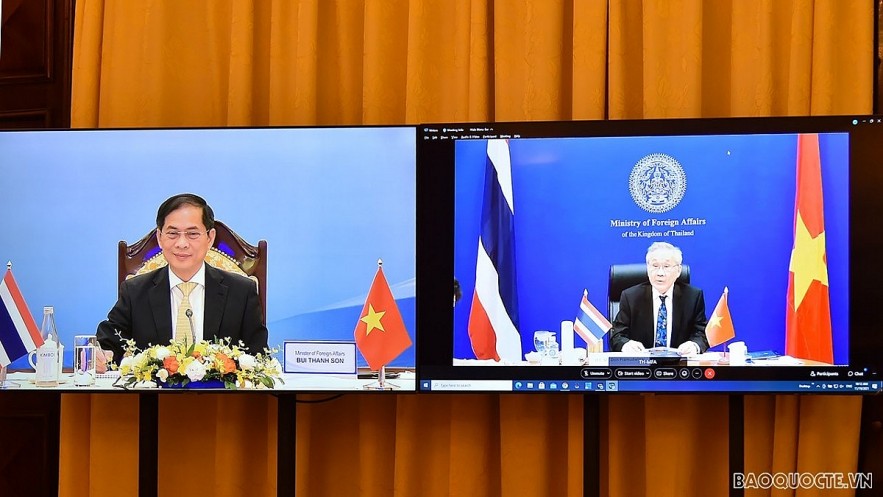 Foreign Minister Bui Thanh Son and Thai Deputy Prime Minister and Foreign Minister Don Pramudwinai co-chair the 4th meeting of the Vietnam - Thailand Joint Committee on Bilateral Cooperation in an online format. Photo: WVR
Vietnam, Thailand promote strategic partnership
Vietnam and Thailand will ramp up multifaceted and mutually beneficial cooperation to deepen their strategic partnership.
The agreement was reached on November 19 during the fourth meeting of the Vietnam – Thailand Joint Commission on Bilateral Cooperation co-hosted by Vietnamese Foreign Minister Bui Thanh Son and Thai Deputy Prime Minister and Foreign Minister Don Pramudwinai.
They held that despite the complicated developments of Covid-19, both sides flexibly and effectively maintained exchanges and contact at all levels.
Thailand remains Vietnam's largest trading partner in ASEAN and ranks ninth among foreign investors in Vietnam. Two-way trade between the two countries reached more than US$15 billion over the past 10 months, a year-on-year rise of 18%.
Both countries have maintained cooperation in other important fields such as defense - security, education and training, culture, tourism, finance, and banking. They have also organized many activities to celebrate the 45th anniversary of their diplomatic relations in 2021, cited VOV.
Pramudwinai affirmed that Thailand always attaches importance to and wishes to further promote the enhanced strategic partnership with Vietnam.
The two ministers agreed that Vietnam and Thailand will continue working closely to beef up the exchange of delegations and bilateral cooperation mechanisms, especially the joint Cabinet meeting between the two Prime Ministers at a time suitable for both sides.
They agreed that the two countries will strengthen mutual understanding through teaching Thai in Vietnam and Vietnamese in Thailand, while expanding exchanges between their friendship parliamentarians groups.
The two sides highly appreciated their mutual support and assistance in Covid-19 prevention and control, and stressed the need to strengthen public health cooperation in areas of mutual interest, including research and development of vaccines and drugs to treat Covid-19. They consented to early recognize their vaccine passports, and facilitate the travel of their citizens in the new normal.
To support post pandemic economic recovery, the two FMs underlined the need for Vietnam and Thailand to strengthen economic connectivity, ensure supply chain, and create favorable conditions for goods circulation. They maintained that both sides should restrict trade barriers to each other's goods, striving to raise bilateral trade to US$25 billion in a more balanced direction soon.
The two sides also agreed to explore possibilities of cooperation in new areas such as digital economy, e-commerce, renewable energy, as well as integration between Thailand's bio-circular-green economic model (BCG) and Vietnam's 2021 – 2030 national green growth strategy to address climate change challenges and achieve long-term, sustainable, and environmentally friendly development.
Vietnam records 9,617 new Covid-19 cases
Health authorities reported 9,617 domestic cases of Covid-19 in 57 cities and provinces Friday, down 592 from Thursday.
The three localities with the highest number of daily cases were HCMC, Binh Duong and Tay Ninh in the south with 1,339, 661 and 599, respectively.
With the confirmation of 102 deaths Friday, including 55 in HCMC, the Covid-19 death toll in the country rose to 23,578, or 2.2 percent of infections.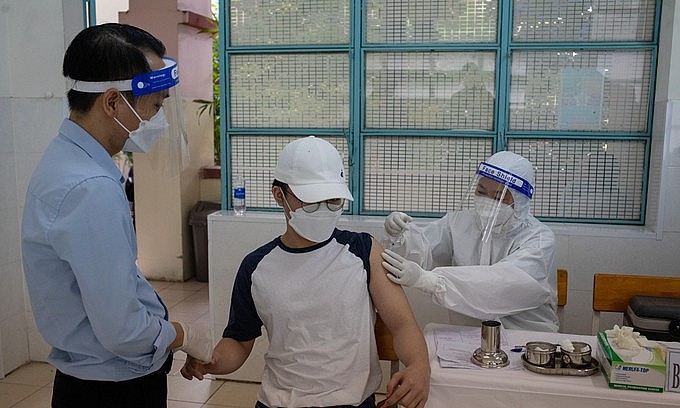 A student takes a Covid-19 vaccine shot in HCMC's District 1, October 27, 2021. Photo: VnExpress
The Health Ministry also confirmed 1,971 recoveries the same day, bringing the total of recovered cases so far to 883,564.
As of Friday, 38.6 million of Vietnam's 96 million population have received two Covid-19 vaccine doses, according to VnExpress.
Since the fourth wave of the pandemic hit late April, Vietnam has recorded 1,070,011 local cases. The count since the start of the pandemic more than a year earlier is 1,075,094, ranking the country 37th among 223 countries and territories.
HCMC seeks government approval to allow in foreign tourists without quarantine
Ho Chi Minh City has sought permission from the government to allow in foreign tourists without mandatory quarantine from December.
The people's committee on Thursday sent a proposal for a three-phase trial vaccine passport program to Prime Minister Pham Minh Chinh and the Ministry of Culture, Sports and Tourism.
In the first phase designated travel companies will be allowed to bring foreign tourists with a Covid vaccine passport to the city by charter and commercial flights, reported VnExpress.
In the second phase, starting January, tourists can visit places in HCMC and five localities that have got the greenlight to allow foreign tourists: Kien Giang, Quang Nam, Quang Ninh, and Khanh Hoa provinces and Da Nang City.
In April the city will fully reopen to international tourism.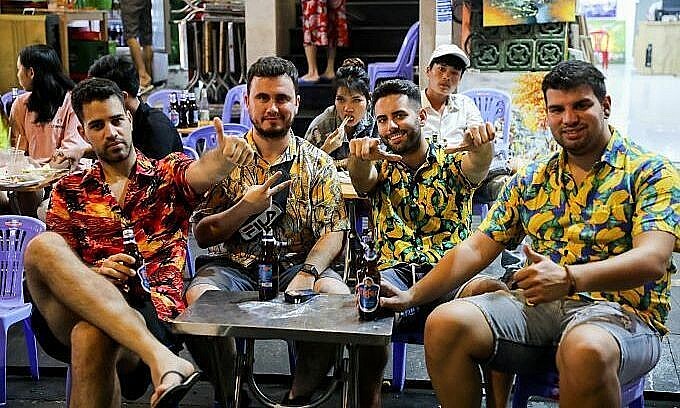 A group of foreign tourists drink beer on Bui Vien pedestrian street in downtown Ho Chi Minh City, 2019. Photo: VnExpress
All tourists need to furnish certificates showing they are fully vaccinated or have recovered from Covid, and tested negative for it within 72 hours before departure.
They can only enter the country on a package tour with a designated travel agency and with medical or travel insurance including coverage for Covid-19 treatment worth at least US$50,000.
Visitors have to install the IGOVN and PC-Covid health declaration applications on their smartphones while in the country.
Its high vaccination rate and shift from a zero-virus strategy to living with the pandemic have enabled the city to lift most restrictions since early last month and resume socio-economic and tourism activities.
HCMC received over 8.6 million foreign visitors in 2019, or nearly half the total foreign arrivals in Vietnam.
On Wednesday Vietnam received 29 foreign tourists, the first after nearly two years since it closed its borders and canceled all international flights due to the pandemic.
They arrived in Quang Nam, home to Hoi An town, for a week-long visit and are staying at the New World Hoiana Resort.
Positive outlook ahead for Vietnamese FDI attraction
Foreign direct investment (FDI) attraction in Vietnam is expected to peak up steam in the coming months following several foreign investors's decisions to inject huge amounts of capital into a number of major projects across the country, according to industry insiders.
Notably, the Republic of Korea (RoK)'s SK Group moved to pour US$340 million into acquiring a 4.9% stake in The CrownX, which owns the WinMart and WinMart+ store chains, further affirming its keen interest and major ambitions in Vietnam.
De Heus Group of the Netherlands also acquired Masan's entire animal feed production segment as a way of expanding its factory chain in the country to 22, officially becoming the country's leading animal feed manufacturer.
Explaining the reasons, Gabor Fluit, general director of De Heus Asia, said Vietnam is a potentially lucrative market in Southeast Asia boasting a high economic growth rate among the group of developing countries. In addition, it has signed numerous bilateral and multilateral free trade agreements (FTAs), with 14 of them currently in force.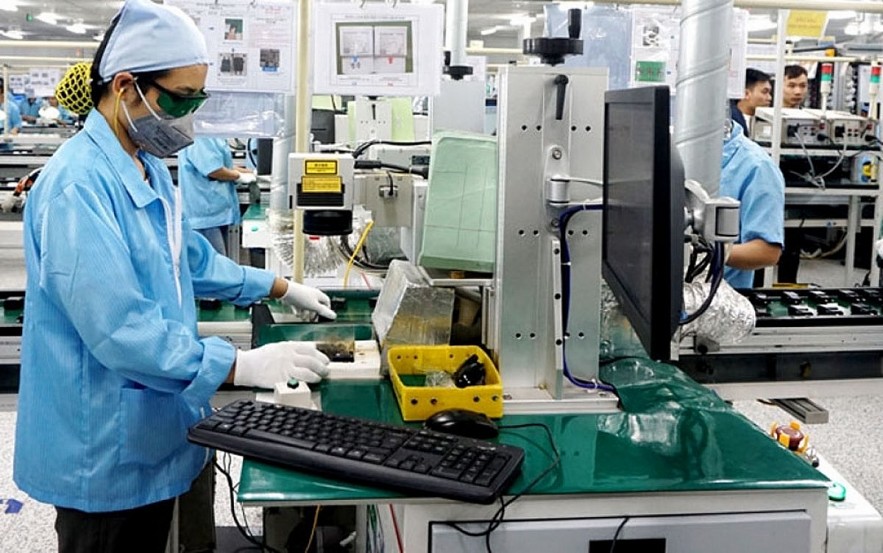 Photo: VOV
Among other investors, Kurz Group of Germany recently decided to invest US$40 million in constructing a coating and thin film technology factory in Becamex VSIP Binh Dinh, while the RoK's Amkor Technology, Inc planned to funnel US$1.6 billion into a semiconductor manufacturing plant in Bac Ninh.
Authorities in Quang Tri have agreed to allow the consortium of investors SSF Investment Co., Ltd., Sunshine Homes Development JSC (SSH) and Truth Assets Management from Singapore to conduct a survey for exploring investment in three projects in the Cua Viet maritime area.
Elsewhere, Denmark's Orsted Group proposed investing in an offshore wind power project in Hai Phong, with the site set to feature a total capacity of 3,900 MW and investment capital reaching between US$11.9 billion and US$ 13.6 billion.
Statistics compiled by the Foreign Investment Agency indicate that newly and additionally registered FDI capital in Vietnam over the past 10 months increased by 15.8% annually, which reflects foreign investors' trust in the country's economic recovery from Covid-19 in the short term, cited VOV.
Prime Minister Pham Minh Chinh, during his speech at the National Assembly's year-end session, affirmed that despite the impact of the Covid-19 pandemic foreign investors have placed trust in Vietnam's improved business and investment climate. He said besides transparent preferential policies, political stability and a young, abundant labour force are Vietnam's advantages in attracting foreign investment.
Recently the UK market research company IHS Markit expressed its optimism about Vietnamese economic recovery thanks to a number of factors, including its low labour costs and and an abundant and qualified workforce compared to regional competitors.
Experts said Vietnam remains an attractive investment destination in the future, as several foreign firms are moving their production lines to nations in Asia, and a number of multinational companies are seeking to diversify their production supply chains.
Exhibition reflects 2,000-year history of Vietnam's ceramics
A exhibition named "Vietnam Ceramics – A Separate Tradition: From the An Bien collection" was launched at Vietnam National Museum of History (VNMH) in downtown Hanoi on November 19 to mark the Vietnam Cultural Heritage Day (November 23).
Held by the VNMH in collaboration with the Vietnam Cultural Heritage Association and collector Tran Dinh Thang who owns the An Bien collection, the exhibition aims to give the public an insight into Vietnam's ceramics through four main stages – the first 10 centuries AD, the 11th – 14th centuries, the 15th – 17th centuries, and Bat Trang ceramics from the 18th – 19th centuries.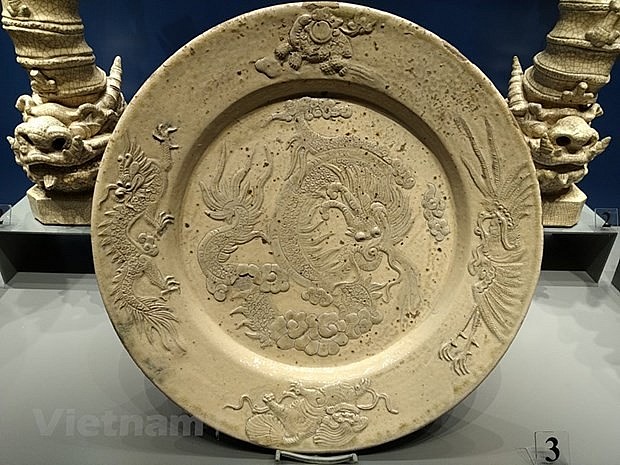 An enamel plate dates back to the 18th century. Photo: VNA
In Vietnam, the first pieces of ceramics were created around 7,000 – 8,000 years ago and pottery became popular in daily life about 4,000 years ago, said Nguyen Quoc Binh from the VNMH who is in charge of the exhibition.
Pottery flourished the most during the 15th – 17 centuries when many craftsmen were capable of performing sophisticated techniques in making ceramics. Hai Duong's Chu Dau became the country's largest pottery hub at that time, where ceramics were also made for exports. Vietnam was one of the world's leading ceramics exporters during the period.
Between the 17th – 18th centuries, Vietnam's pottery lost its foothold to the Europe and Japan. Many pottery hubs have disappeared since then but Hanoi's Bat Trang that remains until today, VNA reported.
The centuries-long history of Vietnam's fine arts can be seen through ceramics, Binh said, adding that people must also study ceramics if they want to explore the Vietnamese fine arts history.
VNHM Director Nguyen Van Doan said the exhibition features nearly 80 items, 58 of which from the An Bien collection while 22 others come from the museum's collection. Both collections will provide visitors with a comprehensive view of Vietnam's pottery, from the early stage to its twilight, according to him.
The exhibition will run through April next year.
Economy
In the first two months of 2023, India's mobile phone exports exceeded $2 billion, equivalent to over Rs16,500 crore, due to increased production and shipments from manufacturers, particularly Apple and Samsung. This surge in exports brings the total export value to over $9 billion since April 2022.