Vietnam News Today (October 3): Vietnam Supports Equitable Covid Vaccine Distribution, Human Rights Protection
Vietnam News Today (October 3): Vietnam records 5,477 new local Covid cases; Vietnam supports equitable Covid vaccine distribution, human rights protection; HCMC finalizes plan to bring back workers; Domestic flights to reopen from October.
Vietnam News Today (October 3) notable headlines
Vietnam records 5,477 new local Covid cases
Vietnam supports equitable Covid vaccine distribution, human rights protection
HCMC finalizes plan to bring back workers
Domestic flights to reopen from October
Vietnam's digital banking adoption catches up with developed markets
Kien Giang posts 2 percent rise in nine-month export earnings
Non-state sector becomes main driver of HCM City's foreign trade in nine months
Two scenarios outlined for economic growth
Government chief affirms determination to spur economic growth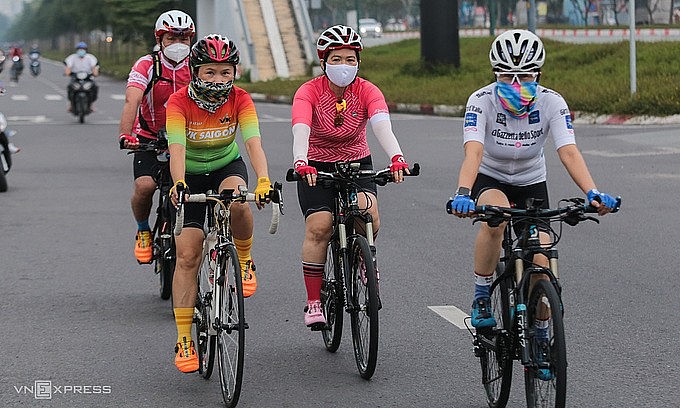 People ride bicycles in downtown HCMC after lockdown measures are lifted, October 1, 2021. Photo: VnExpress
Vietnam records 5,477 new local Covid cases
Vietnam recorded 5,477 new local Covid-19 cases in 40 localities on Saturday, down 1,464 cases from the previous day, pushing the tally during the ongoing wave to 798,627.
Ho Chi Minh City led the day's tally with 2,723 new cases, followed by Binh Duong (1,517) and Dong Nai (509).
164 deaths were recorded on Saturday, including 123 in HCMC, 24 in its neighbor Binh Duong and five each in Dong Nai and Long An.
Two deaths were recorded in Kien Giang, and one each in Quang Ngai, Tien Giang, An Giang, Binh Thuan and Can Tho.
The national death rate over the past week has been 165 a day on average. The coronavirus death toll in Vietnam so far is 19,601, cited VnExpress.
Also on Saturday, 28,857 Covid-19 patients were announced recovered, bringing the total tally of recovered cases so far to 664,938.
The country has vaccinated over 43 million people with at least one Covid-19 vaccine shot. Over 10 million have been fully vaccinated.
Speaking at a regular government meeting on Saturday, Prime Minister Pham Minh Chinh said Vietnam has basically controlled the ongoing outbreak given the strong decrease in the numbers of infections and deaths in Covid hotspots in Ho Chi Minh City, Binh Duong, Dong Nai and Long An.
HCMC lifted lockdown on Friday, allowing many business and social activities to resume in an effort to recover its economy after four months of strict social distancing measures.
Vietnam supports equitable Covid vaccine distribution, human rights protection
Ambassador Dang Dinh Quy, Permanent Representative of Vietnam to the UN has underlined that it is necessary to enhance global solidarity, promote the production and equitable distribution of Covid-19 vaccine at a reasonable cost in a timely and universal manner across the world.
He made the statement during a deliberation of the Third Committee - Social, Humanitarian & Cultural Issues of the United Nations General Assembly (UNGA) chaired by Ambassador Mohamed Siad Doualeh (Djibouti), which will run from September 30 to November 19, within the 76th session of the UNGA.
Quy took the occasion to express Vietnam's gratitude to partners, international organizations and people of countries worldwide for their support to Vietnam's fight against Covid-19.
To recover better and leave no one behind, he laid stress on a need for transitional leadership and strong political will, stating that recovery policies must ensure sustainability and inclusion.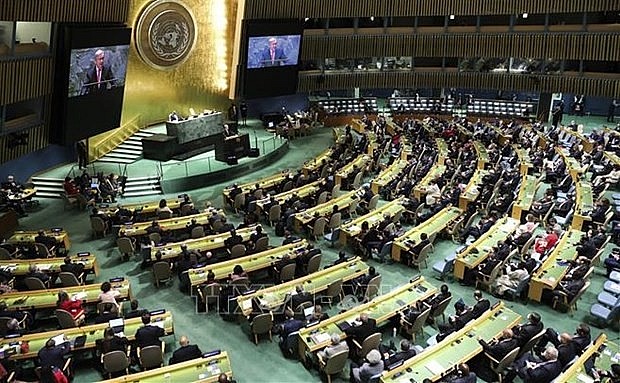 At a meeting of the UN. Photo: VNA
Short-, mid- and long-term measures need to place people at the centre, with a focus on poverty reduction and hunger elimination, education and healthcare provision for all, he added.
The Ambassador affirmed that human rights protection is for all countries' interest and the promotion and protection of human rights should be based on constructive approach and dialogues.
In addition to not intervening in internal affairs, countries should respect territorial integrity and political independence in line with principles of the UN Charter and international law, as well as respect historical, social and cultural conditions, along with the context of nations' development, according to VNA.
Civil rights and political, economic, social and cultural rights or those for development must be treated as equal.
The Ambassador reiterated that promoting and protecting human rights are of top priority, an ultimate goal and momentum for Vietnam's sustainable development.
He touched on Vietnam' achievements in the fields in recent times, as well as the country's commitments to engaging in dialogues and cooperation with UN bodies, special rapporteurs and independent experts of the UN Human Rights Council, in order to protect and promote human rights.
Participating countries said that they encounter obstacles in socio-economic development and vaccine access, especially African nations.
Furthermore, they expressed their concern about difficulties facing women, children, the elderly and people with disabilities, together with those of ethnic groups and immigrants.
HCMC finalizes plan to bring back workers
To return to HCMC, workers need to have received their first vaccine dose 14 days prior to entry, carry a Covid-19 recovery certificate, or test negative in the previous 72 hours.
There will be three options for them to return, the city decreed, as it resumes economic activities and adapts to life with Covid-19 after months of social distancing.
In the first option, businesses would arrange their own worker transportation to designated bus stations, then use taxis or other registered vehicles to drop them at factories.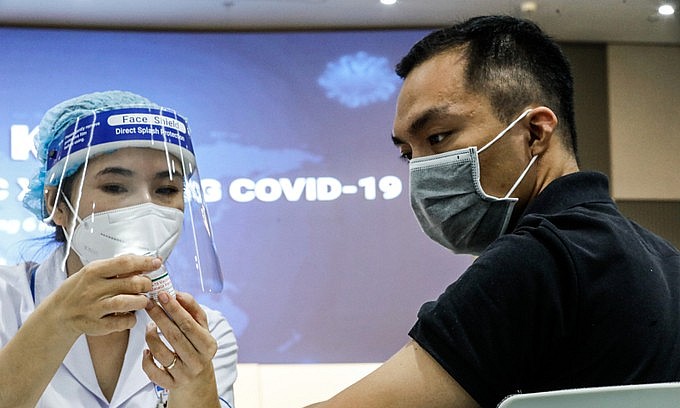 A worker is vaccinated in Ho Chi Minh City, June 19, 2021. Photo: VnExpress
The second option would see businesses register their transport demands with industrial hub mangers who would arrange with Phuong Trang Transport Company to deliver workers.
Thirdly, the city would arrange fixed bus routes from localities to HCMC, at a maximum four per day.
The first and second options will be deployed in October, while the third starts Nov. 1, reported VnExpress.
Workers who travel by train or air also need to be first-dose vaccinated, recovered from or tested negative test for Covid within 72 hours.
Before the fourth Covid-19 wave, HCMC had around 1.2 million factory workers, over 320,000 employed across industrial parks and manufacturing zones.
Domestic flights to reopen from October
Domestic flights officially resumed on October 1 under a four-phase plan outlined by the Ministry of Transport which is set to be applied in localities that have implemented relaxed Covid-19 containment measures.
The first phase will be carried out over a 10-day period, with airlines resuming air routes with a flight frequency not exceeding half that of the first 10 days of April, the time before the fourth Covid-19 wave broke out in the nation. In addition, seats on the planes must also be distanced and spaced out.
Moving into the second phase, which will last for no more than 10 days, the frequency will be increased to not exceed 70%, with no distancing required between seats.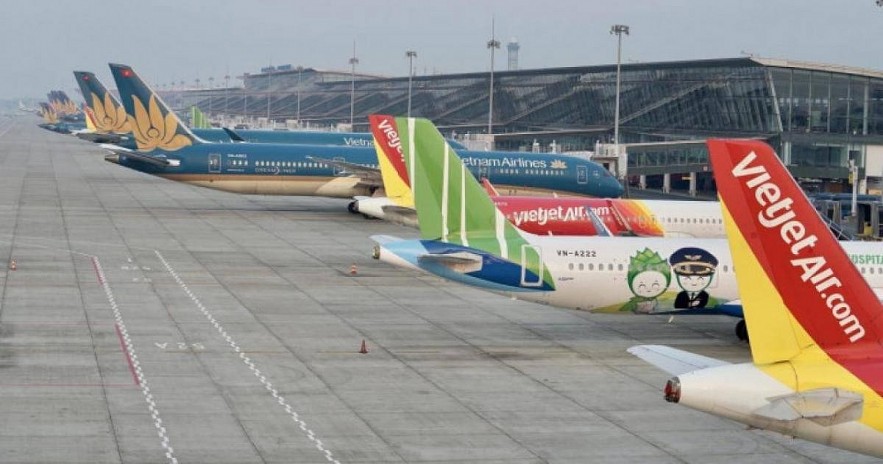 Photo: VOV
The third phase will see the flight frequency return to the level seen during the first 10 days of April, but not exceeding it, with no seat distancing required, VOV reported.
Finally, the last phase will involve airlines resuming activities as normal.
Air routes with only one daily flight before the pandemic will be able to resume operations as normal in the first and second phases, with seat distancing required.
Furthermore, passengers must follow the "5K message", complete health declarations, and present a negative Covid-19 test result issued 72 hours ahead of departure.
However, passengers who have been given their first shot three weeks ago, or those who have been fully vaccinated or recovered from the disease within the past six months, will be exempt from Covid-19 testing.
The Ministry of Transport has requested that airlines offer hand sanitizer to passengers, with travelers asked to wear masks during the flight, along with disinfecting high-contact surfaces of planes, this includes door handles and seats, after each flight.
Vietnam's digital banking adoption catches up with developed markets
The adoption of digital banking in Asia-Pacific (APAC) emerging markets, especially Vietnam, has caught up with that in developed markets.
This information was released in the McKinsey report on the digital banking behaviors of 20,000 urban banking consumers across 15 APAC markets, including Vietnam.
This change in behavior has brought the financial services industry to a new level of maturity, opening up new opportunities for banks and nonbanks alike. The window for seizing opportunities will narrow quickly as consumers give serious consideration to innovative propositions from digital banks.
The report identified the gap between customers' interest in digital banking vs their actual actions, how banks can better capture opportunities from this gap, and the core technologies that can support banks in doing so.
It revealed that the increase in active digital bank users is arguably higher in Vietnam compared with APAC's emerging markets and some APAC developed markets.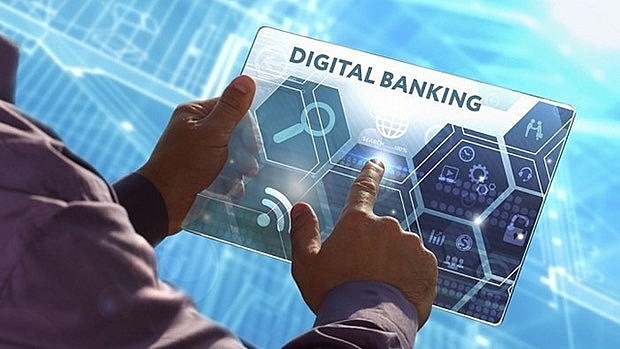 The increase in active digital bank users is arguably higher in Vietnam compared with APAC's emerging markets and some APAC developed markets. Photo: vtv.vn
Between 2017 and 2021, 88 percent of APAC consumers in emerging markets actively use digital banks, a 33 percentage points increase. In Vietnam, the numbers rose by 41 percentage points to 82 percent in 2021.
At the same time, fintech and e-wallet penetration reached 56 percent in 2021 for Vietnam, a hike of 40 percentage points from 2017. This penetration level is even higher than the average of APAC emerging markets (at 54 percent) and developed markets (43 percent), VNA reported.
Large majority (73 percent) of Vietnamese consumers are multi-channel banking users. This means they use a combination of digital banks and physical branches.
Despite the change in consumer behaviors, banks are not doing enough to capture digital sales, due to limited digital offerings and a lack of meaningful engagements with digital users, the report says.
Accordingly, three strategic moves banks can consider in closing this gap include rethinking the role of branches. Banks need to strengthen branches' omnichannel delivery – measuring both financial goals and customer's satisfaction – ensuring that branch-based human interactions go beyond functional convenience to outperform empathy and understanding.
They should transform their business model to digital-first, or integrated omnichannel engagement centered on agile deployment on artificial intelligence (AI) and machine learning capabilities. Banks need to deliver value propositions that are intelligent (automating key decisions and recommending actions), personalized (based on an understanding of customers behaviors), and omnichannel (embed digital banking capabilities within partner ecosystems).
Bank should play a role of digital attacker (digital-only banks using a cloud-native, low-cost platform) or an omnichannel incumbent to stay competitive. In doing so, banks must differentiate their digital value proposition from existing offerings, focus on gaining access to large customer ecosystem to scale fast, and capture transactions and balances as primary bank.
Banks in emerging markets are already leading digital innovation but the market is getting crowded and competitive. To stay relevant, banks should think about building (or acquire) AI and machine learning capabilities in three areas sales and service, operations and IT and develop the right structure as well as hire or reskill the right talent.