Vietnam plans to welcome 15-17 million foreign visitors in 2018
The tourism sector will take drastic and synchronous measures in 2018 to reach the target of receiving 15-17 million international tourists, the Government said at a recent online meeting with cities and provinces nationwide.
The sectors also aims to serve 78 million domestic visitors, earning total revenue of VNĐ620 trillion (US$27.31 billion).
Accordingly, tourism promotion in both international and domestic markets will be strengthened next year. Besides, the tourism sector will also focus on turning Vietnam into a safe and friendly destination while creating clear changes in improving the quality of services and tourism.

Illustrative photo (source: VNA)
The position of Vietnam's tourism industry also increased on the world market. Vietnam ranked sixth in the 10 tourism destinations with the fastest development in the world in 2017, he said.

In 2017, there were 73 million domestic travelers and total revenue from tourism activities was estimated at over VND510 trillion (US$22.4 billion).

Dam said the strong growth in 2017 was partly due to positive changes in the tourism promotion activities of the Vietnam Nam National Administration of Tourism (VNAT). Enterprises participated in international trade fairs on tourism and implemented online tourism promotion activities, including via social networking sites.

Nguyen Van Tuan, VNAT General Director, said that the pilot implementation of electronic visas for citizens of 40 countries into Vietnam in early 2017 and visa exemption for citizens of five Western European countries were considered to increase the competitiveness in attracting foreign visitors.

According to international travel companies, thanks to the visa exemption policy, the number of European tourists to Vietnam grew rapidly at an average of 20 -30 per cent per country, especially from the UK, Germany, France, Italy and Spain.

Tuan said the expansion of the visa exemption policy has been adopted by many countries. Countries that are competitive with Vietnamese tourism have a very open visa policy.

International tourists to Vietnam were also attracted by simplified entry procedures, shortening the time of licensing.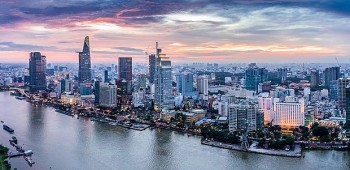 Economy
Japanese investors have been interested in the property market in Vietnam.