Vietnam promotes trade, investment in Algeria
Vietnam and Algeria should work to remove bottlenecks for investment and trade activities as well as complete a legal framework of support measures so businesses from both sides can enter each other's market.
Ambassador Pham Quoc Tru (R) talks to Mansouri Ali, director of Setif province's chamber of commerce and industry (source: VNA)
Vietnamese Ambassador to Algeria Pham Quoc Tru made the statement during his working visit to Setif province on July 19, stressing that the Embassy will help enterprises bolster trade and investment.
Introducing Vietnam's potential and strengths in agriculture, industry and tourism to local officials and enterprises, Tru expressed his hope that both parties will enhance collaboration in various sectors such as aquaculture cultivation, agricultural processing, food, garment production and tourism.
He also detailed a plan to hold a tourism business forum in Algiers in September, and invited tourism companies in Setif to attend.
Mansouri Ali, director of Setif province's chamber of commerce and industry, talked about local economic potential as well as investment opportunities.
He added that a business association from Setif will attend the Food Expo in Vietnam in November.
The same day, Chairman of Setif province Nacer Maaskri had a meeting with a delegation from the Vietnamese Embassy, during which the two sides recalled the traditional friendship between the two countries.
Tru and Nacer Maaskri expressed desire to elevate economic ties to a new height, and agreed to step up cooperation in trade, industry, agriculture, labour and tourism.
They also hoped to set up twin relations between Setif and a Vietnamese locality with the many similarities.
Located 300 kilometres from Algeria's capital to the northeast, Setif is the second economic and industrial hub in the country. The province holds strengths in industrial development and tourism. It is focusing on infrastructure development to attract foreign investment and tourists./.
( VNF/VNA )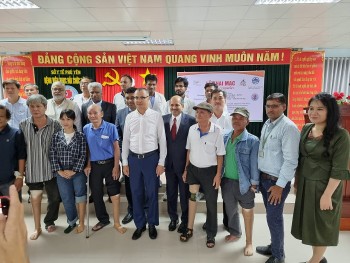 Friendship
This is the 5th time the Jaipur Foot Artificial Limb Fitment Camp has been held in Vietnam since 2018 by the Indian Ministry of Foreign Affairs, Indian agencies and organizations.